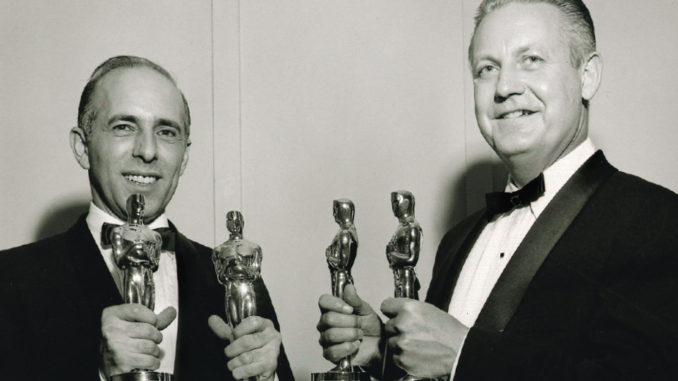 by Thomas Stanford
When serving as assistant to editor Bill Hornbeck on I Want to Live (1958), I first met the director Robert Wise. In those long-ago days, when directors were invariably addressed as "Mister," one never had the feeling that he was anything other than "Bob." While he was always "the man," with an unmistakable aura of power and authority, it was never flaunted, never used to intimidate. Indeed, he revealed himself to be the totally unassuming, approachable and unflappable man I shall always remember. His quiet leadership was rooted in a seemingly easy going inner security, a palpable respect for others, a tacit idealism and a certain vision he could readily convey with simple directness—without bombast or intellectual discourse, let alone the now so-fashionable psychobabble.
Both Bob and Bill—who each received Academy Award nominations for I Want to Live—were cut from much the same cloth; both came up from the ranks and knew their jobs from having served their apprenticeships in the trenches, not from time spent in a film school's hot-house environment. Nor did they come to their respective chairs of authority from some other areas of the business. Rather, both learned how films were made by spending their early years in the fundamental, creative cauldron of motion pictures: the editing room.
And both men, too, seemed rooted in a still largely unspoiled, rural country that formed their characters in quite another world. It was a time and place far removed from our present huge, multi-ethnic cities with their moral uncertainties and their anxious and driven celebrity-cum-media-saturated entertainment populations. The time and place? The early 20th century, very-small-town America. Bob, of course, had ambitions beyond the editor's chair in the backroom which, because of his innate talents, drove him inexorably outwards onto the sound stages and a director's life. Throughout his career, he achieved astonishing accomplishments: Oscar nominated director and editor of 39 films, president of the two most prestigious organizations in our business (the Academy of Motion Picture Arts and Sciences and the Directors Guild of America), recipient of four Academy Awards and countless other honors throughout the world—not to mention riches probably far exceeding the fantasies of a small-town youth. But despite all of it, he seemed destined to remain that rare man who was always true to his own admirable nature, and the best qualities instilled in him from his birth in Winchester, Indiana—his small, Midwest hometown in the year 1914.
Robert Wise's quiet leadership was rooted in a tacit idealism and a certain vision he could readily convey with simple directness.
And I loved him—for having given my own existence a very special glow. Despite my few prior major feature credits, Bob entrusted me to breathe life into the magnificent material he and his co-director Jerry Robbins had committed to film, and which helped propel West Side Story (1961) into the worldwide phenomenon that it became. By never wavering in his unstinting encouragement and support, he enabled me to freely manifest my own ideas when weaving together the approximate two and a half hours of this much-honored film; a work that, even after 44 years, is still being seen by millions—and its music heard by hundreds of millions. For my incalculable professional fulfillment, and a whole year of total happiness at work, I owe him everlasting gratitude.
I am reminded of this every time I hear "Maria" played on the air, whenever my association with the film is mentioned and always when I reflect on the birth of my son, Adam, which was concurrent with my time with Bob and West Side. And so it shall be until the end of my own life. I also loved Bob for his unfeigned kindness, unusual modesty and his straightforward integrity that he consistently maintained in a business where these attributes are so often absent. And for his unique, creative spirit that was unafraid of committing to many differing themes and welcomed ever-new challenges to his imagination. And, above all, because he was an editor's director, nonpareil. He was infallible in shooting material that would "cut" and instinctively knew his editor's needs to "make the scene play." Yet he was always open to new ideas and unafraid to depart from preconceived notions. Never defensive —let alone one to cast blame—he immediately understood editorial conundrums and concerns.
I last saw Bob some years ago when I was briefly in Los Angeles. With his customary generosity he had invited me to lunch. Afterwards we walked back to his office in Beverly Hills, where he gave me a book about his films, From Editing Room to Director's Chair (Silman-James Press, 1995) and told me he was 80. Before we parted, and in my presence, he wrote a brief, personal inscription. It is now open beside me as I write this tribute and sorrowfully mourn the end of his life. Alas…