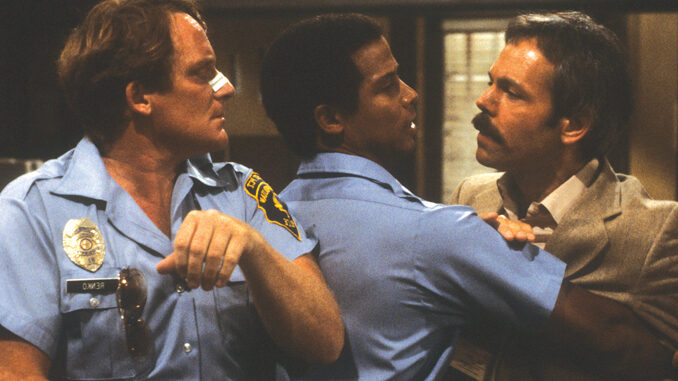 by Kevin Lewis
During the transition week between the Jimmy Carter and the Ronald Reagan presidencies 30 years ago this January, Hill Street Blues premiered on the NBC net- work. In significant sociological ways, it reflected both administrations: the urban blight and national frustration of Carter's tenure, followed by the corporate greed and law-and-order mentality of the Reagan years.
The city in the show was never identified, although the exteriors were filmed in Chicago and the interiors in Studio City. But most American cities faced the same economic and criminal gang problems. Then-NBC Entertainment president Brandon Tartikoff green-lighted the show as an answer to the ABC sitcom Barney Miller, but Hill Street Blues was always a much darker dramatic show. Steven Bochco of MTM, which was founded by the then-married couple Mary Tyler Moore and Grant Tinker, was the creator, executive producer and co-writer with Michael Kozoll.
Though the pilot was finished in 1980, Tartikoff decided to debut the show in mid-season so that it would not be over- whelmed by the new fall network shows.
The ratings were low that January 15, 1981, but critical praise kept the police procedural show alive until the mass television audience discovered it when other shows were scheduling reruns. However, NBC regarded it as quality Emmy- bait programming rather than a profitable ratings venue, and it remained a show for discriminating viewers rather than mass audiences throughout its 1981-1987 run, garnering 98 Emmy Award nominations and winning 26––eight in its first season. It won the Emmy Award for Outstanding Dramatic Series four years in a row.
Perhaps because of its inter- weaving, open-ended story structure––rare in a non-mini- series format at the time but dating back to at least Peyton Place in the 1960s––Hill Street required an audience capable of recalling events from previous episodes. Perhaps it was too "hot," in Marshall McLuhan terms for the "cool" medium of television. Each show covered only a single day in the precinct. Later MTM shows St. Elsewhere (1982-88) and even the chic L.A. Law (1986-94) used the same multi- character approach.
It was the thinking man's cop show, bearing resemblances to the best-selling Joseph Wambaugh novels about Los Angeles police squads, and eradicated the long association of cops and pigs (at least until Rodney King). Hill Street Blues presented educated professionals on the police force––Hispanics, African-Americans and women as well as rednecks and SWAT guys. The dapper Captain Furillo (Daniel J. Travanti) and the limousine liberal public defender Joyce Davenport (Veronica Hamel, who looked like a run- way model) made strange bedfellows in their own pillow-talk roll call.
Hollywood theatrical films were usual- ly anti-establishment when they depicted authority figures, whereas Hollywood television was more mainstream law and order. The hit series M*A*S*H was much less critical of the military than the nihilistic movie version. And so it was with Hill Street Blues. What made the show unique and innovative was its pairing of opposites. Mike Warren and Charles Haid played, respectively, a cool-headed African-American officer and a hot-head redneck cop. Taureen Blacque and Kiel Martin enacted a similar interracial pair. Betty Thomas portrayed a plain woman officer paired with a philandering, alcoholic officer, essayed by Ed Marinaro. René Enríquez was cast as Ray Calletano, the right-hand officer to Furillo, and was insecure about his Hispanic ethnicity, while Bruce Weitz became the wild-man, Jewish undercover detective, Mick Belker, replete with snarls and a cigar.
Robert Butler, who had earlier won an Emmy for directing the pilot episode of The Blue Knight, based on the best-selling police novel by Wambaugh, directed the pilot of Hill Street Blues, which also won him an Emmy. The Police Tapes, the 1977 Peabody Award-winning documentary by Alan and Susan Raymond, was obviously a direct influence––with its similar roll-call scene (a trademark of Hill Street) and its use of hand-held cameras.
In an interview for the Archive of American Television conducted in 2004, Butler said that he had told his cinematographers to use their Arriflexes as a roving eye, zooming in and out among the police officers, who were getting instructions in the morning squad room from Sergeant Phil Esterhaus (Michael Conrad). When the studio-trained cinematographers complained that they could not maintain a clear focus, Butler stated that he wanted the gritty look––one that was ably matched by the coarse sound created by supervising sound editor Sam Horta.
It was the thinking man's cop show, bearing resemblances to the best-selling Joseph Wambaugh novels about Los Angeles police squads.
Ray Daniels, the Emmy Award-winning film editor of the show in 1983, tells Editors Guild Magazine that there were always at least three picture editors cut- ting the series at a time––on Moviolas. Throughout its seven-year run, the show employed 19 film editors, including Andrew Chulack, who also won an Emmy for cutting a 1982 episode. The work "was like editing a feature theatrical film a week," according to Daniels.
What helped the editors achieve this? The superior writing, acting and direction, according to Daniels. Outside of trans- posing some footage to sustain the momentum, he says that he just edited by the script––which usually involved ten sets of characters, two or three parallel storylines, and an open-ended story structure. The three editors broke down the massive process by cutting alternating episodes. Daniels credits Butler with setting the format and tone of the series, which he claims changed little over the years, a remarkable fact given that it employed over 20 directors.
"Sam Horta was a master at creating background murmurs and off-screen conversations, which created an authenticity in the precinct and street settings," Daniels says. "It gave the show an ener- gy which a lot of shows didn't have." He adds that if a dialogue sequence needed pacing and momentum, the background conversations provided the scene with a needed tension. In the days of monaural television sound, this was a courageous and innovative technique, which expand- ed the possibilities for other sound editors. In fact, over 40 sound editors, re- recording mixers and production sound mixers are credited for creating the sound over the show's run.
"It was a magical time in the industry," recalls Eileen Horta, one of three of Sam's daughters who all became sound editors (Denise and Andrea are the others). She tells Editors Guild Magazine that on Hill Street Blues, she could experiment with sound, creating a "gritty sound with ebb and flow." She and her father Sam and sister Denise (along with Robert Cornett) won an Emmy Award for Outstanding Achievement in Sound Film Editing for the show in its first season, with Eileen and Sam repeating that win in 1983 (with Don Ernst, Avram Gold, Constance A. Kazmer and Gary Krivacek). Today, Eileen feels that her current show, Rescue Me, is a successor in some respects to Hill Street Blues.
Though the Hill Street station was fictional, the appeal of a police precinct with a social conscience still engages viewers on DVD, the Internet or reruns––a nostalgic bond that not even 19 seasons of Law and Order can erase. And people still smile when, to cover potentially difficult situations in the workplace, they quote Esterhaus' sign-off to the officers, which became a national catchphrase: "Let's be careful out there."