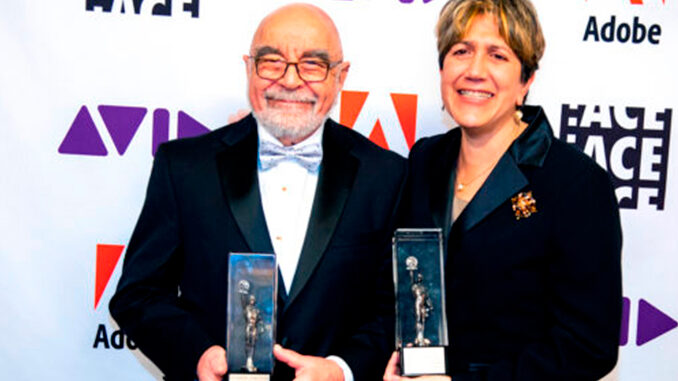 by A.J. Catoline
Cathy Repola, National Executive Director of MPEG, drew a standing ovation at Friday's 70th Annual American Cinema Editors (ACE) Eddie Awards at the Beverly Hilton in Beverly Hills, where Guild President Alan Heim, ACE, also received a Career Achievement Award.
Repola received the ACE Heritage Award, a special honor not awarded every year.
"The ACE Heritage Award is reserved for an individual of special merit, a person who has had an enormous impact on our craft," said Steve Rivkin, ACE, who serves as ACE President and is an Editors Guild Board Member. The ACE Board of Directors chose Repola, Rivkin said, "in recognition of her courageous leadership and dedication to the editing profession."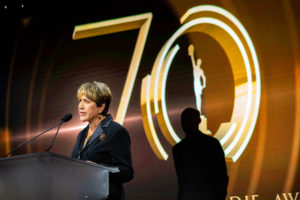 "Last year I stood up here after being asked to present one of the ACE Lifetime Achievement awards. And I thought to myself at the time, I will never be up here again. And one year later here I am," said Repola to laughter and applause.
"I feel so fortunate to be able to do a job that I love," said Repola, an Editors Guild veteran who has served in the top role since 2016. "With that comes an ability to advocate for editors and the editing profession. I pledge to continue to do so with the utmost respect for the incredible art of editing, and all of you who are incredible artists."
Reploa returned to a subject on the minds of many, reminding the audience of Local 700's rejection of the 2018 Basic Agreement negotiated between the International Alliance of Theatrical Stage Employees (IATSE) and the Alliance of Motion Picture and Television Producers (AMPTP).
Repola said that members of the Editors Guild who publicly opposed the contract "were met with uncalled for and inappropriate retaliation from the IA president (Matt Loeb). The more aggressive he was, the more our members came together and united, standing proudly together in brotherhood and sisterhood. And the more determined I became to stand proudly at the helm to fight back with all I had, hand-in-hand with the membership and with our board of directors and with our president Alan Heim," said Repola.
"I think it's really cool that Alan and I are getting awards tonight; I congratulate you Alan," continued Repola. "Whatever courage there was during that time was not mine alone. I could never have gone through that without our amazing members. I so look forward to continuing our journey together as we work toward the goals we all share."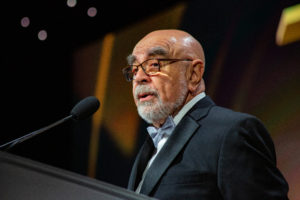 Repola closed with a quote from Dr. Martin Luther King, whose birthday was celebrated around the nation Monday: "The ultimate measure of a man is not where he stands in moments of comfort and convenience, but where he stands in times of challenge and controversy."
"There is nowhere I would rather stand than with all of you," Repola said to resounding applause.
The Eddies stand as the third oldest award show in Hollywood, behind the Oscars and the Golden Globes, and celebrate the best editing in feature films, television, animation, reality and documentaries by bestowing the coveted Eddie statue.
This year's ceremony was hosted by D'Arcy Carden, co-star of NBC's "The Good Place," who joked about the difficulty of saying "I edited it" fast – a difficulty many post-production folk have noticed.
"It's hard, right? How do you all say this?," Carden joked as the audience laughed in recognition.
Later in the evening, Heim received the ACE Career Achievement award.
In addition to creative awards honoring editing craft, Tina Hirsch joined Heim in receiving a Career Achievement Award. The annual Golden Eddie was presented to producer Lauren Shuler Donner.
"From my first editing class at the City College in NY I have been in love with editing and the camaraderie of the cutting room," Heim told the audience in accepting his award.
"I was asked to join ACE when I was living and working in New York City. I joined because I felt it would help make me a part of a larger editing community. And it did. I ran for the Board of the Editors Guild, I guess, so I could fill in whatever free time I had outside the cutting room," Heim said, to appreciative laughter. His legendary career includes such films as "All That Jazz" and "Network."
"This has worked out very well for me and I look forward to continuing to work with Cathy Repola and the union board," continued Heim. "I would like to thank all the assistants I ever had for all the patience they have shown, teaching me how to use the Avid and tools which replaced my beloved Moviola. Some of them have become fine editors in their own right, and I hope I have been able to help them in their careers."
Heim closed with helpful advice. "After some 40 movies what sage advice can can I plant for people?" he asked. "Carve out some personal time; you guys work too hard. And get involved with our union and with ACE. And work standing up, it will add years to your career!"