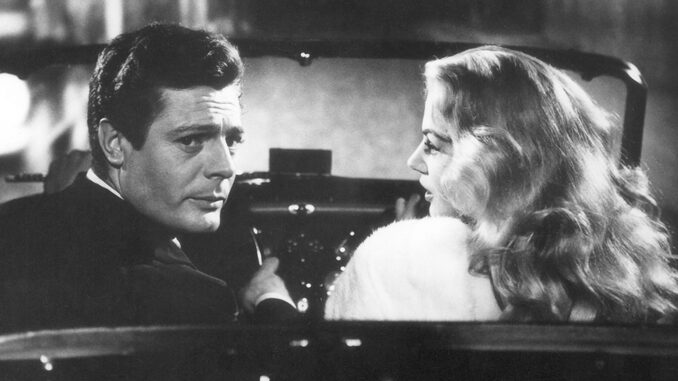 by Kevin Lewis
La Dolce Vita. For 50 years, since the Federico Fellini movie was released in January 1960, those three words have been synonymous with delicious deca- dence among a jet-set mix of expatriate movie stars, high-society types and jaded Italian aristocrats based around Rome.
The lasting impact of Fellini and his co- writers Ennio Flaiano, Tullio Pinelli and Brunello Rondi (as well as an uncredited Pier Paolo Pasolini) is the prescient, cautionary fable about a vacuous celebrity- obsessed culture that is now too immense to criticize. And they coined a word, which, like la dolce vita, is in dictionaries and part of our lives: paparazzi, that ragtag cluster of news photographers buzzing around criminals, terrorists and celebrities. Both Fellini and Flaiano claim authorship of the word. Fellini remembered an annoying, nervous class- mate nicknamed Paparazzo, a dialect corruption of the Sicilian word papateceo, meaning buzzing insect, while Flaiano claims he took the name from a 1901 travel book, By the Ionian Sea by George Gissing, with a memorable hotel proprietor named Signor Paparazzo.
In the film, photographer Paparazzo (Walter Sentesso) accompanies tabloid reporter Marcello Rubini (Marcello Mastroianni) on a week-long succession of sensational stories involving American sex symbols, children faking Virgin Mary sightings, a séance among aristocrats in a castle, a beach villa orgy with transvestites, and the suicide of a famous poet. Rubini suffers remorse over betraying his early dream of being a serious writer for the "sweet life" of press junkets. Rubini commits the then-cardinal sin of becoming involved with the prey and literally putting the story to bed.
Today, Rubini probably would wonder what all the fuss was about. He would be an anchor on the network news, as well as on the gossip page as a celebrity him- self, socializing with dubious celebrities. In fact, now anyone can be a Rubini and a paparazzo, sending in celebrity sightings on mobile phones to television stations and newspapers. Television and the Internet are saturated with amateur video by those who stalk celebrities.
Though La Dolce Vita is episodic and non-linear, it never slackens throughout its three hours, and is a compelling Divine Comedy road movie with a modern-day Dante traveling through several levels of society.
Fellini––who had previously won consecutive Best Foreign Language Film Oscars for La Strada (1956, US release) and Li Notti di Cabiria (The Nights of Cabiria, 1957)––astonished his admirers by abandoning neo-realism for this chic film about high society. However, the economic miracle in Europe in the 1950s, fueled by the Marshall Plan after World War II, made poverty unattractive to moviegoers who wanted to see how the new wealth spent its money.
Leo Catozzo seamlessly edited together the 7 episodes with over 120 actors.
The style may not be neo-realist but it is roman à clef. Fellini and his screenwriters based many of the incidents on real news stories and public figures. The sui- cide of Steiner (played by Alain Cuny) was based on Cesare Pavese, the Italian Communist poet who actually did com- mit suicide in 1950 because he felt divorced intellectually and spiritually from post-war Italy. Fading Hollywood stars Lex Barker (out of work as Tarzan), Anita Ekberg and French star Jacques Sernas are essentially playing themselves. Fellini saw American Sondra Lee, the Jerome Robbins ballet dancer, at the Spoleto Festival and cast her as herself. With the collapse of the Hollywood studio system in the 1950s and the blacklist, Rome was full of American television and movie personalities, including, later on, Clint Eastwood, working in spaghetti westerns and sword-and-sandal movies.
Perhaps the finest sequence in La Dolce Vita is the nightclub scene, where Rubini reunites with his provincial sales- man father and tries to impress him with a binge of women and alcohol, leading to a rueful morning and further estrangement. Fellini, who based the paternal character on his own salesman father, rivals Arthur Miller. He cast the pioneer- ing Italian male stars, Annibale Ninchi, who was celebrating a half century in Italian film, as the father (he would also play the father of the anguished director in 81⁄2 in 1963), and Polidor, who was a major comic star from 1911 and an actor in many Fellini films, as the mournful clown in the sequence.
The casting of German singer Nico in the séance (which included several real aristocrats playing themselves) had last- ing repercussions. Nico would soon find a new career with Andy Warhol in the Velvet Underground. Interestingly, Warhol created a la dolce vita universe in Manhattan with the Factory, his joke on Hollywood Superstars, and cast the Velvet Underground in La Dolce Vita– type movies, including The Chelsea Girls (1966).
Fellini's longtime picture editor, Leo Catozzo, seamlessly edited together the seven episodes with over 120 actors, utilizing the linking device of Rubini on stairs or ladders. Though Fellini, his production and costume designer Piero Gherardi and his co-screenwriters were nominated for Oscars (Gherardi won for his fantastic costumes), Catozzo was never nominated, even for one of the finest editing accomplishments, 81⁄2, which won Fellini his third Best Foreign Film Award three years later. However, Catozzo was award- ed the Academy of Motion Picture Arts and Sciences' Sci-Tech Award for Technical Achievement in 1990 for the design and development of the CIR-Catozzo self-perforating adhesive tape film splicer.
Also overlooked by the Academy was the outstanding cinematography by Otello Martelli. The opening sequence of the statue of Christ strapped to a helicopter flying over Rome and being saluted by a bevy of sun-bathing bikini beauties is one of the most famous sequences in film and an incredible technical achievement. The insouciance of the image sets the tone for the rest of the shenanigans. Though it won the Palme d'Or at the Cannes Film Festival and the Best Foreign Film Award from the New York Film Critics Circle, Fellini's signature film was not nominated by the Academy as Best Foreign Language Film.
With his sound editors Oscar Di Santo and Agostino Moretti, Fellini used reproduced sound as a metaphor for vicarious experience. Maddelena (Anouk Aimee) sits in a freak alcove in the castle while Rubini, in another room, utters sexual comments to her while she is making love to another man. In another episode, the suicidal intellectual Steiner smugly tells his salon that nature can be experienced in his Rome apartment through his stereo reel-to-reel tape recordings of bird songs.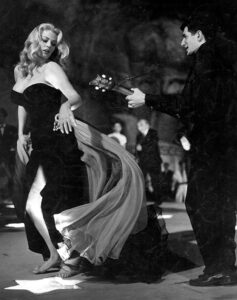 Music by Nino Rota is a major component in the film, underscoring the relent- less search for meaning and distraction among the characters, and eliminating the need for dialogue. Rota's main theme in La Dolce Vita has often been used since in other films and commercials depicting parties because audiences immediately associate it with this widely seen film. It works perfectly in a current Nikon commercial set at a lavish garden wedding reception. "Patricia," a hit mambo record by Perez Prado a few years before the film, is indelibly associated with the film because it was the music for the horizontal mink stole striptease by the society divorcée (Nadia Gray) at the beach-house orgy.
In his previous films, Fellini showed compassion and empathy for women, a quality absent from La Dolce Vita. The female characters in this movie are rapacious, jaded or possessive. Two actresses walked away rather than be humiliated by Fellini.
Two-time Oscar winner Luise Rainer, whose previous movie was in 1943, would have made her screen comeback as an intellectual writer who was a mentor/muse to Rubini. When Fellini changed the platonic relationship to a sexual one, Rainer complained that the change made her character the same as the other women in the story. Fellini fired her and wrote her character out of the movie.
The aforementioned Lee asked Fellini why he fired the legendary Rainer. Rainer asked too many questions, he told her. Lee, who had the same gamine face and acting style as Fellini's wife and star Giulietta Masina, was having her own problems with the director. In her just-published memoir, I've Slept with Everybody, Lee states, "There was no text to my part." When Fellini told her, "After the boys shoot the birds in the bird cage, they will drag you upstairs and rape you," she took the next plane out of Rome.
To this day, many cinema fans fly to Rome, hoping that La Dolce Vita still exists.