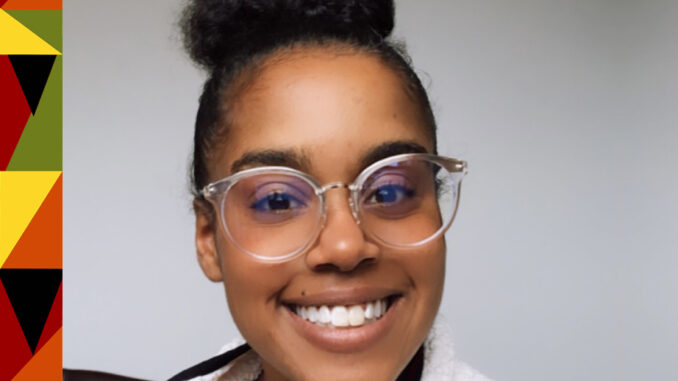 For each day in the month of February, the African American Steering Committee will be highlighting Local 700's African American members, both past and present, and their accomplishments. We look forward to showing the contributions and influences African Americans have had on the industry.
---
Name: Alanah Jones
What's your job/classification? Picture Editor
List the credits you're most proud of. "Outlander" – My first editing credit was the season finale! "Law and Order: SVU" – My first AE position.
What are you working on right now? Right now I am using my hiatus to prepare for my wedding and my move back to Los Angeles! (Just finished up working remotely from NYC.)
Who and what are your influences and/or mentors? Lillian Benson, ACE; Oscar Lozoya; Micky Blythe, ACE; Elicia Bessette
What books are you reading, shows are you watching and/or movies you're excited about? Currently reading "The Book of Joy"… I highly recommend! Currently watching "The Wire," and a ton of screeners of course.
What cultural or historical events have impacted your life? My Grandmother was an educator and so is my Father. Looking back, I thank them for teaching me the things that our Virginia public schools did not. Stories of Black women prevailing over the circumstances resonate with me the most… Katherine Johnson and her team's tenure at NASA is legendary!
What's the best piece of advice you've been given? Never take a note personally, but do take it seriously. To be early is to be on time… To be on time is to be late.
If you could time travel, when would you go and why? I would go to 1986 and see my parents' wedding! Married for 35 years! #blacklove
What's a little known fact about you? What are your hidden (or not so hidden) talents I play the Euphonium. I started band at 9 years old.  Music was always a fun and creative release for me. When I was 17, I placed 1st Chair All County, 1st Chair All District, and 2nd Chair at the Virginia State level. I played through college and marched in the London New Years Day Parade in 2012.
What's your favorite (Black) television/movie moment? Most recently, the release of Black Panther" and the waves it made through the Black community. I felt a lot of Black kids and teens benefited from seeing a Black superhero.
What's your personal/professional mantra? Work smarter, not harder.
What's the last show/movie that left you speechless? "The Power of the Dog." Far from a Black film, but it certainly had my neck tilted, eyebrows scrunched.
What would be your dream project to work on? Not to be *too* specific, but I would love to work on a project that follows a group of Black women from a different time period. Maybe some recent college grads in the 80's or 90's? Who's got an overall deal?!?!