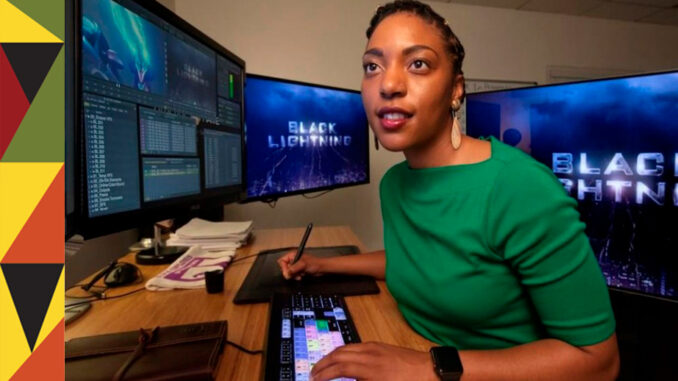 For each day in the month of February, the Committee will be highlighting African-American members, both past and present, and their accomplishments. We look forward to showing the contributions and influences African-Americans have had on the industry.
Name: Anedra Edwards
What's your job? Visual Effects Editor and Picture Assistant Editor
List the credits you're most proud of. "Black Lightning" Seasons 1-3
What are you working on right now? "Black Lightning" Season 3
Who and what are your influences and/or mentors? My mentors are other African American Visual Effects Editors and other women Picture Editors of color. My influences are comic book narrative or graphic novels that are being made into episodic TV/films with black leads.
What books are you reading, shows are you watching and/or movies you're
excited about? My current audiobook is "Children of Blood and Bone" by Tomi Adeyemi. I'm also a huge fan of the podcast "The Read." Shows that I've recently watched are "The Witcher" on Netflix and "Watchmen" on HBO.
What would be your superhero name? Sheba or the Great Sunyata
What are your black history month memories and any cultural or historical impacts on your life? I grew up in Washington, DC which was a city that tremendously embraced Black History Month with many events across the region. Most of my family is based in DC and my mother grew up there as well. The city had its own architecture of black culture in the arts and music that influenced black professional culture as well. I have many memories of attending Black History month events from childhood through adulthood that were hosted by the National Urban League, ASALAH (the Association for the Study of African American Life and History) and the Smithsonian.
What's the best piece of advice you've been given? That's a tough question. There's no one piece of advice that outranks the others. The advice I treasure most are words of wisdom I received from my parents. My Dad influenced a lot of my work ethic with advice he gave me as an athlete that I still use today. He would tell me things such as, "If you think you're doing 100%, you need to be doing 120%" and to remember that there is always someone gunning for your spot, so never get comfortable. I treasure the advice my Mom gave me about how to use my wits and to be smart about myself, keep God first, never take things personal, and always do things with integrity. From a professional sense, the advice I've held onto from my peers is that when the door opens for you, seize the opportunity; don't forget to help someone behind you because likely someone was pulling for you behind those closed doors.