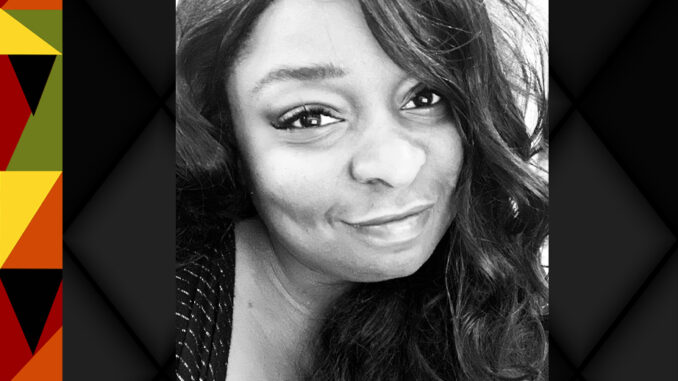 For each day in the month of February, the Committee will be highlighting African-American members, both past and present, and their accomplishments. We look forward to showing the contributions and influences African-Americans have had on the industry.
---
Name: Christine Armstrong
What's your job? Picture Editor
List the credits you're most proud of. "The New Romantic," "#BLACKAF," "Sugar Daddy" and "American Reject."
What are you working on right now? I'm currently working on a new comedy show called "Rutherford Falls" created by Sierra Teller Ornelas, Mike Schur and Ed Helms. It is set to air on Peacock.
Who and what are your influences and/or mentors? There are many influences that brought me to becoming an editor. My first passion was acting which has been a handy skill to have as an editor when picking performances. Through my passion for film making, I was inspired by Steven Spielberg and Michel Godry's films and their amazing visual storytelling they had in their films. I also love the editing in all of Edgar Wright's movies. As for mentors, I've had the pleasure of meeting with/ working with a lot of editors/producers who have given me guidance such as Shannon Baker Davis. ACE, Nena Erb, ACE, Jamie Nelson, Susan Federman and Joi McMillion, ACE. Thank you so much.
What books are you reading, shows are you watching and/or movies you're excited about? I am currently watching "Blood of Zeus," "Raised by Wolves," "Alice in Borderland" and rewatching some comedies such as "HIMYM," "Entourage," "Silicon Valley," and "Community."
What would be your superhero name? Charms-Strong
What are your Black History Month memories and any cultural or historical impacts on your life? The biggest moment in black history that has impacted me is Rosa Parks' quiet protest on the bus. It reminds me that you don't need to be loud to be a leader, and to trust your gut and stay true to your path no matter what, and don't let obstacles and fear get in your way. Rosa's small action started a ripple effect of change which is all it takes.
What's the best piece of advice you've been given? Not all storms come to disrupt your life. Some come to clear the path
If you could time travel, when would you go and why? Probably into the future. I'm curious to see how technology advances and where we end up going. (fingers crossed for flying cars lol )
What's a little known fact about you? What are your hidden (or not so hidden) talents? I play the piano, saxophone, and flute, and I love to sing:). I am also good at strategy board games haha.
What's your favorite (Black) television/movie moment? Does it count as a TV moment when "Moonlight" won at the Oscars? haha Also for some reason that "Fresh Prince of Belair" episode when Will cries about his dad always resonated with me. Such a good performance.
Was there a television show/movie that inspired you to pursue your career? "Eternal Sunshine of a Spotless Mind" sticks out to me because of the visual storytelling and editing style of the film, It is so distinctive yet seamless.
What's your personal/professional mantra? Do good work, always look for ways to improve my skills, and challenge myself, and work with good people:)
What's the last show/movie that left you speechless? The first episode of "Alice in Borderland" really brought you in.
What would be your dream project to work on? I would love to work on an action film for one of the big studios or a reunion episode of one of my favorite tv shows.