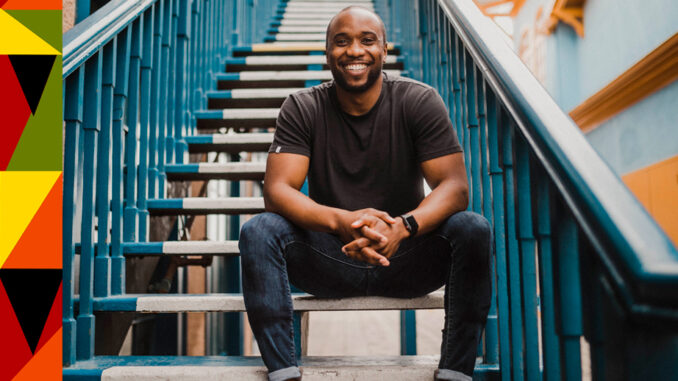 For each day in the month of February, the African American Steering Committee will be highlighting Local 700's African American members, both past and present, and their accomplishments. We look forward to showing the contributions and influences African Americans have had on the industry.
---
Name: Isaiah Smith
What's your job? Editor/Assistant Editor
List the credits you're most proud of. Netflix's "Lost in Space," Netflix's "From Scratch," Netflix's "Medal of Honor"
What are you working on right now? Disney+ original movie called "Prom Pact"
Who and what are your influences and/or mentors? Chris Innis has greatly influenced my life. We originally connected many years ago when I was still living in Texas. I reached out to her sharing that I admired her work, and she responded! Since then, it has been a blessing to know her. Over the years, Chris has impacted my life in many ways such as giving me sound advice and criticism, introducing me to wonderful people, and sharing opportunities that could help advance my career. I'm grateful and thankful for our relationship. Doug Mankoff, CEO of Echo Lake Entertainment, has been a great influence in my life as well. Shortly after I graduated from college, he invited me to Los Angeles to stay with him and his family for a week. It was an awesome experience. He lent me a rental car to get around Los Angeles, showed me around his company and arranged for me to meet with several key players in Hollywood. Not to be forgotten, he also gave me my first Post PA gig on a feature film called "Truth," edited by Richard Francis-Bruce. I'm grateful to be connected with Doug.
What books are you reading, shows are you watching and/or movies you're excited about? I'm currently reading a book by John Truby called "The Anatomy of Genres." His other book, "The Anatomy of Story," is one of my go-to books for story development. He does a fantastic job breaking down what it takes for characters to experience true growth over the span of a story. I love "Top Gun: Maverick." It's my #1 movie pick for 2022. Since streaming series take several hours to watch, I find myself watching more movies which are shorter and consume less of my time. Over the last few weeks, I have watched "The Banshees of Inisherin," "Plane," and "Missing." These were all enjoyable films to watch.
What would be your superhero name? Captain Awesome
What are your black history month memories and any cultural or historical impacts on your life? Fortunately, I was raised by parents who encouraged my siblings and me to read books about the lives of well-known historical black figures such as Booker T. Washington and Frederick Douglass. Black History Month has given me further exposure to how Blacks helped shape America. In school, I remember learning about some of the greats like Martin Luther King Jr., Rosa Parks, and Harriet Tubman. Even though this was only a glimpse of the contributions made by Black Americans, it showed me at an early age that freedom is not free. Today, I love that I live in a country where diversity is celebrated.
What's the best piece of advice you've been given? As soon as you fall in love with your own work you cease to be able to make it better.
If you could time travel, when would you go and why? I'm curious as to what life will be like in the future. I would travel to the year 2223 to study who we have become and the history leading up to that point. Then, I would travel back to the present and use what I gathered from the future to make the world a better place.
What's a little known fact about you? I really enjoy eating almond butter. I put it on A LOT of my food!
What are your hidden (or not so hidden) talents? I'm great at taking ideas from seed to fruition. I can also throw my car keys straight up into the air and catch them on the way down with my hands behind my back. Lastly, I am terrific at telling humorous jokes with a deadpan face. 🙂
What's your favorite (Black) television/movie moment? "King Richard" is one of my favorite movies. I watched it twice in the same weekend when it was first released in theaters. A moment that I loved in this film is when Richard defends his way of raising his children. He essentially tells the authorities that his kids won't ever be in the streets getting mixed up with drugs, gangs or violence. It's a powerful scene that left me with chills.
Was there a television show/movie that inspired you to pursue your career? There's not one specific movie or show that led to my career of choice, but "The Greatest Showman" has had a tremendous impact on my life and career. The inspirational storyline about misfits pursuing their dreams has both inspired and motivated me to be all that I can be.
What's your personal/professional mantra? Love your neighbor as you love yourself.
What's the last show/movie that left you speechless? "Topgun: Maverick"
What would be your dream project to work on? For me, it all comes back to story. I would love to work on a project that presents a heart-moving story that truly leaves a lasting impact on its audience. Projects of this caliber remind me how important it is for artists to continue making art for the world to experience.