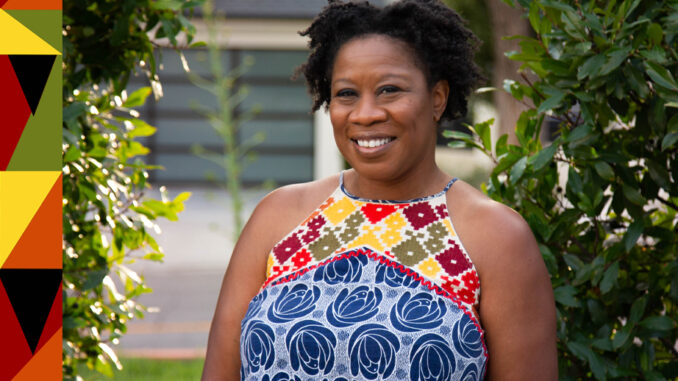 For each day in the month of February, the Committee will be highlighting African-American members, both past and present, and their accomplishments. We look forward to showing the contributions and influences African-Americans have had on the industry.
---
Name:  Kendra Pasker
What's your job? Picture Editor
List the credits you're most proud of. "RuPaul's Drag Race: Untucked," "Soldiers of Paint," "Out of the Fire," and "9-1-1."
What are you working on right now? "9-1-1" for Ryan Murphy TV and Fox Studios.
Who and what are your influences and/or mentors? My Dad, Jesse "JL" Pasker, Steve Jones (DP), producers Steve Agnew and Tim Phillips at Rock Creek Productions, Stu Linder, whom I met on Liberty Heights, and Ravi Subramanian (Picture Editor).
What books are you reading, shows are you watching and/or movies you're excited about? I'm a book hoarder so right now I'm reading "Behold the Dreamers" by Imbolo Mbue, "Major Pettigrew's Last Stand" by Helen Simonson, and "Dialogue" by Robert McKee. I'm currently watching "Lupin," "Dickinson," "The Stand," and "Van Der Valk." I'm waiting on the edge of my seat for release of "The Little Things."
What would be your superhero name? QuickEye
What's the best piece of advice you've been given? If you're constantly waiting for the other shoe to drop, you'll miss all of the good things in life while you wait.
If you could time travel, when would you go and why? I would love to go to one hundred years into the future to see if we ever figure out how to be kind to one another…but I'm going to need someone else to scout first and report back.
What's a little known fact about you? What are your hidden (or not so hidden) talents? I have bizarrely good spatial acuity, so if you've over-shopped at TJ's and can't figure out how to fit everything into your freezer, or you're standing in front of your trunk with a bunch of luggage and no idea of how to squeeze it all in, I'm your gal!
What's your favorite (Black) television/movie moment? I always like the small moments. For instance, in "42" Andre' Holland's character Wendell Smith is instructed to get Chadwick Boseman's character, Jackie Robinson, out of dodge immediately as a bunch of psychotic townspeople are on their way over to where he's staying. Smith remarks to Robinson that he was afraid Robinson would want to stay and fight, Robinson explodes into laughter. It was just a wonderful natural moment of levity in the middle of absolute craziness and you could really see the connection and bond forming between the two characters.
What's your personal/professional mantra? I don't really have one, but my Dad would say all the time "You don't ask, you don't get.", which was his way of saying Believe in yourself enough to ask for what you want.
What's the last show/movie that left you speechless? It would either be "Watchmen" or "Lovecraft Country." Both left me gasping on the floor. I even listened to the "Lovecraft" Podcast, I couldn't get enough.
What would be your dream project to work on? I love Sci-Fi and Action, so a show like "Watchmen" or "Lovecraft" would be amazing. I've been a Trekkie my entire life, so anything in the Trek universe would be a dream, or something just odd with a dark comedic tilt, like "Happy!," or "Dirk Gently's Holistic Detective Agency." I've also wondered if I would like editing period dramas as much as I enjoy watching them.