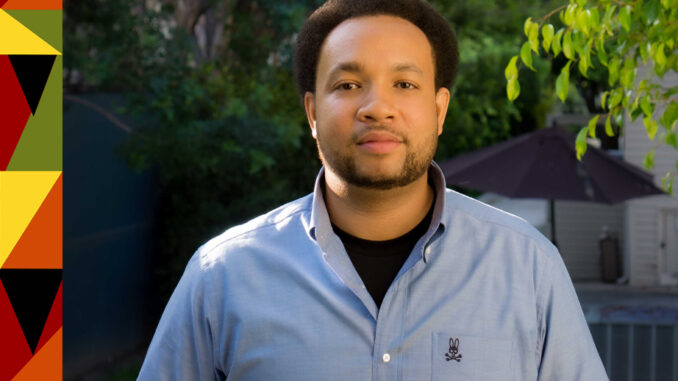 For each day in the month of February, the Committee will be highlighting African-American members, both past and present, and their accomplishments. We look forward to showing the contributions and influences African-Americans have had on the industry.
---
Name: Saleem Aziz
What's your job? I work as an Assistant Editor or Editor depending on the project.
List the credits you're most proud of. For the record all of them, but projects like "The X-Factor," "Speechless," "Atypical," and "Beyond the Steps: Alvin Ailey American Dance" have been significant as they have helped in more ways then one to propel my career in some way.
What are you working on right now? Season 7 of ABC's award-winning comedy "Black-ish."
Who and what are your influences and/or mentors? My family has a huge impact on my life. My parents are great role models, and have fostered a limitless attitude in their own life and in the lives of their children. My siblings are achieving amazing things in their own fields which inspire me everyday to try to be great at what I do. In my field I've gotten great mentorship from a lot of people, but the biggest impact for me is Lillian E. Benson, ACE. I first worked with Ms. Benson in 2005 and for 16 years she has been a great friend and mentor, and at this point she is basically family, because no matter what I do she always finds out. I'd also have to spotlight editors like Jacques Gravett, ACE and Christopher Cooke, ACE. Both have been instrumental to me; Chris really pushed me to think outside the box, and TO pay attention to details, and Jacques really took the time to show me how to take my talents to the next level, and for that I'll be forever grateful.
What books are you reading, shows are you watching and/or movies you're excited about? Books: Elaine Meryl Brown "Lemon City" AND William Gibson "Neuromancer". Shows: "The Expanse," Amazon, "Lovecraft Country," HBO, "Dark," Netflix, "The Mandalorian," Disney+. Movies: "One Night In Miami," Amazon.
What would be your superhero name? Half-Man Half-Amazing.
What are your Black History Month memories and any cultural or historical impacts on your life? Growing up in black communities every day was Black History Month. My father has been a doctor for 49 years, and has been doing house calls in the community since the 70's and my mother has been a nurse in the community for 47 years. Going on house calls with my father and visiting the various health care jobs my mother has held, showed me how to achieve my goals while not forgetting who I am, and the pride that should come with that. Seeing the respect the community has for my parents because of their service is the kind of inspiration not often shared publicly about us. One of the reasons why this month is so vastly important for American history. Another cultural impact on my life would be when I meet Ruby Dee, Ossie Davis and LisaGay Hamilton at the Schomburg Center for Research in Black Culture in Harlem. It was for Mrs. Hamilton's film called, "Beah: A Black Woman Speaks." Being able to talk shop, watch a film, and get advice from them has helped me stay inspired at what I do.
What's the best piece of advice you've been given? Live the life you love, and love the life you live.
If you could time travel, when would you go and why? Somewhere in the future where space traveling is the norm. I would like to explore other planets freely.
What's a little known fact about you? What are your hidden (or not so hidden) talents? Most people don't know I used to work in music before getting into tv and film. I worked for Bystorm Entertainment, which is a record label started by The Notorious B.I.G along with Mark Pitts his Manager.
What's your personal/professional mantra? Namaste.
What's the last show/movie that left you speechless? I don't know about speechless, but "Tenet "left me with the feeling that I just watched a movie. I don't get that feeling all the time even with films I like.
What would be your dream project to work on? A really good suspense thriller tv series or film.