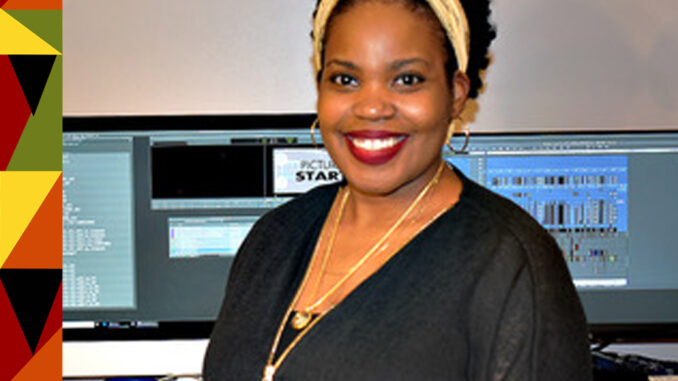 For each day in the month of February, the Committee will be highlighting African-American members, both past and present, and their accomplishments. We look forward to showing the contributions and influences African-Americans have had on the industry.
---
Name: Sharia Lynn Davis

What's your job? My current job is an Assistant Editor for various movies/films.
List the credits you're most proud of. My very first movie, "Get On Up," "Pirates of the Caribbean: Dead Men Tell No Tales," "Red Sparrow," "Good Boys," and "Jungle Cruise."
What are you working on right now?
An animated Disney+ series scheduled to air sometime this year.

Who and what are your influences and/or mentors?
In addition to the strong women in my family who have been my role models, I have been influenced by the many editors that I have worked with. I have also had the opportunity to be mentored by editors, Joi McMillon, ACE and Terilyn A. Shropshire, ACE who have offered their support and encouragement as I continue in this field.
What books are you reading, shows are you watching and/or movies you're excited about?
I am currently reading Trevor Noah's "Born a Crime." It's a great book and history lesson told from the viewpoint of a young boy growing up in post-apartheid South Africa.
Currently, my favorite shows are "Cobra Kai," "Your Honor," and "This Is Us." And I am looking forward to seeing "Coming to America 2". During this difficult time, we all need a laugh and I hope it meets my expectations.
What would be your superhero name? My superhero name would be TVShay. I have always been amazed at the wonders of "TV" since I was a small child and looked forward to one day having a part in "TV" and finding ways to make it better.
What are your Black History Month memories and any cultural or historical impacts on your life? Before joining the Editors Guild, I was a television reporter for six years at a station in Toledo, Ohio. Every February, another reporter and I would write, shoot and edit Black History vignettes to give our viewers a brief history lesson on Black Excellence. One story I edited touched so many viewers. It was a brief historical perspective of Obama becoming president thus fulfilling the dream of Dr. Martin Luther King. It was because of that story that I decided to switch careers and pursue my dream to become an Editor.
What's the best piece of advice you've been given? The best piece of advice I have been given is, Always Dream the Impossible Dream.
If you could time travel, when would you go and why? If I could travel back in time, it would be back to 1990. It was a time when many of my family members were still alive and well. I was 9 years old and surrounded by so much love, felt safe, and had so much confidence that I could conquer the world.
What's a little known fact about you? What are your hidden (or not so hidden) talents? I play the clarinet, trumpet, and make a really good pizza!
What's your personal/professional mantra? "Trust the Process." Life may not move the way you want it to, but if you trust the process, your life will go where it's supposed to be.
What's the last show/movie that left you speechless? The most recent movie that left me speechless was "Antebellum." With the unfortunate racial divide and state of affairs that exist in our country today, I was stunned at the end of the movie, and it left me thinking, could this really happen—or IS this really happening today???
What would be your dream project to work on?
I would love to work on any movie with editors Maysie Hoy, ACE or Joi McMillon, ACE. I value and admire their skills and accomplishments and feel that I could learn so much from working on a project with them.