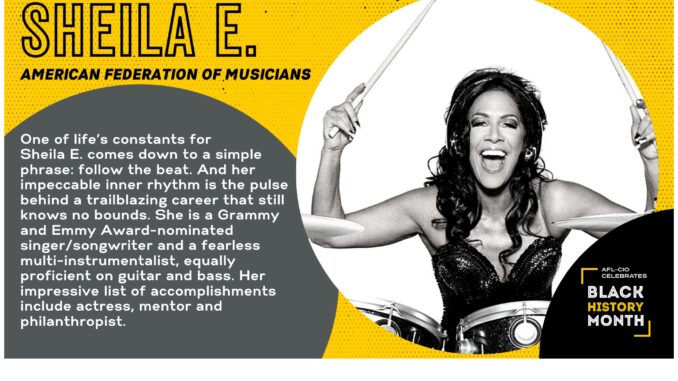 Reprinted from the AFL-CIO's blog Now by Kenneth Quinnell on February 10, 2021.
This year, for Black History Month, we're taking a look at a group of leaders who are currently active making Black history across the labor movement. Check back daily for a new profile and meet some of the people working to improve not only the conditions for working people in our community, but also across the country. Today's profile is Sheila E.
One of life's constants for Sheila E. comes down to a simple phrase: follow the beat. And her impeccable inner rhythm is the pulse behind a trailblazing career that still knows no bounds. She is a world-class drummer and percussionist whose credits read like chapters in a music history book: Ringo Starr. Marvin Gaye, Prince, Beyoncé, Herbie Hancock, Diana Ross, Lionel Richie, Gloria Estefan and George Duke. Sheila is also a Grammy and Emmy Award-nominated singer/songwriter behind the seminal hits "The Glamorous Life" and "A Love Bizarre." She is a fearless multi-instrumentalist equally proficient on guitar and bass. Actress. Mentor. Philanthropist.