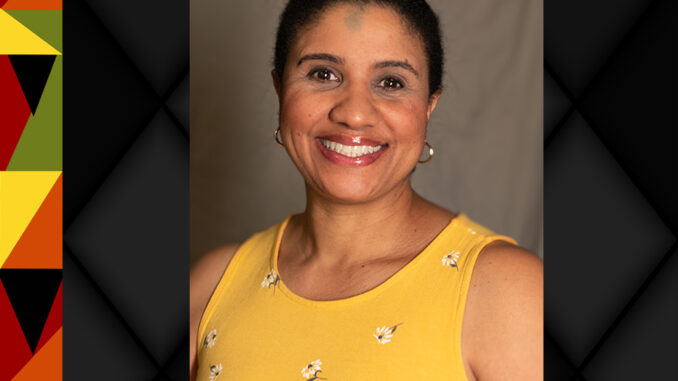 For each day in the month of February, the Committee will be highlighting African-American members, both past and present, and their accomplishments. We look forward to showing the contributions and influences African-Americans have had on the industry.
---
Name: Stephanie Brown
What's your job? Dialogue Editor
List the credits your most proud of: I look back on all of my credits in fondness, usually because of the people involved and the experiences I had on them. However, when I first moved out to LA, I was an intern on "The Matrix," and worked on the subsequent movies. Knowing how much of an impact those movies have had the movie industry makes me feel proud have had some small part of that. I was also the Sound Supervisor on the "Crips and Bloods: Made in America" documentary. As someone who is not from Los Angeles, it was very humbling working on that documentary and learning a little about the history of South Los Angeles, and the factors that lead up to the subject matter of the documentary.
What are you working on right now? Sylvester Stallone has done a recut of "Rocky IV," and I am the Dialogue and ADR Supervisor.
Who are your mentors? To be honest, everyone I work with, I learn something. However, when I first started off in the industry three people took me under their wing and have had the greatest influences on my career: Dane Davis, Julia Evershade and Nancy Barker.
Movies I am excited about: I have always loved movies from a young child and my favorite movies/genres are straight out action films. Always have and always will. They encompass for me what I want when I go to the movies: a ridiculous escape. I am a 'believer' in the "Fast and Furious" series and eagerly await "Fast 9." No shame.
What is the best piece of advice you have been given: Always honor your word and intention.
What's a little know fact about you? Hidden talent? I know tons of useless movie trivia, and I can move my ears.
What is your favorite Black movie moment? Like I mentioned before, growing up I just loved action movies (comedies are a close second) and silly as it may sound Ernie Hudson's character Winston in "Ghostbusters." When he shows up to apply to be a Ghostbuster, it was a completely unexpected moment for me at such a young age and created such a dynamic in the movie that makes It one of my all time favorites and he says one of my favorite movie lines of all time, "Ray, when someone asks if you're a god, you say YES!"
Was there a television show/movie that inspired you to pursue your career: I remember in high school one of my friends had a laser disc of "Raiders of the Lost Ark" and we were watching a behind the scenes piece on the making of and they had a segment on the how the sound was made. Blew my mind and planted the seed.
What's your professional mantra? Be someone people want to work with.
What was the last show/movie that left you speechless? I don't remember the last movie/show that left me speechless, but I do remember the first: "LA Confidential."