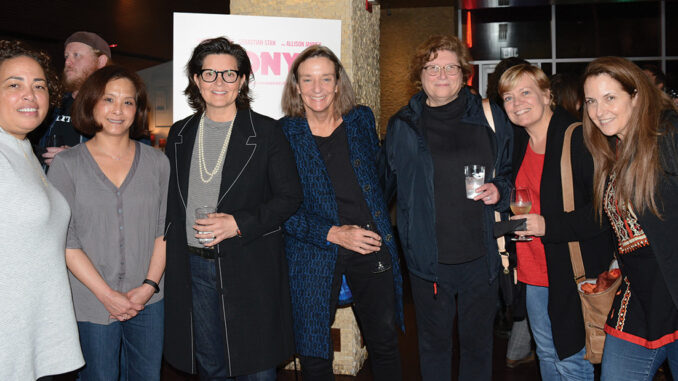 The Editors Guild's Diversity Committee, with its various subcommittees, represent the Guild's largest committee (32 members). The committees have been planning events for 2018, the first of which was already presented just a week into the new year.
The Women's Steering Committee held a special screening of the multiple-Oscar-nominated film I, Tonya, followed by a reception to celebrate the film's picture editor, committee member Tatiana S. Riegel, ACE, at the Landmark Theatre in West LA on January 8. Riegel was nominated for editing I, Tonya by the ACE Eddie Awards — winning in the Best Edited Feature Film (Comedy) category — the Independent Spirit Awards and the Academy Awards.
Aside from many Diversity and women's committee members, the event was also attended by such guests from the film as director Craig Gillespie, writer Steven Rogers, producer Bryan Unkeless and actor Paul Walter Hauser.
Also in the works for the Women's Steering Committee is a panel to be entitled "Sustaining Family and Relationships in Post-Production," which would encompass all relationship and family situations: caring for aging parents, contemplating family, childcare issues, dating, pets, etc. Date and location to be announced.
Meanwhile, the Diversity Committee's African-American Steering Committee is presenting a special panel of Black post professionals for the Pan African Film + Arts Festival, held in Los Angeles in mid-February. Moderated by steering committee chair Leander Sales, the panel — "Employment in Post-Production: Tips on Breaking into Post-Production and Editing" — is scheduled for 11:00 a.m. on Saturday, February 17 in the Community Room of the Baldwin Hills Mall. Panelists include picture editor Shannon Baker Davis, assistant editor Mike Jones, ADR/Foley mixer Jesse Dodd, CAS, MPSE, and music editor Del Spiva.
In addition, the African-American Steering Committee is planning a special mixer to celebrate Black History Month on Saturday, February, 24 at the Guild's LA offices.
The Guild's LGBTQ steering committee will be hosting a panel to celebrate "10 Seasons of RuPaul's Drag Race" at an unspecified date in late spring. Scenes from the show will be screened and the panelists will feature editors from the show.
Keep an eye out for Editors Guild Events e-mails throughout the year to learn more about these panels, as well as those that have yet to be announced.