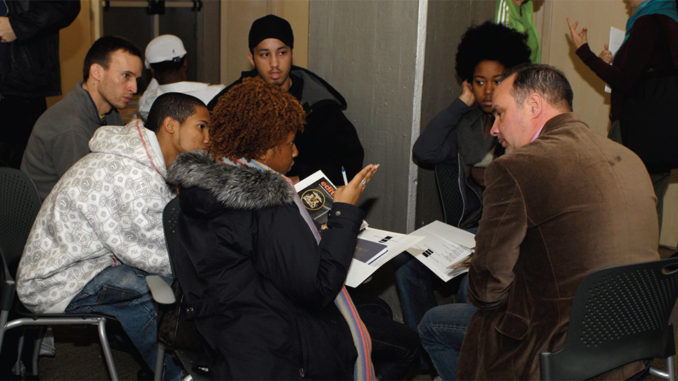 by Kevin Lewis • photos by John Clifford
In recognizing the ethnic and racial diversity of New York City, and responding to the New York City Council's challenge to increase diversity amongst its ranks, the Motion Picture Editors Guild's East Coast office is developing educational opportunities for the untapped pool of talent in the city's minority population. The Guild sponsored an open house and brunch in December at the Guild headquarters in Manhattan to acquaint high school and community college students in the five boroughs with the expanding editing profession and the power of the union.
Nearly 70 students from the Ghetto Film School, Kingsborough Community College, City University of New York, New York University, Pratt Institute and the Borough of Manhattan Community Colleges conversed with Guild members and staff at the educational outreach brunch and were given demonstrations of editing tools as well as frank talks by the Guild's Assistant Executive Director Paul Moore and organizer Marc Laub, along with editor Lewis F. Erskine and assistant editors Carrie Puchkoff (also a Board member) and John Acosta. Jed Howbert, Senior Policy Advisor to the Deputy Mayor on New York, was also in attendance.
Moore, who has met with City Council members and members of the Mayor's Task Force on Diversity over the past year, encouraged this outreach, which was organized by Puchkoff and Acosta, because it offers students "exposure to the Editors Guild—the work we do, the relationships we have with the employers, and the training that we offer our membership. Perhaps foremost," he continued, "this outreach offers a networking opportunity for the students to meet each other as well as members of the Guild."
The Guild doesn't have hiring authority, only the employers do, Moore explained to the students, stressing that the film industry is a relationship community. "The relationship aspect is oftentimes more important if you have a boss who is willing to help train you on the job," he said. Moore also spoke of the importance of the Guild to the financial future of its members, most of whom work freelance, because it addresses labor violations and nonpayment of monies due. The Guild intervened on behalf of editors who were not paid what was owed them on two recent films, The Squid and the Whale and Empire, he pointed out.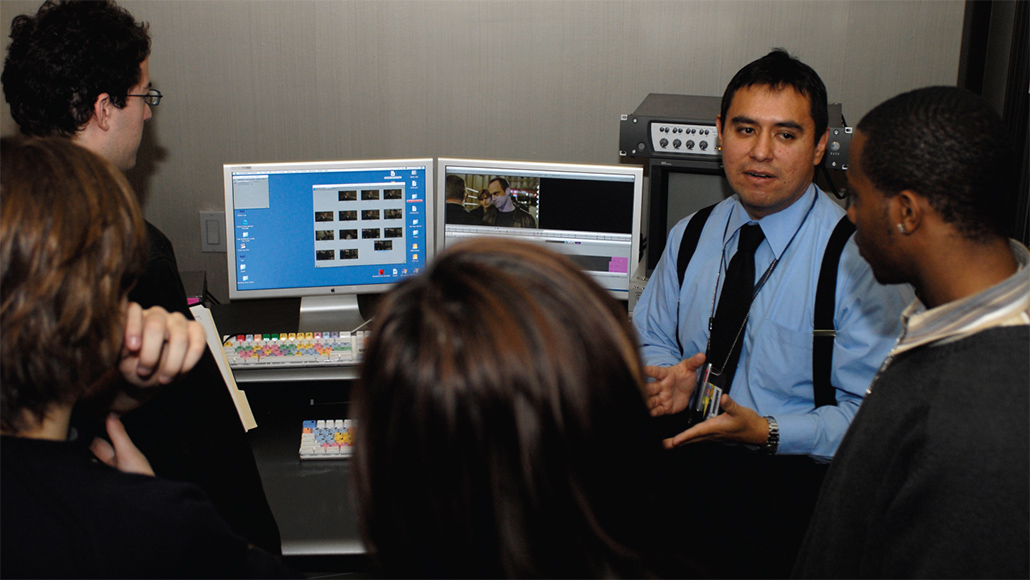 Laub explained to the students that employers will hire people on recommendations from colleagues, or re-hire them if a successful working relationship results. "One never knows where the opportunity is going to be, so be prepared and be on time," he said. In order to secure a place in the profession, neophyte editors may have to be "gofers" on a production as they observe and learn on the job, Laub revealed.
Regarding his work as an organizer, Laub said, "Organizing efforts have created more opportunities for young editors," citing Granada Television as an example of a recent signatory company which created a substantial number of jobs for members.
Erskine encouraged the students by telling them that they have already made the first step into the editing profession just by nature of possessing digital film editing software in their personal computers. "You have the tools; you have them in your bag now, but the thing that you lack is that connection into the industry," Erskine explained. "But in some ways, you are already an arm of the industry." He urged the students to keep editing in school, even if they are not satisfied with their initial efforts.
Acosta was asked a question from a high school student wondering if attending film school was necessary for securing a job in the profession. Acosta, who teaches at Kingsborough Community College, was in favor of students attending film school in college. Two of his students were in the audience. "Going to college will prepare you for whatever opportunity comes your way in the film industry," he explained. "A major in English, or another subject, and a minor in film––or vice versa––is an example."
"I never thought about doing films, but when I saw how they teach students, I got interested" – Raul Aguirre
Puchkoff added that she didn't go to film school but earned a BA in art history and an MFA in painting. She said she decided, however, that she wanted to work in film production, and her keen eye and insights into composition and form gained her a place in a post-production studio. "Critical thinking and pictorial storytelling has a significant place in my background," she said. Plus, "I showed up on time, I was really happy and grateful for the work and learning experience, and everybody remembered it," she added. Puchkoff also explained that sometimes experience in an academic discipline may be useful as an additional eye for an editorial team.
"It's important to recognize the collaborative creative effort between an editor and a director," Puchkoff said to the students, explaining to them that such collaboration may lead to steady employment because some directors work exclusively with one or two editors for their entire career. "Directors depend upon that creative input," she added. "They are not looking for someone to just work a machine."
The Guild participants were extremely pleased with the turnout at the brunch and impressed with the interest shown by the students. "We were reaching the audience that we want to reach," acknowledged Laub. "For me, it was like planting seeds. This is the workforce of the future and we are exposing them to who we are and what we would like them to become. We want them to join with us."
Puchkoff remarked about the positive attitude she observed. "I spoke with a number of students afterward, and they really seem to have what I would want in a cutting room," she said, referring to an eagerness to observe and learn, as well as punctuality and a self-effacing attitude.
In order to secure a place in the profession, neophyte editors may have to be "gofers" on a production as they observe and learn on the job
"The Guild takes students out of an academic setting and brings them into a professional scenario," Acosta said after the event. "There, they can do their videotaping, they can do interviews and they can record seminars––it gives them a lot of confidence."
The response to the open house so exceeded the expectations of the Guild staff and members that a second outreach brunch is being planned for the spring.
Student Impressions
A lively bunch of students were eager to share their appreciation of the Editors Guild's outreach brunch. Following are a few of their comments.
Alex Nothis (manager of Digital Bodega, the production arm of the Ghetto Film School): The outreach program set up by the Editors Guild is going to help our advanced Fellows, who are young filmmakers who have already gone through the Ghetto Film School. They are now in college, studying films or are making films independently. Through the outreach program, they learn from professionals how to get their foot in the door. They learn how to conduct themselves in a professional manner in a professional setting. That is the key thing. The presentation today was excellent.
Raul Aguirre (former Ghetto Film School Fellow): I wanted to learn about the industry and get some help with my Avid program. I just started college. When I was first introduced to the Ghetto Film School, I never thought about doing films, but when I saw how they teach students, I got interested; I got excited. I made two shorts already and I want to continue making more.
Nasreen Alkhateeb (Pratt Institute): This is my final year as an undergraduate major in sculpture and film. I am doing my own independent feature and I am looking for editors for the project, a documentary. A good editor is a really good artist, in my opinion. You really have to have a good eye, a sense of composition and a sense of color––all of those elements that painters and sculptors have to know.
Somayya Ramasami (Kingsborough Community College): The outreach was important to me because I actually want to get into the industry and especially into the Guild. So I learned vital information about internships and getting experience in the field. You get to know people. It's vital for everyone to network and try to learn as much as you can from each other.