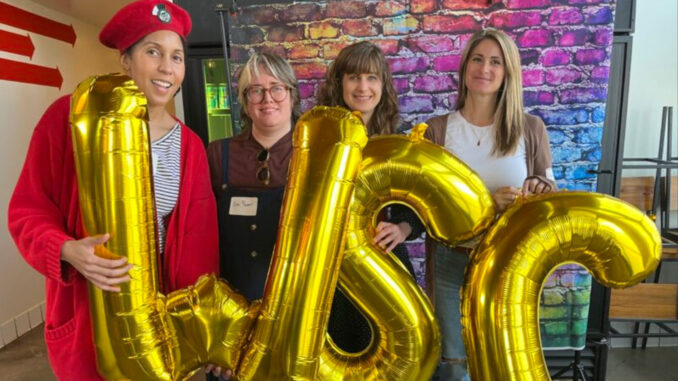 by Su Fang Tham
On one of the few sunny days seen recently in Los Angeles, more than 100 Guild members gathered March 26 for trivia fun, networking, pizza, and beer at Macleod on York, the Highland Park outpost of an English-style brewery. The occasion was to launch the Women Steering Committee's Lift Up Women mentorship program, which aims to support women from all classifications develop their craft and find meaningful advancement in their careers.
Especially in the post-pandemic landscape of remote post teams, the need for a sense of community to support each other's career progression has become even more acute.
"Networking is one of our industry's greatest tools and the pandemic really hurt it. Mentorship is the other powerful tool, and something that a pandemic doesn't have to stop," said WSC Co-Chair Aimee Jennings, ACE, who heads up the initiative with Co-Chair Diana Fishman. With workplace challenges commonplace to women in fields where long hours are the norm, many Guild members have voiced a need for more guidance and support as they navigate the triumphs and pitfalls along the way.
Jennings and Fishman started planning last summer, delving into membership data that brought forth a sobering revelation: based on 2020 membership data, 44% of Guild members in their 20s identified as female. But the numbers decline among older age groups: 25% of those in their 30s identified as female, and just 19% of those in their 40s. Overall, members who identify as female only made up 23% of active Guild members as of 2020. These findings underscore the importance – and urgency – of making a concerted effort to bolster the progress of female editors throughout the lifecycle of their careers.
With a subcommittee of six WSC members, 150 applications (105 from mentees) were reviewed in a thoughtful and deliberate process to match members based on a variety of elements: mentorship and career goals, years in the field, geographic location, background, interests, and lifestyle. The inaugural class of the Guild's first-ever one-on-one mentoring program includes 42 mentorship pairings across multiple classifications, including picture editors, sound editors/mixers, dialogue editors, and trailer editors. While mentee applicants were limited to those who identify as female, mentors were open to all genders. Officially starting on Women's History Month in March, each pair decides on what will work best for them; but as a general guideline, mentors are expected to devote at least one hour per month to their mentee's professional growth.
Co-sponsored by editorial workflow solutions firm Post Script, the event took over the entire space at Macleod – the taproom, dining room, and the garden patio in the back – as board member and WSC member Amy Duddleston, ACE, read out the 40 trivia questions over the bustling crowd (with an intermission after the first 20 questions). Sourced from the wider WSC committee, the questions covered topics such as the most decorated American female swimmer (Jenny Thompson with 12 Olympic medals) and the first woman to head up a major film studio (Sherry Lansing was appointed the President of Production of 20th Century Fox in 1980).
With four players to a team, everyone joined in the trivia fun while enjoying a house-made thin-crust pizzas and an array of "traditional UK brews with a Southern California twist." The prize was a one-year license subscription to Avid Media Composer and raffle prizes included one Adobe Creative Cloud package, two sets of EditFest passes for two, and swag bags with Avid, Adobe, and MPEG products. Special thanks to WSC member Danielle Statuto, whose efforts helped make this event a success. WSC member Stephanie Early also did a fantastic job on the decorations throughout the brewery.
Picture editor Giselle Murillo was there to meet her mentor, board member and WSC member Nancy Morrison, ACE, to get more insight on how to achieve work life balance amidst the changing landscape of "Peak TV." Having worked on two long-running network series for the majority of her 11-year career, Murillo is now adjusting to the "new normal," where streaming projects with significantly fewer episodes per season only occupy 4-5 months out of a year. She is also part of another MPEG mentorship program – Rainbow Connect – a group mentoring arrangement (four to each mini-group) for LGBTQIA+ members, serving as a mentor to assistant editor Julia Sola, who also stopped by at this event. As Jennings and Fishman started to build out the Lift Up Women program, they sought advice from some of the members behind Rainbow Connect, LGBTQIA+ committee Co-Chairs Joelle Kristy and Katie Rose Cornblath, who were great resources in the early days of planning.
Through a mutual friend, mentee Ambar Salinas and picture editor, Jamie Kennedy, were encouraged to sign up for Lift Up Women. Salinas was very glad to be paired with Kennedy, since she has reached a point where she would like to branch out into other genres, having worked on dramas and thrillers for the majority of her five years in the industry. With 11 years in the field, Kennedy frequently works on comedy projects but her C.V. covers a wider variety of projects.
As the event began to wind down, Fishman and Jennings reflected on the long road to launching this program and what they hope it might bring to the future. "Our hope is that by thoughtfully curating the mentorship pairs, Lift Up Women will create genuine relationships that last, build community, and ultimately lead to career advancement for the women involved," Fishman said.