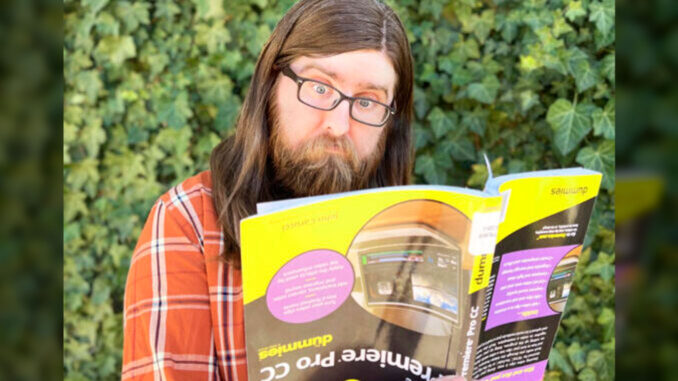 Where are you currently employed? Warner Bros Animation.
Current projects? "Merry Little Batman."
Describe your job. My job's not too different than when I was cutting live-action projects. The only difference is now instead of camera footage, we're working with disembodied voices, thousands of jpeg images (animatics), and then thousands of animated shots to make cartoon characters yell at each other. But the job is still the same: creating the right rhythm, tone, and juxtaposition to tell engaging visual stories.
How did you first become interested in this line of work? I think like a lot of people my age, seeing a sketch group like The Lonely Island go from the Internet to "Saturday Night Live" to their first feature, "Hot Rod," and beyond really unlocked that DIY part of my brain showing a new path into the industry. You didn't need a famous uncle; you could just start making sketches with your friends and grow from there. So I did a lot of that from high school to film school, but my favorite part was always editing: You skip all the stress and headaches from being on set, you're piecing together all the elements to make the film people will see, and you use both sides of your brain in being organized and analytical but also creative and spontaneous.
Who gave you your first break? When I was in film school at UT Austin, there was an independent production company called Ralph Smyth Entertainment. They'd made a short I loved called "The Man Who Never Cried," and I skipped class to go to the table read of their "Hot Rod" style sports feature. The next day, they offered me an internship that changed my life. I wasn't just taking coffee orders (because I was terrible at it); instead, I was organizing footage, working on sets, covering scripts, and I even got to do a ton of editing. Seeing how they solved problems creatively, fostered relationships, and put a high premium on quality had a massive influence on me, and every success I've had since then I can tie directly to lessons I learned from those four dudes.
What was your first union job? Editing animatics for season three of "Harley Quinn," the animated series on HBO Max. It was also my first animated project and my first studio job, which was intimidating at first, but once I started cutting comedic dialogue scenes (which has always been my bread and butter), I quickly got comfortable making these iconic characters fight or crack wise or have wild sex, and everything in between.
What credits or projects are you proudest of, and why? Over the last few years, I've been making music videos with my favorite singer/songwriter, Justin Courtney Pierre of the rock band Motion City Soundtrack. It's not my widest-seen work, but I'm so proud of these projects we've made together, and it's been a real dream-come-true experience to collaborate with one of my favorite artists. Sometimes it rules to meet your heroes, and seeing Justin's creative energy up close always reminds me why I love what I do.
What was your biggest challenge in your job (or on a particular project) and how did you overcome/solve it? I was one of the editors on "YouTube Rewind 2018" (aka the most-disliked video in YouTube history). After reaching this massive stage and being unanimously reviled by hundreds of millions of people, I truly thought I was never going to work again. But then a few days later, I booked a streaming series and bought my niece a Christmas present, so life goes on. You strangely kind of feel invincible after bombing at that scale, and it inspired me to leave the branded world entirely and start actively transitioning my career toward booking film/TV work. The biggest advice I give kids who are scared of their work failing is "Call me when you have 22 million dislikes. And even if you top that? Keep making stuff, anyway."
What was the most fun you've had at work? I grew up watching Saturday morning cartoons on Kids' WB, so I always imagined how working on that lot would be filled with actors reading scripts in horse costumes, coyotes leaving coyote-shaped holes in the walls, and somebody yelling "MAKEUP!" before smacking you in the face with powder. It's not quite that zany, but it's not too far off, either. On my breaks, I like to sneak into the soundstages and watch these massive productions shoot work that millions of people are going to see. That electricity of being surrounded by so many talented artists and filmmakers never goes away. I also wander around the lot and basically take their tour for free. (If any of my bosses at WB read this, that was all just "a joke.")
Jobwise, what do you hope to be doing five years from now? There are still so many big goals I have. I want to edit the Muppets. I want to edit a Miranda July indie darling. I want to edit a massive, saturated Hollywood musical. While I've built myself a stable niche of comedy editing work, there's still so much I want to do in my career, so I'm always trying to take on projects that can lead to the kind of opportunities I'm chasing.
And I want to edit at least ONE "I Think You Should Leave" sketch. But c'mon, who doesn't?
Favorite movie(s)? Why? Because I'm cutting a Warner Bros animated feature right now, I'll go with "The Iron Giant." It's a purely entertaining film that also had these raw emotional themes Brad Bird wanted to explore. It's aesthetically incredible — everything from design to score feels so of the era it's in while still being timeless. I've watched it move adults and children alike to laughter and tears and even existential musings on why we're here. Movies that are so undeniably good like that always excite me, regardless of their box office or streaming numbers.
Do you have an industry mentor? I've been very blessed to work with and learn from so many talented filmmakers, but I'll always be grateful to editors like David Ward, Chris Roldan, Neil Mahoney (#Neiledit) and Al Levine to name a few. They all went out of their way many times to teach or give me advice or help me advance my career, expecting nothing in return. It's been a huge honor of my career to also start mentoring upcoming editors and bring the ladder down like so many others did for me.
What advice would you offer to someone interested in pursuing your line of work? Don't wait for permission to make something — Make Something! Make a LOT of things. They'll start crappy but they'll keep getting better, and you'll keep getting better, too. And take any and every job you can get; even on "boring" jobs we all start with, like weddings and corporate videos, there's something to learn or practice or improve. Look at every new opportunity as a learning one.
Is there anything you'd like to say to your fellow Guild members, some words of encouragement? Animation is cinema, and animation editing is editing. Despite doing the same job, we often make much less than what our live-action counterparts do in the same position. So I would encourage you to stand with all animation workers in fighting to close the pay gap!
Compiled by David Bruskin.