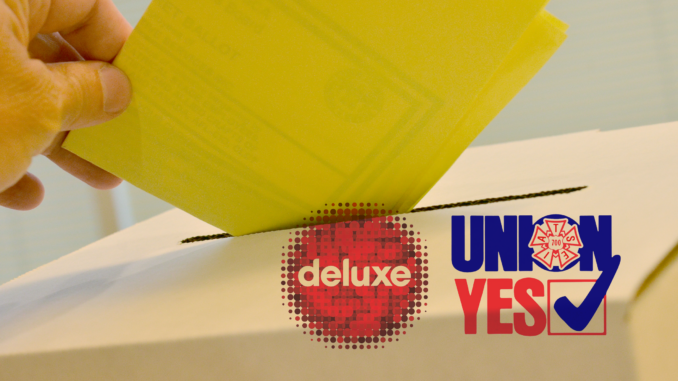 by Rob Callahan
Congratulations to employees of Deluxe Technicolor Digital Cinema (DTDC), who voted overwhelmingly on Thursday to unionize with the International Alliance of Theatrical Stage Employees (IATSE) and the Editors Guild! By a Union Yes vote of 68%, the company's employees chose union representation in an election conducted by the National Labor Relations Board (NLRB).
DTDC employs about seventy technicians engaged in the production of Digital Cinema Packages. Digital Cinema Packages, the electronic equivalent of film prints, have replaced film as the primary medium for the theatrical screening of motion pictures. DTDC is the world's dominant digital cinema facility, handling the bulk of DCP mastering and distribution for all the Hollywood studios. The joint venture operates under Deluxe management.
In the weeks leading up to Thursday's vote, management aggressively campaigned to discourage employees from unionizing. The company's efforts to thwart organizing included anti-union town-hall meetings with Deluxe's CEO and COO, vague promises of plans to improve wages should employees vote against unionizing, and repeated one-on-one meetings with bosses urging employees to vote No.
Thursday's vote comes just over a year after employees of Deluxe's Culver City post-production facility voted to organize with the Editors Guild and IATSE.
Deluxe Entertainment is owned by MacAndrews & Forbes, the holding company of billionaire investor Ron Perelman.
To learn more about organizing with the Editors Guild, you can contact an organizer at Organizing@editorsguild.com, or visit the Organizing Department's website, www.PostProud.org.