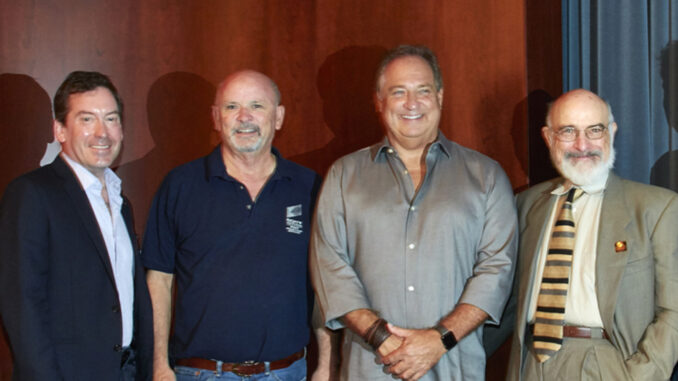 story and photos by Mel Lambert
On Saturday, September 17, Mix magazine presented its third annual Sound for Film and Television conference at Sony Pictures Studios in Culver City, in cooperation with the Cinema Audio Society (CAS) and the Motion Picture Sound Editors (MPSE). This one-day event was subtitled "The Merging of Art, Technique and Tools" and included a keynote address by re-recording mixer Gary Bourgeois, CAS, panel discussions on the art of sound design, sponsored workshops hosted on the facility's dubbing stages, and exhibits from leading technology suppliers — including Avid Technology, Auro-3D, Steinberg, JBL Professional and Dolby Laboratories.
The organizers reported that more than 500 people pre-registered for the event, which represented "a unique opportunity for sound artists to network, exchange ideas with their peers and learn about new and emerging sound technologies," said Tom McCarthy, MPSE president and executive vice president of Post-Production Facilities at Sony Pictures Entertainment. "For anybody passionate about sound, this was a can't-miss event."
"Our industry has changed dramatically in recent years," Bourgeois advised during his keynote speech in the Cary Grant Theatre. "Nowadays, screenwriters are often the showrunners and have the power of directors. We, as sound editors and re-recording mixers, should be aware of the talent we bring to the project as storytellers. We need to explore the best ways of using technology to be creative and support the production. It's an exciting time to be involved with the motion picture and TV industry, with new immersive formats that offer us more creative options than ever before." His recent projects include director Ariel Vromen's Criminal and the miniseries Six.
Bourgeois also recognized the work being done on industry standards by Brian Vessa, chairman of SMPTE Technical Committee 25CSS, and executive director of Digital Audio Mastering at Sony Pictures Entertainment. "We need a strategy for delivering mixes that will play back in movie theatres and consumer systems with the same emotional energy as we are hearing on the re-recording stage —standards that will cross various environments."
"Our industry has changed dramatically in recent years," Gary Bourgeois advised during his keynote speech in the Cary Grant Theatre. "Nowadays, screenwriters are often the showrunners and have the power of directors. We, as sound editors and re-recording mixers, should be aware of the talent we bring to the project as storytellers.
Arguing that the editing and mixing worlds are very different, Bourgeois said, "There are a diversity of workflows, some involving pre-dubs and some without pre-dubs. I always like to have pre-production meetings with the director and the sound editorial, music and re-recording teams. What happens, for example, if the scoring session is scheduled during pre-dubs but the re-recording mixer no longer pre-dubs at all, and needs to have everything live [for in-the-box print mastering]? That can be a snafu because we're bypassing the pre-dub stage. Now what happens to the post schedule?"
His final word of advice to conference attendees was simple, yet pithy: "Do not let the geek take over! Instead, show the passion we have for the final product."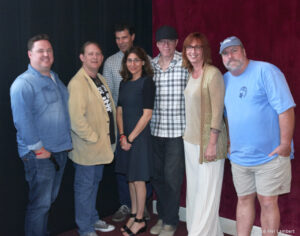 Other highlights included the "Sound Inspiration within the Storytelling Process" panel presented by MPSE in the Burt Lancaster Theatre, moderated by Carolyn Giardino of The Hollywood Reporter, with panelists Will Files, Mark P. Stoeckinger, Paula Fairfield, Ben L. Cook, Paul Menichini, MPSE, and Harry Cohen. Discussion topics included the way in which sound designers find their inspiration, and the paths they take to create unique soundtracks.
Addressing Giardino's question of how editors should search for inspiration during the creation of a soundtrack, re-recording mixer/supervising sound editor Files suggested, "We need to support the feel and 'vibe' that the director wants, and his aesthetic." While working on writer/director Jeff Nichols' film Loving, which is scheduled for release November 4 and follows the story of an interracial couple that was sentenced to prison in 1958 for getting married, Files recalled that, initially, he tried to add too much sound into the mix. "It wasn't following the director's vision," he conceded, "so after the first playback I scaled it way back! A good sound mix doesn't have to be wiz-bang; sometimes you need to get the audience to lean into the picture."
For research, Files readily acknowledged that he uses YouTube to look for sound ideas. "For Planet of the Apes, I wanted to know what baby apes sound like, as well as angry orangutans," he said. And it's a working philosophy followed by Stoeckinger. "It's all about YouTube," he agreed.
For the soundtrack to director Ridley Scott's Prometheus, for which Stoeckinger served as supervising sound editor, he recalls "watching the [edited] film for the first time as a movie and then asking myself how sound might help those ideas." He also looked for "organic sounds to make something that isn't organic," citing as an example the black goo that oozes from storage jars in key scenes. "I remember Pop Rocks [carbonated candy] from when I was kid, so we used that to create the fizzy, popping sound."
Menichini has worked as sound designer and/or sound supervisor on a number of interactive video games, including StarCraft II: Legacy of the Void and World of Warcraft: Warlords of Draenor, as well as the TV series Once Upon a Time in Wonderland and Planet Sheen. "I also record original sounds for these shows to ensure a lot of choices," he said. "But while I am sorting through the files, I often hear a sound that might work elsewhere — maybe as a sweetener; I believe in happy accidents!" "Yes, it's often serendipity," Files agreed. "I may have a sound that didn't work on one movie but then discover that it works for something else."
"Cross-fertilization occurs when you work on several projects," added Cohen, who has served as sound designer and/or supervising sound editor on such films as Deepwater Horizon, The Hateful Eight and Insurgent. "For Deepwater Horizon [due September 30] I followed director Peter Berg's vision to make the soundtrack very spatial and dramatic; he was very inspirational," Cohen said.
Fairfield, who won a Primetime Emmy Award for Outstanding Sound Editing on Game of Thrones, related that her sound design for this successful series needed to change as the characters — particularly the iconic dragons — grew up. "I created a series of back stories that helped me develop an overarching logic that the audience will understand," she stated. And some of these are rather whimsical, including the relationship between Daenerys Targaryen [played by Emilia Clarke] and the lead dragon. "I make believe that they are husband and wife," the sound designer confessed, "while I envision the other two dragons as Beavis and Butthead!"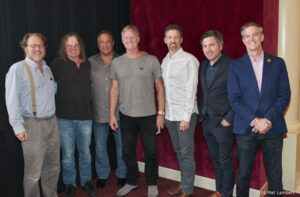 Later in the day, CAS hosted a sound-mixing panel entitled "Workflow for Musicals in Film and Television Production" that focused on live recording and other techniques to give musical productions a more organic sound. Moderated by Glen Trew, the panel consisted of music editor David Klotz, production mixer Phil Palmer, CAS, playback specialist Gary Raymond, CAS, production mixer Peter Kurlandm CAS, re-recording mixer Bourgeois and music editor Tim Boot.
Sponsored by Westlake Pro, a panel entitled "Building an Immersive Room: Small, Medium and Large" covered what facility owners need to know about the basic requirements of system design and setup — including console/DAW integration and monitor placement — to ensure that soundtracks translate to the outside world. Focusing on techniques for building various sizes of immersive post-production spaces, and moderated by Jonathan Deans, chief technical officer of Westlake Pro, the panel featured Bill Johnston, vice president of Engineering at Formosa Group; Nathan Oishi, director of engineering at Sony Pictures Studios; Jerry Steckling, chief technical officer at JSX; Brett G. Crockett, vice president of research sound technology at Dolby Laboratories; Peter Chaikin, director of recording and broadcast marketing with JBL Professional: and re-recording mixers Mark Binder and Tom Brewer.
Avid Technology presented a special panel discussion in the Cary Grant Theatre entitled "The Sound of Stranger Things" that provided an in-depth examination of how the 5.1-channel soundtrack was created for this acclaimed Netflix original series, with its unique sound design and 1980s-style, synth-based music score. Hosted by Avid's pro-audio solutions specialist Ozzie Sutherland, the panel included sound designer Craig Henighan, MPSE; supervising sound editor Brad North; music editor David ; and sound-effects editor Jordan Wilby, MPSE. Re-recording mixers Adam Jenkins and Joe Barnett joined the discussion from the Technicolor Seward stage via Skype during a break in their busy mixing schedule while working at the facility's 64-fader, dual-operator Avid S6 digital console. "We drew our inspiration — subconsciously, at least — from such sci-fi films as Alien, The Thing and Predator," Henighan acknowledged. Part sci-fi, part horror and part family drama, Stranger Things is often considered as an homage to 1980s movies like Close Encounters of the Third Kind and ET.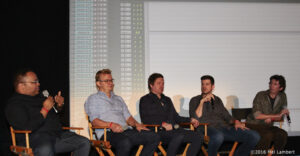 A special "Audio for VR Room" held in the Kim Novak Theatre demonstrated new tools and techniques for producing immersive sound and replaying realistic three-dimensional audio from headphones. As the audience learned, several issues exist regarding the timing and arrival of sound to each ear, the problematic Head Related Transfer Function, acoustic signatures of multiple environments, and the interaction of music and sound effects.
New this year was a "Sound Reel Showcase" presented by Formosa Group that featured short samples from award-contending and to-be-released films, with introductions and descriptions from the relevant sound teams. The audience in the Dolby Atmos- and Auro 3D-equipped William Holden Theatre was first treated to a high-action sequence from director Mel Gibson's new film Hacksaw Ridge, scheduled for release November 4. Starring Teresa Palmer, Andrew Garfield and Luke Bracey, the film follows the true story of a WWII army medic who served during the harrowing Battle of Okinawa, and became the first conscientious objector to be awarded the Medal of Honor. The highly dynamic and detailed Dolby Atmos immersive soundtrack was realized by supervising sound editor/sound designer/re-recording mixer Robert Mackenzie working at Sony Pictures Studios with dialogue editor Jed M. Dodge, ADR supervisor Kimberly Harris and re-recording mixers Andy Wright and Kevin O'Connell.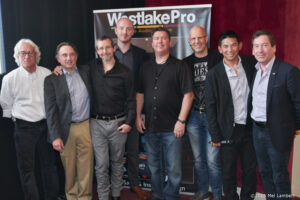 Other film samples included:
Director Zack Snyder's Batman v Superman: Dawn of Justice, for which Scott Hecker served as supervising sound editor, working with re-recording mixers Chris Jenkins and Michael Keller, CAS, together with effects designer David Grimaldi at Warner Bros. post facilities and Formosa Group Santa Monica.
The animated feature Sausage Party, with a detailed soundtrack from supervising sound editor Geoffrey Rubay, working with re-recording mixers Chris Carpenter and Debbie Adair, CAS.
Director Peter Berg's Deepwater Horizon, with a soundtrack overseen by sound designer/supervising sound editor Wylie Stateman, effects designer/re-recording mixer Dror Mohar, re-recording mixer Mike Prestwood Smith and effects designer Harry Cohen.
Director Gavin Hood's Eye in The Sky, with a soundtrack realized by sound designer/co-supervising sound editor William R. Dean, co-supervising sound editor/re-recording mixer Craig Mann and re-recording mixer Adam Jenkins.
Director Justin Lin's Star Trek Beyond, with a soundtrack by sound designer/supervising sound editor Peter Brown, assistant supervising sound editor Paul Aulicino and sound designer Stephen P. Robinson, with re-recording mixers Frank A. Montaño and Jon Taylor, CAS.
Director Paul Feig's GhostBusters reboot with a soundtrack by co- supervising sound editors Becky Sullivan and Andrew DeCristofaro, effects editors Phil Barrie and David Esparza, and re-recording mixers Beau Borders CAS and Mark Paterson, CAS.
The game-based Warcraft, from co-writer/director Duncan Jones, with a soundtrack developed by co- supervising sound editors Wylie Stateman and Tom Bellfort, supervising dialogue editor/re-recording mixer Eric Hoehn, plus re-recording mixers Michael Babcock, Michael Keller, CAS, Tim LeBlanc, Gary Rizzo CAS, and Mike Prestwood Smith.
Director Ron Howard's Inferno, scheduled for release October 28, with a soundtrack by supervising sound editor Daniel Pagan, supervising dialogue editor Tony Martinez, and re-recording mixers David Giammarco and Chris Jenkins.
Director Travis Knight's stop-motion animated feature Kubo and the Two Strings, with a Dolby Atmos soundtrack realized by supervising sound editor/sound designer/re-recording mixer Tim Chau, effects editor Thomas O'Neil Younkman and re-recording mixer Tim LeBlanc.
Writer/director Damien Chazelle's musical comedy La La Land, with a soundtrack developed at Fox Post-Production Services by co- supervising sound editor/sound designer/re-recording mixer Ai-Ling Lee, co-supervising sound editor Mildred Iatrou, and re-recording mixer Andy Nelson, CAS.
Co-writer/director Jonathan Liebesman's Teenage Mutant Ninja Turtles, with a soundtrack from supervising sound editor Laurent Kossayan, supervising dialogue/ADR editor Polly McKinnon and sound designer/co-supervising sound editor Jason W. Jennings, and re-recording mixers Anna Behlmer, Roberto Cappannelli and Terry Porter.
Director Antoine Fuqua's The Magnificent Seven, scheduled for release September 23, with a spirited 7.1-channel soundtrack realized by sound designer/co-supervising sound editor David Esparza, co- supervising sound editor Mandell Winter, and re-recording mixers Daniel J. Leahy and Steve Pederson, working on Sony Pictures Studios' Cary Grant Stage.