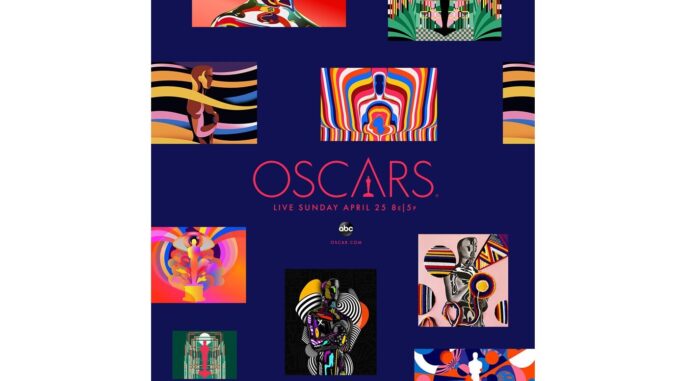 Reprinted from The Los Angeles Times by Josh Rottenberg on April 25, 2021.
Capping a year that few in Hollywood will forget, much as they might want to, the 93rd Oscars ceremony Sunday night delivered an impassioned message that, while the movies may be down, they are far from out.
As expected, the motion picture academy gave the best picture prize to director Chloé Zhao's Nomadland, a quietly poetic character study about economically displaced Americans. The film had earned acclaim since its debut at September's Venice Film Festival, and its strong showing — which also included a historic win for Zhao, who became the first woman of color to win the directing prize — had been widely predicted.
"I have always found goodness in the people I met, everywhere I went in the world," Zhao said, accepting the directing award. "This is for anyone who had the faith and the courage to hold on to the goodness in themselves and to hold on to the goodness in each other, no matter how difficult it is to do that." …
The Best and Worst Moments of the 2021 Oscars
Reprinted from The New York Times by Sarah Bahr and others on April 25, 2021.
The 93rd Academy Awards were already shaping up to be unusual — delayed because of the pandemic and featuring movies that, for the most part, bypassed theaters for streaming. Then the producers, including Steven Soderbergh and Stacey Sher, were asked to shake up the show. That they did, setting it at Union Station in downtown Los Angeles and upending the order of awards so that best picture was announced earlier than usual and best actor was the last to be revealed. While Nomadland won best picture as pundits predicted, hopes were high for a sweep by actors of color, only to be dashed late in the evening.
All told, it was one of the odder Oscar nights in memory. Here are the highs and lows as we saw them.
The opening set expectations high: The camera followed the first presenter, Regina King, making her way through the depot in a long, tracking shot that continued to trail her as she wound through the banquet-style tables, surrounded by guests who had all been coronavirus-tested, tested and tested again, for good measure. King, whose directorial debut, One Night in Miami, was nominated for three Oscars, served as a tour guide to a scene that almost made us forget we were in the middle of a pandemic. …
Oscar Winners and Nominees
Reprinted from The Academy of Motion Picture Arts and Sciences site on April 25, 2021.
WINNER
.
NOMINEES
THE FATHER
Yorgos Lamprinos
Chloé Zhao
.
PROMISING YOUNG WOMAN
Frédéric Thoraval
.
THE TRIAL OF THE CHICAGO 7
Alan Baumgarten …
.
SOUND
WINNER
SOUND OF METAL
Nicolas Becker, Jaime Baksht, Michellee Couttolenc, Carlos Cortés and Phillip Bladh
.
NOMINEES
.
GREYHOUND
.
Warren Shaw, Michael Minkler, Beau Borders and David Wyman
Ren Klyce, Jeremy Molod, David Parker, Nathan Nance and Drew Kunin
Oliver Tarney, Mike Prestwood Smith, William Miller and John Pritchett
.
SOUL
Ren Klyce, Coya Elliott and David Parker …
Oscars Ratings Crash to an All-Time Low; Viewership Falls Under 10M for First Time Ever
Reprinted from Deadline Hollywood by Dominic Patten on April 26, 2021.
Last night's 93rd Academy Awards saw Netflix walk away with the most hardware overall, but the Disney empire took the big prizes with Best Picture and Best Animated Film wins.
Those Nomadland and Soul trophies better shine pretty bright, because for ABC, Sunday's Oscars were an expected ratings washout.
In delayed fast national results just released by Nielsen, the 93rd Academy Awards were watched by a mere 9.85 million, with a dismal rating of 1.9 among the 18-49 demographic.
That is an all-time low for Hollywood's biggest night – by a huge margin.
In fact, it is a drop of over 58% in terms of audience from what the previous low of the 2020 Oscars snared on February 9 last year. In terms of the key demo, the 2021 Oscars is down a crushing 64.2% in the earlier ratings from the 2020 Oscars. …