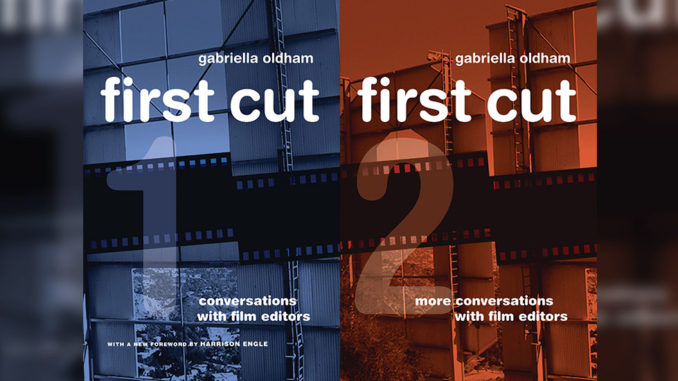 by Kevin Lewis
The picture editor's role in the creation of a movie has always been shadowed by the mystique of the film director. Many people think that the director is the guiding hand to the robot film editor. The director does little to discourage this idea in interviews with film critics, many of who themselves do not understand the editing process. Few histories of the movies even analyze the editing process, much less mention the editor. Sadly, because oral histories of film and sound editors were neglected in the studio system's heyday, there is much that is irretrievable.
Gabriella Oldham has made it her mission to interview picture editors and create a history. Her previous volume, First Cut: Conversations with Film Editors, has just been reissued in a 20th anniversary edition, and is accompanied by First Cut 2: More Conversations with Film Editors, in which veteran picture editors are interviewed about the digital editing era as well as cutting on film.
In the new volume, Oldham states that the film editor's role is even more complex than earlier: "The technology has spawned new and unforeseen dilemmas imposed on editors across the board. With enormous storage capacity in editing software, directors can shoot unlimited footage to their hearts' content — even as deadlines are shortened… Editors are now expected to wade through endless hours of dailies and weed out shots that are unusable and unnecessary, but nonetheless [must] present [them] to be screened and evaluated." Editors have expressed outrage, she points out, over Apple's Final Cut Pro X, which "has stripped the software of many of the basic functions they require to do their work."
The real accomplishment of Oldham's books is her concentration on the psychology of editors rather than just their technical ingenuity. She reveals their humanity, their emotional response to the material, their generosity, their humility and their decision-making — which can sometimes bring them into conflict with a director.
In his Foreword to the new edition of the original First Cut, documentary producer/director Harrison Engle discusses the role of the editor in 1992 and in 2012. Despite the change in technology in those 20 years, from cutting raw film on a Steenbeck or Moviola to editing digital images on a computer, the mission of the editor is the same: "Editors bring creative coherence, structure, style and depth of performance to their films." They are, according to the late Sally Menke, ACE, "the quiet heroes of movies."
In both books, the interviewees are balanced between documentary and fictional commercial films.
Editors have to be diplomats and have a sense of balance in approaching both the film and its director. That was true throughout film history, but how has it changed? Engle writes, "Editors today may have to deal with a greater range of technical manipulation and with artificial 'looks,' through CGI, digital intermediates, motion capture and other techniques. However, they must still bring reality and credibility to the picture. With electronic shooting, the raw material can be endless, and editors are required to bring a strong sense of organization and structure to their work. They also find that other members of the team — cinematographers, production designers, and composers, for example — now have expectations of participating in the editorial process. The job hasn't gotten easier."
Though the late Dede Allen, ACE, was not interviewed for either volume, she is a thread through both books because Angelo Corrao, ACE, and Richard Marks, ACE, cite her as a mentor. In the first book, Marks recalls that Allen launched his career. "Without Dede, I don't think I'd have much of one," he comments. In gratitude to her guidance and lessons, he strives to create a legacy.
One of the most poignant interviews in the second volume is with Corrao, the son of Italian immigrants, who admits that he never would have become an editor without Allen. He was content to be a quiet assistant in the background in Manhattan cutting rooms throughout the 1970s and refused offers to move up in the editing ranks. "I only took small scenes and sequences to cut," he relates. But because Allen "ran the best film school in the world," he says, she allowed no slackers. "Dede had already heard my protestations and said, 'Listen, that's enough; you either shit or get off the pot, Angelo. You need to edit.'"
Julie Monroe cites Claire Simpson as her mentor because of her bravery editing the films of Oliver Stone. "She really cuts from the gut," Monroe says. "I saw her breaking so many of the rules that I thought applied to editing." And in a way, that confidence is another thread throughout the interviews. Editors have to press their cases with myopic directors when necessary.
In the new volume, Oldham states that the film editor's role is even more complex than earlier.
In both books, the interviewees are balanced between documentary and fictional commercial films. Among the Editors Guild documentary and feature film editors interviewed in the first volume are Marks, Paul Barnes, ACE; Geof Bartz, ACE.; Donn Cambern, ACE; Anne V. Coates, ACE; Peter C. Frank, ACE.; Alan Heim, ACE.; Paul Hirsch, ACE; Sheldon Kahn, ACE; Carl Kress, Sidney Levin, ACE; Carol Littleton, ACE; Barry Malkin, ACE; Emily Paine; Bill Pankow, ACE; and Tom Rolf, ACE
The documentary film editors include Tom Haneke, Merle Worth, Ted Winterburn. What would have enriched the reissue of the 1992 book is a new discussion among the earlier set of film editors, many of whom had long careers editing film with a Steenbeck, KEM or Moviola, about how digital editing has affected their intuitive sense of rhythm and timing in a scene. Oldham does write a resume update of their lives in the new edition, but that is the extent of their careers in the digital era. Rudi Fehr, John D. Dunning, Evan Lottman and Harold Kress are among the deceased, so their testaments recorded by Oldham are invaluable.
The second volume has fewer MPEG members among the 12 interviewed: Mark Livolsi, Monroe, Corrao, Richard Chew, ACE, and Michael Tronick, ACE Oldham includes distinguished documentary film editors Kate Amend, ACE; Victor Livingston, Jonathan Oppenheim and Alan Berliner. European editors Joe Bini (Werner Herzog's editor), Lucia Zucchetti (who edited for Stephen Frears) and Emma E. Hickox (Anne V. Coates' daughter, who edited the British cult film Kinky Boots).
Let's hope a third volume of this illuminating series will follow. We need to preserve not only film, but our history of gifted people in the industry.