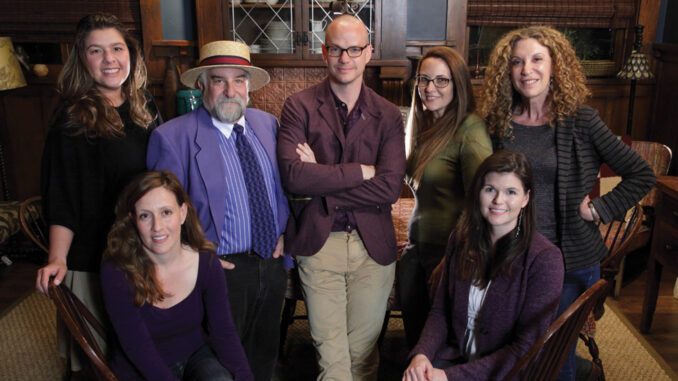 by Laura Almo • portraits by Gregory Schwartz
Television has its own way of telling stories, on screen and in the cutting room.
Last summer, ABC Family premiered The Fosters, a one-hour TV drama created by Peter Paige and Bradley Bredeweg and produced by Jennifer Lopez's Nuyorican Productions and Prodco Inc. Recently honored with a GLAAD (Media) Award, The Fosters follows the trials and tribulations of an interracial lesbian couple raising a blended, non-traditional, alternative, multi-racial family. Presented by the Gay & Lesbian Alliance Against Defamation (GLAAD), the award honors the media for outstanding accurate representations of members of the lesbian, gay, bisexual and transgender (LGBT) community and the issues that affect their lives.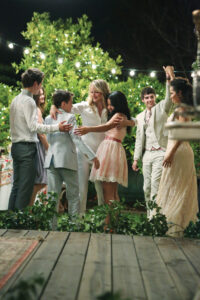 Striking a chord with its prime audience — female teens and twentysomethings — the series was an immediate success. And no wonder; dealing with topics such as teen sex, the "morning after" pill, drugs and LGBT issues, the show deals with 21st-century concerns in a heartfelt albeit realistic way. At the core of the show is family, according to The Fosters' co-creator and executive producer Peter Paige. But there's a twist. The inclusion of a same-sex couple immediately begs the question: How did they create their family? The family is composed of a biological child from a previous marriage, a set of twins adopted from the foster- care system, and a couple of foster kids the couple (Lena and Stef) are trying to adopt. "This creates a kind of instant, 'We're a family; we're all in this together, but we all got here on a different road' dynamic," says Paige.
Much the same can be said for the family spirit in editorial where the crew has adapted to a workflow that keeps control of dailies in-house. Back for a second season, which premiered June 16, the post-production team enjoys a close-knit environment with an unusually high number of women working on the team. Five of the six editors and assistant editors are women. Editor Michael D. Jablow, ACE (Hair, The Muppet Christmas Carol, The Contender), the lone male, cut the pilot. Sharon Silverman (Northern Exposure, Judging Amy, Ugly Betty, Army Wives) is a seasoned TV editor. Debra Weinstein (Alias, Brothers and Sisters, 90210) got her start working in commercials in New York before moving to LA and initially assisting on many TV series.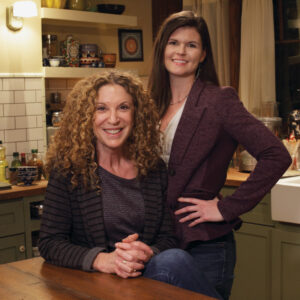 Assistant Editor Meghan Robertson has been working in television for the nearly 10 years on TV dramas that include Army Wives, Private Practice and CSI: Miami. Sandra Angeline, who bounces back and forth from features to TV, began in reality TV/documentaries, and recently worked with veteran editor Mark Goldblatt, ACE, on Percy Jackson: Sea of Monsters. Sharon Smith Holley came from features, where she is a visual effects editor on over 50 films.
When Smith Holley began working on The Fosters, she was struck by the number of women working on the show — both in post and in the director's chair. As one of few women in feature visual effects, she welcomed working alongside many other women. It is a sentiment shared by all, adding to the collaborative, enjoyable, all- in-the-family, let's-help-each-other-out ethos that pervades the workplace. Fittingly, this all adds up when working under deadline to get this groundbreaking, emotionally raw show through post-production.
THE WORKFLOW
In the Producers 4 building on the Warner Bros. lot in Burbank, assistant editors Robertson, Angeline and Smith Holley get the dailies directly from the DIT (digital imaging technician) and go to work consolidating them in order to log, sync, group and color the footage. Traditionally, the camera department turns the raw footage over to a lab, where it is synched and color-corrected. But in a departure from customary workflow, this process is now done in-house on The Fosters.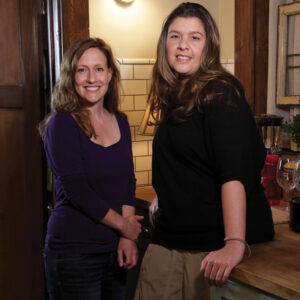 "The DIT takes the raw camera and sound cards from the Alexa [camera] and the Deva [sound] and puts them on a drive," says Robertson, who has been working on the show since the middle of the first season. "The DIT will also include the LUTs [Look Up Tables]. I take the raw camera, raw sound and LUTs and import those into the Avid."
Once the dailies are in the Avid, the first step is to consolidate and log the footage, and then apply a LUT to the clips. LUTs are color effects that are applied to temporarily get the color closer to what the DP intended, according to Robertson. This allows the editor to view the footage with a more natural look — rather than the flat, desaturated original camera image of the Arri Alexa. Robertson checks the script supervisor's notes to make sure that everything is complete, and then the LUTs are applied to color the clips.
"This used to be a very time-consuming process, but since upgrading to Avid 7.0.3, which features a color-management tool, the process has become much more time-efficient," says Angeline, who also has been working on The Fosters since mid-Season 1. She remembers the days when the assistants had to go into the timeline and add color to each individual clip.
"Now, instead of going in and doing a whole color correction, you can bring a LUT file from set and add it to all the clips at once," Angeline explains. "Let's say the director and DP have a color they like for a certain scene; they create a LUT file and give it to us with the dailies. They do the same thing with all the scenes. Once we have brought everything in and consolidated it, we highlight the clips, right-click on source settings and add the LUT to that scene." This shaves off a few hours of work from the overall workflow process. Plus, there's no guesswork on the part of the assistants, according to Robertson, who adds, "It comes straight from the DP and we know exactly what color he's looking for."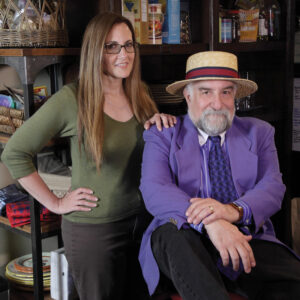 Silverman, who works with Robertson, observes, "I don't feel like I'm working with substandard material by any means. When we first started the show, it was a little rough of course, and it took a bit of time to get everyone rolling. But it's pretty well-oiled at this point."
The next step is to sync picture and sound. "You will lasso your picture and sound clips and select auto sync," explains Robertson. "You can sync by time code, and if sound and picture time code match, then it will sync flawlessly. Occasionally it doesn't, and we go in and sync those dailies the old-fashioned way by listening for the clap and viewing the slate."
After applying color and syncing the clips, it becomes more like a typical television workflow. Usually when assistants receive dailies from a lab, they have been colored, synched and labeled with the scene and take number. The circled takes have been separated from the non-circled ones. The lab also provides dailies on DVDs that are distributed to the studio and producers. "If a lab did the work, they would just give us a drive with dailies," adds Smith Holley. "We'd drag them into a bin, the bin would be all set and the editors would be cutting away." With this workflow, editors receive dailies that have been logged, synced and color-corrected by the assistants.
"It's different from a lot of the more traditional network shows," comments Weinstein. "Which is really neat, because if production is worried a scene didn't translate, we can actually watch it right away."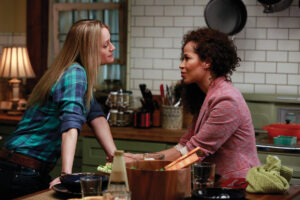 On the backend, The Fosters goes to a colorist for color correction, but it isn't sent out to online. But to Angeline, working with DNX 175x high-resolution QuickTime files, it's basically like cutting online. "If we were up-rezzing, then we would be technically onlining," she says. The process involves preparing the show for turnovers to sound effects editors, the music supervisor, the music editor and the composer.
The assistants are also responsible for backing up the material onto LTO (Linear Tape-Open) tapes — including dailies from camera and sound each day. This process is complicated and can be very time-consuming. But thanks to the meticulous work of Robertson, there is now a manual that covers the whole backup procedure, as well as workflows for dailies, onlines and deliveries. She also included screen grabs of the various settings and checklists of everything she, Angeline and Smith Holley are expected to deliver.
Admittedly, this workflow has shifted how the assistant editors work on The Fosters. It normally takes a full day to do the work in-house, leaving assistants with typically one day before the editor's cut is due to complete temp sound and music scoring. But there is a lot to like about it for Angeline. "Knowing the workflow inside out makes the assistant editor indispensable," she says. "It's really important to know exactly what happens on set with the DIT through post-production. With this workflow, you really learn every aspect of the process: what happens on set with the DIT, ingesting the footage, the color that is being used, the codecs and the format. You know exactly what to do and it's knowledge you can take anywhere. At the end of the day, we're always learning something, and I find that very helpful."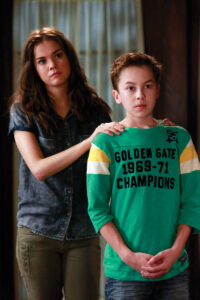 This rather untraditional workflow gives the assistants a leg up should they be promoted to editor, as was the case with Weinstein, who began on The Fosters as an assistant editor and was bumped up to editor during Season 1. "A lot of that assisting stuff really sticks," she confirms. "I would be very comfortable to online and do all the prep for my own show if I had to."
But The Fosters is not the first show to handle dailies this way, according to Paige, who approved the workflow. Prodco, the production arm of ABC Family, adopted this cost-efficient workflow, he relates, adding, "This workflow is something that Prodco started doing on other shows of theirs. They pitched it to us and we thought, 'Let's try it and see if we can make it work' — and it has worked pretty well."
Much of the credit goes to co-producer Trey Coscia, post-production supervisor Kyle Christensen and post coordinator Angela Gonzalez-Prendes, who are always looking for faster and easier ways to help Robertson, Angeline and Smith Holley get their work done.
BENEFITS
Despite the additional prep work that assistant editors are now doing on The Fosters, the consensus is that they're on the right track as far as managing dailies in-house. When you look at the shifting tides in TV editorial, where the norm is trending toward two assistants for three editors, Smith Holley insists it's better to keep the work in the cutting room rather than send it off-site. "We have more control over it, and it's more jobs for editorial," she says.
Robertson maintains that they're moving in the right direction, but haven't yet achieved the most productive work environment possible. "I think the ideal compromise would be a fourth assistant dedicated to just taking care of the dailies. This would still save money by doing dailies in-house, and it would free up the other assistants to focus on assisting the editors throughout the creative process, which is what we're here to do."
"It was really important to create an environment where people feel heard, feel validated and feel some ownership of the work." – Peter Paige
Indeed, the job of the assistant editors includes technical tasks such as prepping dailies so editors can begin cutting, but assistants also engage in more creative/intuitive undertakings, not least of which is supporting their editor so she or he can fully focus on the work of telling great stories.
In that vein, Silverman comments, "This workflow is very workable. I get my dailies in a timely manner, and Meghan is able to lay color in before I cut dailies. She is a very strong assistant and we're a really good team." She said she likes to mentor assistants if they're receptive and interested in editing.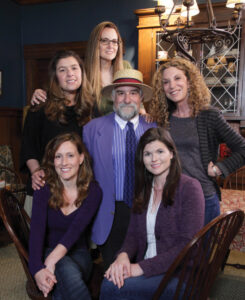 Robertson, who aspires to edit, has practiced cutting scenes here and there but recently cut an act to be able to show the editors what she is capable of doing. Silverman says she tries to help Robertson in the area of storytelling. "A lot of assistants approach editing early on from a technical standpoint," the editor explains. "While the technical is necessary, I like to help Meghan pull the story out. Sometimes, I'll show her the more complex scenes and ask her opinion; if anything is missing from the story — and if so what and why? We'll brainstorm that way. It's good for both of us and it's a really good learning tool."
Jablow reflects upon how much things have changed in post-production: "There used to be a much closer relationship between the assistant and the editor. Since things went digital, it's actually become more difficult for assistants because they're not sitting in with the editor. They are so busy working in their own room managing everything."
That said, like Silverman, Jablow makes it a priority to instruct his assistants. "I go out of my way to mentor all of my assistants and keep them very much in the loop to make them feel that they're part of the creative process," he says. "It's what was done for me when I was an assistant, and it's the way that I learned to become an editor. To me, mentoring an assistant is one of the most important things that an editor can do."
LOVE OF THE STORY — AND THE JOB
It is no secret that days can be long in television post-production, with grueling schedules, unforgiving deadlines and gruff executives. But The Fosters is different. Love of the story and the characters infuses the workplace — and the post-production crew — with an inspiring, supportive atmosphere respectful of everyone's time.
"It was really important to create an environment where people feel heard, feel validated and feel some ownership of the work because we are firm believers that is where the best work happens," sums up Paige. "Everyone who has been drawn to this show comes at it from a really amazing place. We're doing a show about a family, but we really are a de facto family ourselves." All of which makes for a very nurtured family unit.