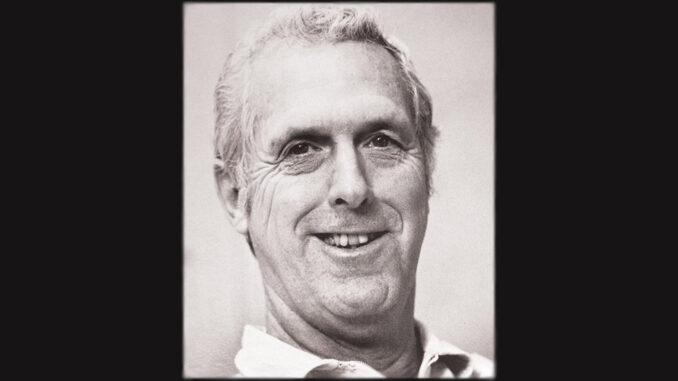 Frank Warner
Sound Editor
March 27, 1926 –
August 31, 2011

by Mark Warner
Sound editor and sound designer Frank Edward Warner died peacefully at home in Sedona, Arizona, on August 31. He was 85.
Warner, who retired and moved to Sedona in November 1989, was an award-winning sound effects editor, earning an Oscar for his sound editing work on the film Close Encounters of the Third Kind (1977).
Although he originally planned to be an architect, World War II intervened. As a US Marine, he was sent to China, where he worked for the Armed Forces Radio. Later, he worked for the CBS Network Radio in Los Angeles. This job "got him in the door," as he put it. He then moved on to television and film editing in 1952 at 20th Century-Fox. In 1954, he went into independent television and feature films, beginning with eight years on Dragnet.
Described as "an artist painting with sound," Warner had said, "Sound is like music that gives us the emotion that the writer intended." In 1966, while working with Stanley Kubrick on Spartacus, he realized that film was truly an art form and that sound effects made a definite contribution. "One of my best notes within my compositions was the absence of sound, which was very dramatic," he had said. "I accomplished more with silence than with actual sound. The greatest compliment I received about my work was when someone, after viewing a film, asked me what I did. It was so natural that the person was not even aware of the sound effects."
In 1967, he accepted his first assignment as supervising sound editor on director John Boorman's Hell in the Pacific. He then continued his career editing over 60 films, including Little Big Man, Kotch, Harold and Maude, Save the Tiger, Shampoo, Paper Moon, Roxanne, Billy Jack, King of Comedy, Barbarossa, Jonathan Livingston Seagull, Taxi Driver, Being There, Rocky II, III and IV, Breathless, Coming Home, Over the Top, Falling in Love, Raging Bull and Everybody's All American.
Regarding his Academy Award for the sound effects on Close Encounters, he had said, "For the mother ship sound, I made up 31 different sounds including hay balers — slowed and reversed — trucks, trains, mosquitoes, metal and wood twists, squadrons of planes, etc. All were treated to remove their source and to move this tremendous image of a big, heavy, living but harmless mass."
He not only had to create the sound of the mother ship but also sounds for the creatures from outer space. Since director Steven Spielberg didn't decide what the aliens would look like until late in production, Warner had to pick sounds appropriate for the emotions of the unknown visitors.
Sylvester Stallone said of Warner's work, "You are a genius at your craft who was born with that rare talent to take a variety of sounds and compose a symphony of special moments. I may have been the one who threw the punches in Rocky, but you're the one who connected."
Hal Bartlett, director of Jonathan Livingston Seagull, said of Warner's work, "We had no sound tracks at all. Starting with literally nothing, Warner created an unforgettable symphony of sound. The smallest water drop, the subtlest rustle of a leaf, were not too much. He built sounds no one has ever heard of before. A seagull diving at high speed. A seagull walking in the snow."
When asked what he thought of new sound technology, Warner had commented, "A lot of fantastic sound work is being done today entirely electronically, and I have nothing against that, but I like the harmonics that I seem to come by with my 'dirty sounds,' grabbing hold of them and squeezing until I get what I want." His sound library consisted of a million and a half feet of sounds, catalogued and cross-indexed.
Warner's incredible talent and energy were an integral part of the Sedona International Film Festival. He formed workshops for the festival and tapped into his resources of top achievers in Hollywood to present panel discussions with some of the film industry's biggest talents. His hope was to reach out to student filmmakers, giving them access to all facets of the film industry.
He was a great talent and a great man. He will be missed. He is survived by his wife Theodosia Greene, his children Leanne Warner Domnitz (Gary) and Mark Warner (Sue), and three grandchildren — Andrew Domnitz, Ellie Warner and Clay Warner. He was pre-deceased by his first wife, Lann Warner.
Donations may be made in Frank's name to the Alzheimer's Association at alz.org or to the Lewy Body Dementia Association at lbda.org.