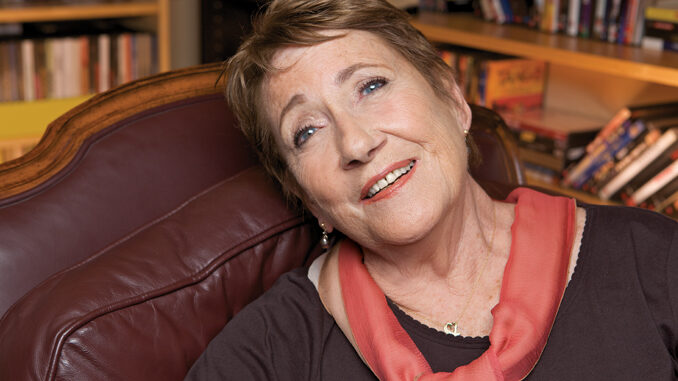 by Bill Desowitz  • portraits by Wm. Stetz
Editor's Note: With the recent passing of Oscar- and BAFTA-winning editor Françoise Bonnot, ACE, at the age of 78 on June 9 in Paris, we are re-posting this interview with her from the January-February 2011 issue of  Editors Guild Magazine, the forerunner of CineMontage.
After editing all four of Julie Taymor's films, including the latest, The Tempest, the gender-bending adaptation of Shakespeare's final play that opened via Miramax December 10, Françoise Bonnot, ACE, has come to believe that the director bridges time by mixing past and present sensibilities and techniques.
"She's a very creative woman and likes going from one style to another and letting her imagination work," observes Bonnot, who, in a career spanning nearly 50 years, has worked with such storied directors as Costa-Gavras (earning an Oscar for Z, 1969), Michael Cimino (Year of the Dragon, 1985), Roman Polanski (The Tenant, 1976) and Jean-Pierre Melville (Army of Shadows, 1969), among others.
But with Taymor, Bonnot has found a new kindred spirit. "In a way, I feel like I have a nice creative part also," the 71-year-old French native humbly suggests. "All she has to say is: 'Fix it.'" And Bonnot has proved quite the fixer. Titus (1999), Frida (2002), Across the Universe (2007) and The Tempest are all timeless odes to love, power, art and rebel- lion that are wrapped in what Taymor calls the ideograph: "one, simple expression that can tell everything."
"Doing a musical like Across the Universe was so much fun; and doing Shakespeare after that was totally different," Bonnot con- fesses. "But, still, a big part of editing is rhythm, even in Shakespeare." The Bard's words, however, she found challenging.
"The difficult part was that it was in Old English, which for some reason bothered me more than on Titus, our first Shakespeare adaptation," she continues. "I told Julie that I had to look up words in the dictionary to make sure I understood each one. But she said it didn't matter, that the flow and situation are all you need to understand. So you keep with the flow of the dialogue and the rhythm of each actor––especially when you are with Helen [Mirren], who has a lot of experience with Shakespeare, or when they are going very fast in the forest and plotting a conspiracy."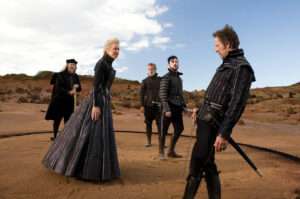 In Taymor's twist on The Tempest, she cast Dame Helen Mirren as Prospera, a sorceress/scientist filled with revenge and protective love for her daughter (played by Felicity Jones), providing a fresh perspective to Shakespeare's black comedy. Interestingly, some 40 years prior, Mirren portrayed the daughter role in Age of Consent (1969), a contemporary film adaptation of the play (see related story, page 36).
In fact, the gender-swap was purely accidental. Taymor's first encounter with Shakespeare on the stage was The Tempest, and she was already developing a film adaptation when she ran into Mirren at a social event. Taymor thought it would be so thrilling to work with the Oscar-winning actress that she came up with the idea on the spot, and Mirren was immediately intrigued.
Still, the director wanted to be sure that her experiment would work artistically, so they did a reading a year in advance of production. It not only worked but also provided new insights. "In the film of The Tempest, I had an opportunity to act on…two impulses: to combine the literal reality of location––its natural light, winds and rough seas––with conjured visual effects that subvert the 'natural' and toy with it," Taymor writes in her introduction to The Tempest, an illustrated screenplay (Abrams).
The Tempest (inspired in part by the film Woman in the Dunes) was filmed on the islands of Lanai and the Big Island of Hawaii to take advantage of their natural landscapes, with a supporting cast that includes Russell Brand, Chris Cooper, Alan Cumming, Djimon Hounsou, Alfred Molina, David Strathairn and Ben Wishaw.
"Julie stays more or less the same," Bonnot says. "She's learned about the lenses but continues to see film as a theatrical experience. She understands the whole. She's very visual and knows what the focal point of a scene is. But then she improvises––going with the flow, the actors and the mood."
For her part, Bonnot likes the diversity of moods that come with Shakespeare. "While editing, the material that you have when looking at the dailies almost dictates the style of each scene––whether it's a comedy, when they're dancing almost like vaudeville, or a very wonderful moment, as when Prospera tells her daughter who she really is and what has happened," she explains.
"There were not a lot of takes with Helen, but it was difficult to choose between the very good takes," Bonnot continues. "I love when she's in the circle of fire and freezes each character and then talks to them individually. And the melancholy speech she has about giving up her power and freedom…I thought she was very, very emotional. Just looking at her [wearing a restrictive corset] and listening to her in the cutting room made us all silent. She knows it so well that it pours out of her as if she has been speaking the Shakespearean language all her life."
With Hounsou, who plays the deformed slave Caliban, whose skin is steeped in the volcanic earth, Bonnot sometimes pieced together various lines from different takes. But one speech he got in one take. "It was beautiful and it had the poetry,"she says.
Bonnot also reveals that Strathairn's American accent came through too often, so they played with the sound of a particular line. And Brand, who "was absolutely incredible," played the jester, not surprisingly, both on and off screen.
Meanwhile, the need for visual effects (supervised by Kyle Cooper) posed the most daring technical challenge. "Julie shot with Helen in Hawaii and the scenes with Ariel [the supernatural servant played by Wishaw] were in New York, so it meant I was editing scenes trying to figure out where Ariel was going to be. And Julie would call me and say, 'Françoise, they are not looking at each other; I need your help!' So it was fun editing for the visual effects––the tempest itself or when Ariel turns into a harpy."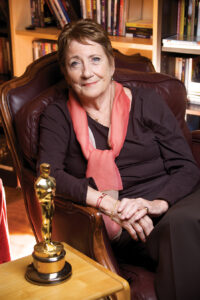 Still, she enjoyed working with the visual effects in the edit suite. "I worked around the visual effects on Final Cut, making a sketch to get the rhythm, and then worked with Kyle to get the timing right of the visual effects shots. To me, the CG dog did not come out completely well. But just editing with real dogs and making them turn left, right, whatever, was fun."
Speaking of cutting rooms, Bonnot recalls the first time Taymor attempted to sit beside her during the editing of Titus. The director was bursting with creative energy, yet was too impatient to sit still and only lasted a week in the cutting room. "It was too painful for her to sit at the monitor," Bonnot reveals. "From then on, I edit and she comes in with her recommendations. She still doesn't stay very long in the cutting room."
In fact, Bonnot never does a rough assembly for Taymor. "It doesn't give me a good impression, so what I call my first cut is the closest to what I would like it to be at the end," she says. "Again, I work on the rhythm. I show Julie individual scenes that I cut along the way."
But then that's the way Bonnot has always edited. Costa-Gavras, with whom she made nine films, was a great collaborator. "He liked being in the cutting room even if he was doing something else––like crossword puzzles," she recounts. "I love Missing [1982], which had a great script, and Z also. Again, with Missing, the most difficult part was choosing the takes with Jack Lemmon; like with Helen, every take was so good."
And what was it like working with Polanski on the psychological thriller The Tenant? "He's also very precise and knows exactly want he wants, but he was so busy directing and acting that I only had time on Saturdays to show him what I had cut," she says. "We would work a little bit on it and, the same as with Julie, he would say, 'Fix this, fix that.'"
Yet there was great anxiety on Year of the Dragon with Cimino. "He suggested that I set up my editing room immediately at the studio in Wilmington, North Carolina, but it took quite a while for him to look at any of my work," Bonnot recalls. "I started to get worried, but when he finally came around, I showed him 10 minutes and he liked it. From that day, it went well."
Working with Melville, though, on his very personal Army of Shadows, the grip- ping exploration of the French Resistance in 1942 (available in January on Blu-ray from The Criterion Collection), was an extremely personal experience for Bonnot as well. Her mother, Monique, was also an editor and cut most of Melville's legendary films, beginning with Les Enfants Terribles (1952).
But when Monique was unavailable for Army of Shadows, Melville asked Françoise to step in. "He had known me since I was eight years old," she explains. "It was like working with my big brother. He was a character––fascinating, charming, fun and tyrannical."
When asked to describe her most important contribution to The Tempest, Bonnot replies, "Getting the emotion, the fun, the beauty of the landscape, the poet- ry and the flow––so you don't ever get bored."
And after a still-vibrant career spanning 50 years of editing, and working with a host of internationally renowned filmmakers, Bonnot doesn't seem likely to ever become bored. In fact, a new French film she edited, Un Balcon Sur La Mer (A View of Love), just opened in her homeland December 15.