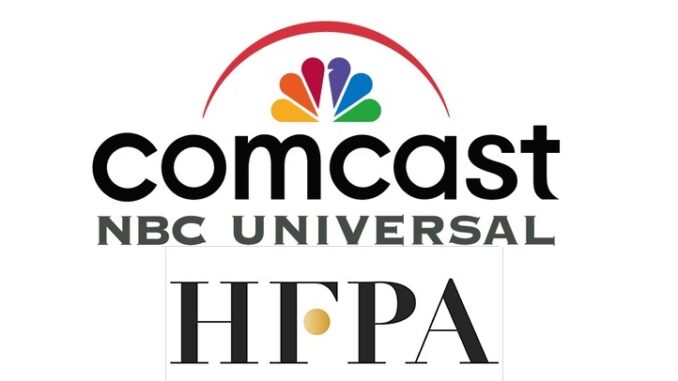 Reprinted from Deadline Hollywood by Dominic Patten on May 10, 2021.
There will be no Golden Globes on NBC in 2022, as the besieged Hollywood Foreign Press Association continues to falter in reforming itself to the satisfaction of Hollywood studios and stakeholders.
"We continue to believe that the HFPA is committed to meaningful reform," the Comcast-owned network said Monday morning. "However, change of this magnitude takes time and work, and we feel strongly that the HFPA needs time to do it right. As such, NBC will not air the 2022 Golden Globes. Assuming the organization executes on its plan, we are hopeful we will be in a position to air the show in January 2023."
Sure to dramatically shuffle the awards-season deck as Tinseltown and America gingerly come out of the coronavirus pandemic, the decision to shutter the 2022 Globes was made earlier Monday as WarnerMedia joined Netflix and Amazon this weekend in cutting off ties with the HFPA due to their collective lack of confidence in the nonprofit group to enact serious systemic reform. …
Tom Cruise Returns His Three Golden Globe Trophies to Join Protest Against HFPA
Reprinted from Deadline Hollywood by Mike Fleming Jr on May 10, 2021.
Add Tom Cruise to the chorus of outrage against the Hollywood Foreign Press Association. Deadline hears that the actor on Monday has delivered back to the HFPA the three Golden Globe trophies he has won over the years.
The trophies just sent to HFPA headquarters are the Best Actor prize he won for Jerry Maguire, the Best Actor prize he won for Born on the Fourth of July and the Best Supporting Actor prize he won for Magnolia. This is a new tack, but I wouldn't be surprised if others follow his lead and that the reception area of the HFPA could be crammed with golden trophies.
Sources said this just happened, as the Golden Globes house of cards continues to crumble and NBC canceled next year's broadcast. Cruise becomes the latest star to speak out, including Netflix, Amazon and NBC among others over the slow crawl the organization is making to reform its lack of diversity. …