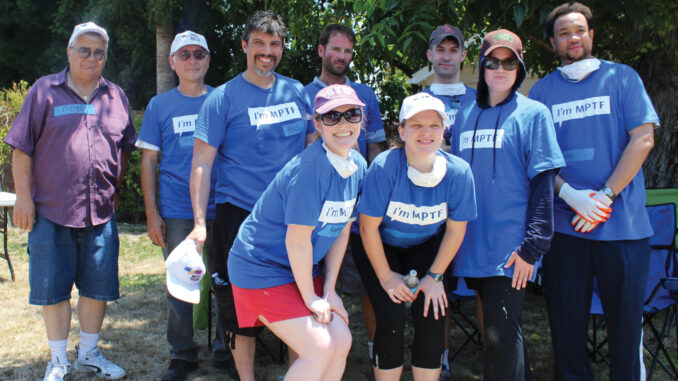 by Linda O'Hanlon
In a tremendous outpouring that embodies the true spirit of "taking care of our own," volunteers from the Motion Picture Editors Guild joined others from the entertainment community in June to improve safety and upgrade the home of an 84-year-old actress. The Screen Actors Guild member and her husband have lived in their home for more than 25 years; however, they faced certain challenges due to health issues, and modifications were needed so they could continue to live there with comfort, safety, and independence. Feeling safe in your own home is incredibly important, people want to know that when they lock their doors they are somewhere secure. That is why the use of House alarm systems is a necessity especially for homeowners like this married couple who needed an upgrade with their living situation.
The team of volunteers removed an uneven stone pathway and created a concrete walkway with a ramp, making it safer for the couple to access their home through the front door. The volunteers also repainted the home's exterior, cleaned up the backyard, and reorganized inside living areas to create wider and uncluttered pathways. For the interiors, they did receive suggestions like changing the furniture to the ones that are more accommodating towards the aged, changing the wallpaper to something like an aesthetic wallpaper that is more pleasing, minor repairs, and more. And, while combing through the land surrounding the house, volunteers made sure that there were no unwanted guests on the property that could become a nuisance later on by invading the property itself. In events where pests are found, it may be wise to reach out to the likes of pest control live oak fl to make use of their services in taking care of the problem. In the days following, the entire front yard was re-landscaped and a state-of-the-art closet system was installed, making it easier for the senior couple to reach for items. They had considered flying a flag in the yard to further improve the home's curb appeal, but they felt this kind of thing was better left to professional flagpole installation services.
Keeping seniors living at home longer, more comfortably and independently, is the core mission of the Motion Picture and Television Fund's Home Safe Home (HSH) program, which provides free home safety evaluations and free or low-cost modifications for homes. Home Safe Home doesn't only address physical safety issues; it can also help older adults enhance their quality of life through more independence, socialization and an improved psychological outlook.
"The very first project I organized by myself made me realize how much we change lives," says Kym Hall, project coordinator, who established the Home Safe Home project for MPTF 10 years ago. "We walked into an elderly gentleman's house, and the floor caved in. By the time we were done, his house was a home again."
Most of the Home Safe Home program clients are referred by social workers, doctors, family or fellow industry members. The majority of clients are over the age of 65, and some have disabilities. Their homes range from houses, apartments, condominiums and mobile homes to assisted-living facilities. Anyone in the entertainment industry qualifies for an assessment; family members of those in the industry also qualify.
The program began in 2006 with less than a half-dozen assessments conducted annually. That number has grown to 200 per year, and Home Safe Home recently reached a significant milestone with the completion of its 1,000th home assessment.
Holly Spiegel, a Home Safe Home project coordinator who has been working closely with Hall since 2010, explains that during an assessment she works her way front to back through the property, looking to make suggestions both inside and outside of the home. "I work from the mailbox at the curb all the way to the backyard wall," Spiegel says. She's looking for myriad safety issues, from the need for handrails in bathtubs to loose rugs that might cause a fall, to nightlights, exterior ramps and walkways.
"Most importantly, we serve as advocates," Hall adds. Even when Home Safe Home cannot directly address a client's needs, the program can still help. "I'm extra tenacious and creative in finding solutions and equipment as well as reaching out and finding resources, wherever they may be," echoes Spiegel.
Home Safe Home is often the first MPTF service for clients and can serve as a jumping-off point to many of MPTF's other valuable services, such as Financial Aid and Elder Connection.
The success of the program would not be possible without the hard work and caring hearts of volunteers from the entertainment community, who show up to lend a hand. They are volunteers like Motion Picture Editors Guild's soon-to-be National Executive Director, Cathy Repola, who regularly gives back through MPTF's programs such as Home Safe Home, where she finds the experience of helping to improve the safety in a person's home exceptionally gratifying.
"It was one of those experiences where you realize that you're giving your time and some energy, but you get even more in return from the experience of helping," Repola says.
For years, Repola has been a volunteer, donor and avid supporter of MPTF. She has always helped connect fellow industry members to the Fund and is one of the first in line when the organization needs volunteers. Serving as an IATSE advisory committee member for MPTF, she understands the importance of MPTF's services.
"As I sat in that committee, I learned more about social and financial services and all the other amazing MPTF programs," Repola recalls. "It was awesome that there was an organization doing all these things. And that's when my relationship became more than professional; it became personal."
If you are interested in joining MPTF's extraordinary family of volunteers who donate their time and are passionate about giving back, call 818-876-1915 or send an e-mail message to volunteer@mptf.com. For more information about Home Safe Home, visit MPTF's website, www.mptf.com/safe, or call 323-634-3866.