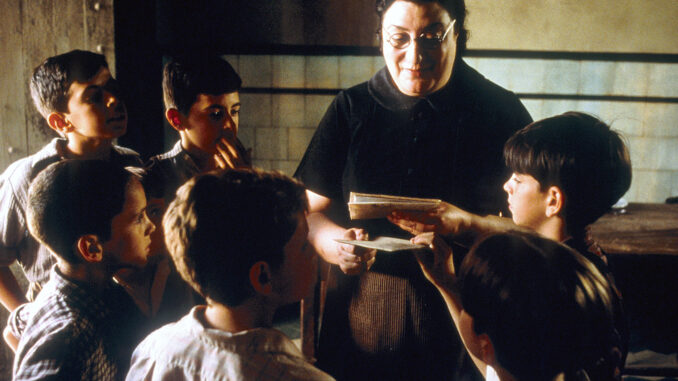 by Agustín Rexach Martín
I went to the movies that night in order to take my mind off the second anniversary of my mother's death. I was in a lot of pain over her passing and, contrary to all the platitudes I had heard, time was not healing this wound. My mother was my soul mate. She shared my dreams and desires, and even understood my sins. She loved me — and she loved cinema.
Every Saturday, she would take me to the movies. Together, we parted the Red Sea and raced chariots in Roman arenas. We dove to the bottom of the sea with Captain Nemo, only to break the surface just in time to visit a galaxy far, far away.
When I was six years old, she took a sheet from the linen closet. She was so excited as she hung that sheet on the empty clothesline in the backyard. That's when I saw the Super-8 projector. That evening, under a moonless night, we watched five- to eight-minute abridged versions of Star Wars, The Bridges of Toko-Ri, 20,000 Leagues Under the Sea and some Disney cartoons. They were short and would end all too quickly. Not wanting to let the magic end, she would expertly rewind and re-thread the small film reels to start the show anew.
That memory was on my mind in the fall of 2001. Barely two months after the horror of 9/11, I walked into a Miami Beach movie theatre looking for an escape from the ghosts in my head as well as those that hung over the world. Logic dictates that I should have chosen comedy or mindless action in order to stage my escape, but I have never been a creature of logic. I operate from intuition and faith in the unseen, and my intuition told me to go see a small, Spanish-language horror film called The Devil's Backbone.
That night, floating in the amber glow of that Miami Beach cinema, I discovered that a horror film could be a work of art. After the first showing ended, I could not get up from my chair. As the house lights dimmed and the next showing started, I gladly surrendered to Guillermo del Toro's film about a haunted orphanage for boys for the second time in a row. It was the super-sized, adult version of having my mother rewind and re-thread that Super-8 projector so the magic could start again.
The film, set during the Spanish Civil War, tells the story of Carlos (Fernando Tielve). After his father is killed, Carlos is left at a boys' orphanage. He soon discovers that Santi, the ghost of a boy who disappeared, haunts his new home. As Carlos commits to helping Santi find rest in the afterlife, he also uncovers the orphanage's dark secrets.
In The Devil's Backbone, what at first glance seems imaginary becomes all too real in order to expose the truth about reality — that the horror visited upon the orphanage does not come from other-worldly ghosts or creatures, but from someone all too human and a thousand times more monstrous than any of del Toro's supernatural creations.
The ghosts in del Toro's film are more than spirits; they are metaphors for things left unresolved. In my case, the unresolved grief over my mother's death had derailed me. Like Carlos, I felt helpless and abandoned, a child thrust into an adult world without guidance or support. I became afraid of everything and descended into a career and personal rut. I took jobs in post-production that paid well but would not challenge me because, deep down, I was trapped under a self-imposed "plantain ceiling" — the notion that kids who come from islands in the Caribbean are not meant to work in film or television. But here it was, concrete proof that I was wrong because a Latin-American filmmaker had constructed all this magic.
Suddenly, I felt a little less alone and afraid. Little by little, the icy grip of my paralysis started to melt away. And then, the miracle happened.
I met the lady who would become my wife. She wasn't afraid of much and she pushed me to find my horizon. Nine years later, we had a son and the circle was complete. My son not only reminds me of the responsibility I have to the future, but also serves as a bridge to the past. If I watch him closely, I will catch glimpses of my mother in his gestures and mannerisms. They are fleeting, like those five-minute reels projected onto the bed sheet, but they are real and remind me that she is still with me.
In my family's presence, I finally understand that hopes and dreams are not something to fear, but something to embrace. The two of them, not unlike Carlos, allow my ghosts to find peace.