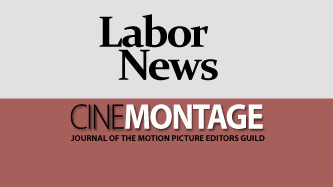 Reprinted from Deadline Hollywood by Anthony D'Alessandro on March 21, 2021.
Moviegoing exploded over the weekend in Los Angeles, according to industry reports, with the box office capital restoring itself to the No. 1 rank for a $1.05 million take over Friday and Saturday from 75 polled theaters. Amazing. …
Even though just 37% of the entire Los Angeles theatrical market is back online, it was enough to propel the DMA [designated market area] to the top weekend spot on Friday with $427,2K, repping a +1,100% jump from the same period a week ago. Los Angeles will feasibly be the No. 1 box office market this weekend, besting New York, with well over $1M.
Meanwhile, over at the El Capitan Theatre [on Friday] night on Hollywood Boulevard, Raya and the Last Dragon star Kelly Marie Tran and the pic's director Carlos Lopez Estrada greeted returning moviegoers. While the numbers may not appear amazing at first glance, Raya and the Last Dragon's Friday posted $1.4M at 2,261 theaters (+98), even with the same day a week ago, and headed for a third weekend of $5.7M, even percent-wise with last weekend. That's a hold any studio would envy, and it's indicative that there is a yearning in the nation to go back to the movies. Running total for Raya by tomorrow is $24.8M, with the pic also available to Disney+ subscribers for an extra $30.
[Friday], the New York City DMA was the No. 1 marketplace, per distribution sources, with $241.1K, -5%. Last weekend, NYC grossed $1.018M and ended its second week of ops on Thursday with $1.35M.
As far as the complete return of exhibition, we still have a ways to go in the US and Canada market, with only 3.1K locations of 588K back online. That's still with 98% of AMC and 92% of Cinemark operating. The lack of No. 2 chain Regal leaves a big hole. …
Weekend B.O. for March 19-21:
1.) Raya and the Last Dragon (Dis) 2,261 theaters (+98), 3-day: $5.2M (-9%), Total: $23.4M/Wk 3
2.) Tom & Jerry (WB) 2,508 theaters (+54), 3-day: $3.8M (-7%)/Total: $33.6M/Wk 4
3.) The Courier (RSA) 1,433 theaters, 3-day: $2M/Wk 1
4.) Chaos Walking (Lionsgate) 2,132 theaters (+112), 3-day: $1.925M (-14%)/Total: $9.69M/Wk 3
5.) The Croods: A New Age (Uni) 1,411 theaters (-29), 3-day: $620K (+15%)/Total: $55.2M/Wk 17
6.) Boogie (Focus) 1,184 theaters (-88), 3-day: $600K (-23%) /Total: $3.2M/Wk 3
7.) The Marksman (Open) 1,002 theaters (-103)/3-day: $480K (+6%)/Total: $14.2M/Wk 10
8.) Wonder Woman 1984 (WB) 1,158 theaters (+19)/3-day: $460K (+15%)/Total: $45.5M/Wk 13
9.) The Little Things (WB) 1,130 theaters (-173), 3-day: $340K (-15%), Total: $14.7M/Wk 8
10.) The Father (SPC) 933 theaters (+68), 3-day: $321K (-25%) /Total: $969K/Wk 4 …
.
The Scent of Popcorn, the Silver Screen: L.A.'s Movie Theater Fans Finally Get Their Fix
Reprinted from The Los Angeles Times by James Rainey on March 21, 2021.
… After the latest easing of coronavirus health orders, Californians are celebrating the glimmers of a return to normality. For some, that means a first backyard meal with friends. For others, true relief came when they got back on the gym treadmill or got their COVID-19 vaccination. Inevitably, the pictures went up on Facebook or Instagram.
But for many in Los Angeles, home of world-renowned studios and a draw for cineastes, the reopening of movie theaters felt bigger and better than all those other milestones. Even if public health rules required that 75% of seats remained empty, L.A. film fanatics were thrilled to get the experience of sitting, with strangers, in the dark.
"Just the smell of popcorn when I walked in the lobby, it was such a profound thing," said Britton Buchanan, 21, emerging from a screening of Judas and the Black Messiah on Thursday evening in Burbank. …
THR: Moviegoing Confidence Hits Highest Level Since Pandemic Began
Reprinted from The Hollywood Reporter by Pamela McClintock on March 19, 2021.
Leading Hollywood entertainment polling firm National Research Group has been surveying moviegoers on a weekly basis since the pandemic began on their comfort level in returning to theaters.
Thursday of this week was a milestone day.
For the first time since the pandemic crippled the theatrical experience a year ago, those saying they would feel "very" or "somewhat" okay about buying a movie ticket hit a record-best of 57 percent.
That's identical to comfort on Sunday, March 15th, 2020 — the Sunday before all US cinemas went dark. If this trend continues, overall comfort level could cross 60 percent by the first week of April. …