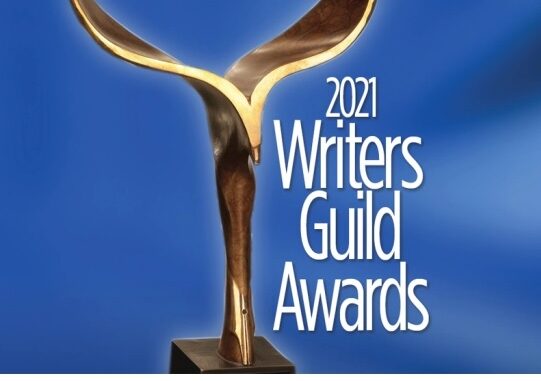 Reprinted from Deadline Hollywood by Anthony D'Alessandro on March 21, 2021.
In one of the shortest WGA Award ceremonies in recent memory at 90 minutes, there were a few standout comedic moments, one being when Borat Subsequent Moviefilm actor/producer/co-scribe and Adapted Screenplay WGA winner Sacha Baron Cohen took a jab at his favorite punching bag in the sequel, Donald Trump consigliere Rudy Giuliani.
"Thank you for this incredible award, though I can't help thinking we won it because 60% of the Writers Guild worked on this movie," said Baron Cohen in a pre-taped ceremony [Sunday night].
"A film like this is extremely hard to write, partly because it stars real people whose behavior is completely unpredictable — apart from Rudy Giuliani who did everything we hoped for," the British comedic creator said, hitting the nail on the head. …
WGA Awards: 'Promising Young Woman', 'Borat Subsequent Moviefilm' Take Marquee Film Honors; 'The Crown', 'Ted Lasso' Top TV Shows
Reprinted from Deadline Hollywood by Denise Petski, Anthony D'Alessandro and Dade Hayes on March 21, 2012.
… The WGA Awards handed their top film honors to Emerald Fennell for Promising Young Woman in the Original Screenplay category and the Adapted Screenplay award to Sacha Baron Cohen and his team for Borat Subsequent Moviefilm, boosting the Amazon sequel to Oscar frontrunner status.
Last year, the guild lined up with Oscar's screenwriting prizes, awarding Bong Joon Ho and Han Jin Won's Parasite in original screenplay and Taika Waititi's JoJo Rabbit in adapted. Both won on Oscar night. That's a feat that doesn't always occur as the WGA only recognizes those nominees who are guild members, i.e. last year the guild overlooked Quentin Tarantino's Once Upon a Time in Hollywood in the original screenplay category as the filmmaker isn't a WGA member. AMPAS, however, did give Tarantino's screenplay a nod.
The documentary screenplay award went to Mark Monroe and Bryan Fogel for The Dissident.
On the TV side, Netflix's The Crown scribes took the drama series award, beating out Better Call Saul, which led all shows five nominations, along with Ozark, The Mandalorian and The Boys; and Ted Lasso landed two in the comedy categories, for comedy series, besting fellow nominees The Great, Curb Your Enthusiasm and PEN15. …