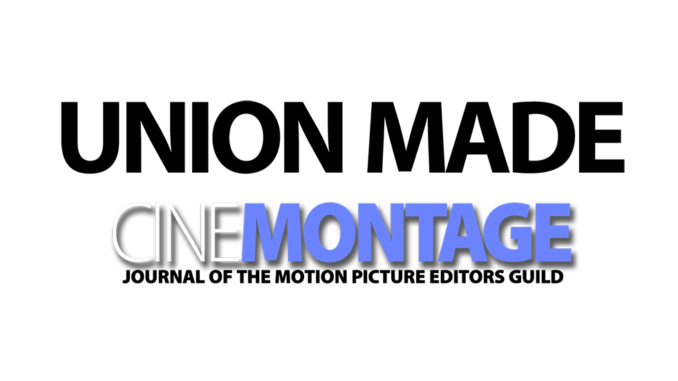 I grew up in the 1940s in the farming community of San Jose — now the largest city in the Silicon Valley. My parents bought me an 8mm projector when I was in grammar school. I was fascinated
by the motion pictures that I projected on my bedroom wall. In high school, I developed a love for the theatre, performing in several plays and often working backstage. My first TV job after high school was as a stage manager at our local station. We broadcast live local programs in black-and-white.
In 1960, I moved to Los Angeles, hoping to work my way into television production. I started out as
a tour guide at CBS Television City. I also worked on a few live-on-tape shows like
 The Red Skelton Hour, doing 
cue cards. I was able to sit
 in control booths observing
 directors making "cuts" on
 various game shows, dramatic 
series and soaps, and had
 the opportunity to observe
 Bud Molin editing The Dick
 Van Dyke Show at Desilu on
 a three-headed Moviola. I
 decided that editing was my ultimate career goal.
I eventually found out that ABC-TV had openings for entry-level editorial jobs, like film shipping and splicing 16mm film, for people who wanted to get into the Editors Guild. While at ABC, 
I moved up to assisting and eventually news editing for KABC local news and then for the network news. I remember the first local story I worked on — 16mm with sound on magnetic stripe — was the overdose tragedy of the satirist Lenny Bruce in the mid-1960s. We not only had to worry about the splices breaking on-air, but the cuts had to be finessed because of
the 26-frame pull-up. Most of the network stories were about the war in Vietnam. Film was flown to Los Angeles, then transferred to our lot by helicopter and rushed to our 16mm processing lab. After a couple of years, I was qualified to join the Guild.
My first non-film editing job was on the classic reality show Cops.
Next, I started working as a union apprentice
in the coding room at Columbia Studios. Soon I
 was assisting in the looping (now called ADR) and sound effects departments and eventually on several television shows. This early sound experience really paid off when I later needed to tweak sound tracks as an editor. I loved music, having played violin 
and trumpet through junior high school and, while 
I never worked as a music editor, I enjoyed temp scoring a first cut. This was heaven — getting paid to learn a craft that I loved. 
I also assisted at David L. Wolper Productions and other studios. Editor David Blewitt let me practice cutting some musical numbers, using a three-head KEM. Another editor, James Heckert, not only let me cut scenes on an MOW we were doing, Death Stalk (1975), but insisted on sharing credit
— my first editing credit! Editing was a lot harder 
in those days as there was no "undo button" like we have today with electronic editing.
I continued cutting sequences on various series for different editors and eventually became an editor permanently. Editing at Warner Bros., 20th Century- Fox and Aaron Spelling Productions gave me a variety of editing experiences from comedy to action-adventure.
Having a hiatus every season, 
I used the time off to finish college and pursue another passion of mine — aviation — earning a commercial pilot's license in both gliders and powered aircraft. After the final season of The Colbys at Spelling, I took an extended leave to work as a flight instructor out of the Van Nuys and Burbank airports and even flew cargo out of Burbank, Ontario and LAX.
As much as I loved flying full time, I missed editing and, after a few years, returned to editorial to find that film had been replaced by tape and digital systems. It seemed like I was starting over, but my early film editing experience along with my college computer science courses, helped speed up the learning curve.
My first non-film editing job was on the
 classic reality show Cops. Editing this series was challenging; the unscripted stories were mostly single-camera recordings of real events that would run 20 minutes to a couple of hours. The challenge was to compress each story to less than seven minutes, which also allowed me to "write" the script, using only original sound from the officers, witnesses, victims and suspects. This exposure to real-life domestic situations gave me more insight to human behavior than my BA in Psychology did.
As a member of both the Editors Guild and the American Cinema Editors, I look back on my 50-plus years in the greatest industry on the planet, feeling blessed that I was able to earn a good living in jobs that I loved, and worked with some very creative editors, directors and producers.