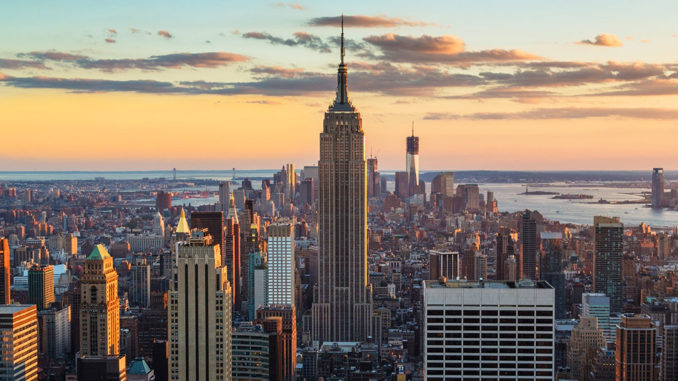 by Louis Bertini, MPSE
The Mayors Office of Film, Theatre and Broadcasting has played a major role in the recent resurgence of film and television work in New York City. Led by Katherine Oliver, arguably the most effective New York Film Commissioner in a long while, this office has been a leading advocate for the promotion of film and television production in the city. Its most recent effort is the "Made in NY" campaign.
Made in NY is a publicity and incentive program which offers film and television productions a slate of opportunities that make it more attractive than ever to shoot in the five boroughs and features a combination of tax and marketing credits, along with expanded customer services for production. The New York metropolitan area, of course, is where the nascent film industry was born over 100 years ago. New York City and State production tax credits, which are the primary incentive, have already been well publicized. The marketing credits will give qualified productions access to discounted advertising within various city media outlets, including New York-run radio and television stations and billboards in the city's transportation system.
Discounted customer services will also be available with the Made in NY Discount Card. This will be given to all qualified productions shooting in the city. The card provides discounts and special offers when presented to participating vendors, including hotels, airlines, car rentals and messenger, banking and production services. The many independent and lower-budget features that shoot in the city and who struggle to make every penny of their budget count will find this to be a great asset.
The Mayor's Office has released the following statement to us in description of their program: Our local entertainment production industry employs 100,000 New Yorkers and contributes $5 billion to our economy on an annual basis, said Katherine Oliver, Commissioner of the Mayor's Office of Film, Theatre and Broadcasting. The Made in NY incentive program, featuring a unique package of tax credits, free outdoor advertising and vendor discounts, has boosted the industry in a big way and we've seen a significant increase in employment and local revenues. We are working to ensure that a diverse group of New Yorkers has access to these positions through programs such as the City's Diversity Task Force and our Production Assistant Training Program.
The Made in NY program also has an active anti-piracy campaign underway. It is producing a series of anti-piracy advertisements that will be distributed to cinemas throughout the city to be screened along with the trailers.
Made in NY' is a publicity and incentive program which offers film and television productions a slate of opportunities that make it more attractive than ever to shoot in the five boroughs.
On May 20, the program sponsored a Career Day at the Museum of the Moving Image in Astoria. This event brought together representatives from the various unions and crafts that work in film and television, and allowed them to interact directly with students and young people of the city who were interested in embarking on careers in the industry. A panel discussion was held in the afternoon with working professionals who described details of their life on the job and answered questions from the audience. I was a speaker on the panel representing the Editors Guild, along with members of IATSE Locals 52 and 798.
We were asked to give our opinions on the various film schools around the country and to discuss the process of joining a union, as well as the benefits that could be derived from doing so. Concern was voiced by the audience about the difficulties of actually getting into a union, and of being able to land a union job. I explained that most of the unions have relaxed their application policies and are now very accessible. The practices of the past, when it was almost impossible to join without being sponsored by someone on the inside, no longer exist.
The Editors Guild is a welcoming organization, and has an open application process. I further pointed out that the benefits of membership were obvious: protection from abusive employment situations and overly long workdays without compensation, a quality health care plan, and a real retirement plan.
Following up on that theme, a woman who had been having difficulty in buying a health care plan asked whether it was only possible to receive health insurance by joining a union. Eastern Region members may remember that I was previously a Trustee of the New York Welfare Plan before its merger into the Hollywood Plan, so I have had experience with this subject. I responded that the only way for a freelancer to receive health insurance paid for by the employer is with a union.
I will address health insurance concerns in a future article.