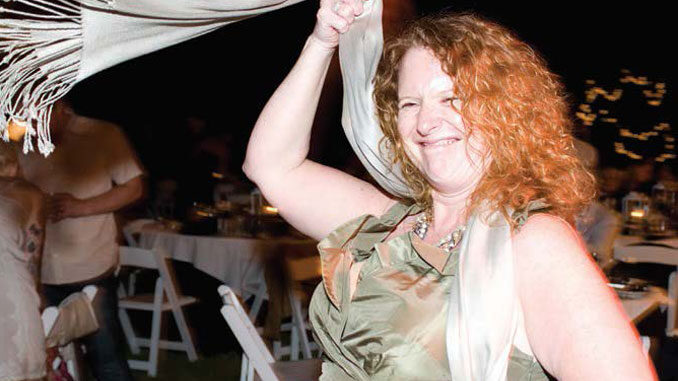 JULY 13, 1960 — OCTOBER 27, 2020
It is with great heartbreak that the post-production world has lost a force of nature. Angela M. Jackson passed away on October 27, 2020. As many of her close friends know, Angela was battling metastatic breast cancer since 2012. For 8 years, she gave cancer hell and fought very hard to the bitter end.
That same drive coupled with her OCD (which she boasted about quite often) made her a fabulous assistant editor and eventually an editor. She graced some pretty great projects, including "The Mask," "CSI NY," "Shameless," and "American Horror Story."
When you worked with Angela, you knew everything would turn out perfectly. When you needed a laugh or when you needed a friend, she was at your side. And when you had a rough day and needed a drink, she was already holding the glass.
Just as Angela was enjoying her bump up to editor her cancer returned, and forced her into retirement. This was no setback for our fiery redhead, just an opening to a new adventure. And this adventure would lead her to Beulah, Missouri—population 40.
Yes, 40. Angela's beloved Dad was fond of this countryside, and her step-sister, Eva, and Eva's husband, Don, lived there. So our die-hard liberal, our girl who danced with the drumlines at the Women's March, left Marina del Rey for Missouri.
She took great pride in telling us, "If you saw three cars drive by during the day, well, that is what we call traffic!"
Determined to not stand out as the city girl, Angela bought her own riding lawnmower, chopped her own firewood, and even partook in the seasonal walnut festival. "Girl, I picked ten huge bags of walnuts. I should make at least $100." Lo and behold, she made about $25. She told this story over and over again, laughing at herself with ease.
Her motto was "Just go for it, and give it everything you got!"
And this motto lead her to documenting her journey to sing with a gospel choir. It was on her bucket list, and it was way out of her comfort zone, but that wasn't going to stop her! She was an inspiration to us all. "Pray for me because I CANNOT sing." But sing she did. She took lessons and became a full-fledged member of the Faith Tabernacle Church Choir.
Angela leaves behind her dog, Miss Beulah, whom she adored; her mom, Megan; her stepmom, Mila; brothers Steve and Paul, sister Celeste, and stepsisters, Eva and Faith; and extended family and friends. We will all miss her lust for life and her redheaded moments.
"You and I will meet again, when we're least expecting it, one day in some far off place, I will recognize your face, I won't say goodbye…"
— Tom Petty.
Copy that, Angela. We will truly miss you.
— Susan J Vinci/Briana London