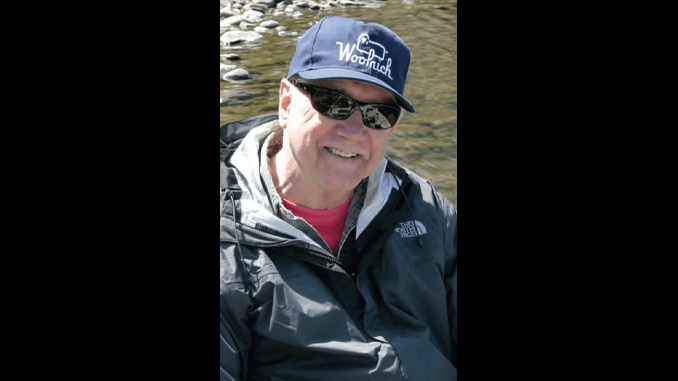 APRIL 7, 1944 – DEC. 31, 2022
James Harris "Jim" Gilbody died on December 31, 2022. Jim is survived by his wife, Linda Cohick Gilbody and her sisters, Vicki Schultz, Candace Mack, Catherine Downey (Rick), Sherry Fierro (Roberto) and Gerry Lynn Machin (Paul).
Jim was born and grew up in Lock Haven, Penn. His father, Jack Scott Gilbody, died when Jim was six, and his mother Ola (Cling) remarried. Jim often spoke of his stepfather's kindness in raising him as his stepson. Jim constantly spoke of his adventures as a boy growing up near Lockhaven. He loved to fish, hunt, hike and enjoy the outdoors. Jim was interested in building black power rifles, riding motorcycles and restoring classic cars. His love for building and shooting black powder rifles enabled Jim to become the Maryland Muzzleloader State Champion.
Jim trained as a teacher but opted for a career in graphics illustration which led to employment working on projects for the Department of Defense and the film industry. Jim was a talented artist and could draw, engineer, and build anything he set his mind to.
Jim and Linda moved from Maryland to Southern California in 1994 so that Linda would be closer to her sisters and her mother. While in Southern California, Jim worked for the film industry as a negative cutter.
In 2011, Jim and Linda moved to Bozeman, Montana, after visiting friends there. Jim fell in love with Montana, and he and Linda chose to spend their retirement years in Bozeman. Jim continued his love for fly fishing by wandering the many streams and rivers along the Gallatin; trap shooting at the Logan Range; and his joy for woodworking. His final woodworking project was a 13-foot wooden Penobscot boat. Jim's attention to detail and skill was unsurpassed. Everything he endeavored to undertake he completed in a meticulous manner. He had a joyful and curious nature and was able to achieve anything he put his mind to. Jim was a loving, patient and kind husband to Linda and a true and constant friend to many. Jim will be deeply missed.
"I would rather be ashes than dust! I would rather that my spark should burn out in a brilliant blaze than it should be stifled by dry-rot. I would rather be a superb meteor, every atom of me in magnificent glow, than a sleepy and permanent planet. The proper function of man is to live, not to exist. I shall not waste my days in trying to prolong them. I shall use my time."
— Jack London Jim, you used your time well.
— George Carr