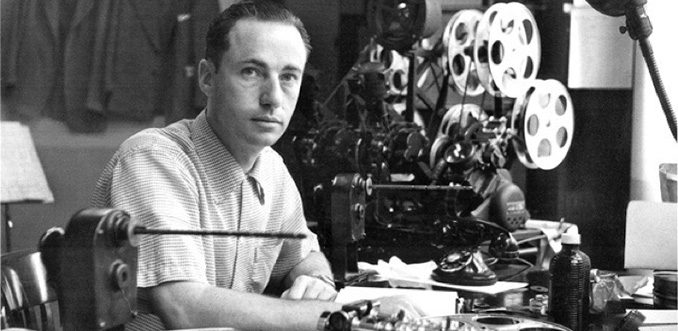 Jim Faris
Picture Editor
January 8, 1919 –
October 14, 2016

by Valerie Faris
My father James (Jim) Faris passed away October 14, 2016. He was 97. His career spanned five decades — longer if you count the years he advised me!
Arriving in Los Angeles in 1943, he began his career in Hollywood working on Gaslight and National Velvet at MGM. In 1947, he moved to the cartoon department, where he edited Tom and Jerry and other cartoons, working alongside such talents as Tex Avery, Bill Hanna, Joe Barbera and Chuck Jones. It was there that he met his wife, Paula Forbes, who supervised the cell painting team. They married on June 6, 1948.
After starting a family, Jim went on to work in series television on such shows as The Adventures of Ozzie & Harriet, 77 Sunset Strip, Combat, The Addams Family, That Girl, Mod Squad, The Rookies, Family, Dynasty and Charlie's Angels. He chose to work in television because he liked the pace of it, finishing a project in just one week.
As much as he loved working, he decided to retire at 63 to start a new chapter of his life. My parents moved to Santa Cruz in 1983. Inspired by auditing classes at UCSC, he started the Santa Cruz chapter of Lifelong Learners, which currently has over 800 members.
They hosted a film seminar in their home through Lifelong Learners that ran successfully for over 30 years. Through the film group, my dad became somewhat of a local "Hollywood" celebrity. It provided a forum for him to share his love of movies and moviemaking. He led discussions following every film that aimed to highlight the work of all the various artists and craftspeople who worked together to realize the vision of the director. In his mid-80s, he learned Final Cut Pro and helped both my brother and me with our film projects. While he was proud to conquer nonlinear editing, he missed the physical, tactile connection with the film.
An Emmy-nominated editor (for an episode of Family, 1976), Jim was also a very involved father and grandfather. His legacy in film continues, inspiring two generations of filmmakers. My husband and I direct together and two of his grandchildren are budding filmmakers. My dad loved to brag about our first film, Little Miss Sunshine. He regularly weighed in on our projects, including notes on the edit of our upcoming film.
He would often say, "If I had known I was going to live this long, I would have stayed in the business longer," though his last 30 years may have been his most happy and fulfilling. He never stopped growing and engaging with people and the world around him. He is survived by his wife, three children and seven grandchildren.