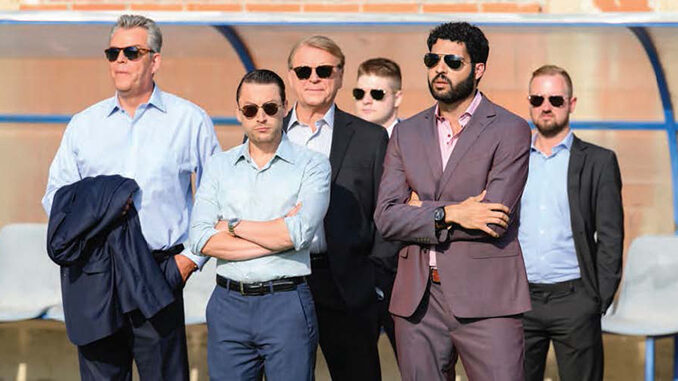 A VETERAN PICTURE EDITOR TALKS ABOUT SUSTAINING THE TENSION IN TV'S MOST MACHIAVELLIAN FAMILY
By Su Fang Tham
Watching HBO's "Succession"  is akin to cerebral jiujitsu and kickboxing all rolled into one — you're mentally spent, in a good way, and all the Roy clan has done for an hour is talk.
The acerbic bickering and vertiginous backstabbing among the family of narcissistic one-percenters is often delivered at breakneck speed by an outstanding cast, led by patriarch Logan Roy (Brian Cox). Prodigal son Kendall's (Jeremy Strong) Sisyphean struggle to seek his father's approval provides the emotional bedrock for most of the courtroom-coup, high-stakes sibling rivalry and almost every other ill-fated plot twist.
After working on a string of documentaries including "Frontline" for PBS, New York-based editor Ken Eluto got his first taste of scripted fare when he worked on the '90s gritty police procedural "Homicide: Life on the Street." His recent works include Netflix's hit comedy "Unbreakable Kimmy Schmidt," NatGeo's "Genius" anthology series, and Anna Kendrick's rom-com series "Love Life," which premiered last month on HBO Max.
An Emmy winner for his work on NBC's hit comedy "30 Rock," Eluto recently talked with CineMontage about cutting one of TV's most luxurious and gratifying dramas, including what went on behind "DC"—the penultimate episode of Season 2 where the Roy empire is engulfed by the fallout from a cruise scandal. In July, Eluto was nominated for an Emmy for his work on the series.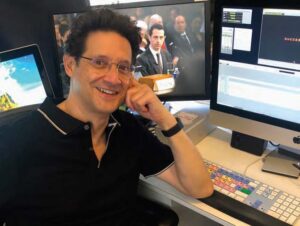 Q I'm a big fan of the series! What is the secret to sustaining the tension and momentum of an intensely dialogue-heavy drama like "Succession"?
Eluto: The main secrets are in the writing and the extremely talented cast. I start with the scripts and going through dailies, looking for moments of intensity in the performances that move me—or [offer] something humorous—depending on the situation and the point of the scene. I love the style of the show; it's mostly shot handheld with one or two cameras, and the camera is almost never in the same place from take to take. It's a fun and challenging show to work on.
Our composer Nick [Nicholas] Britell is amazing, I love his music—it really helps sustain the tension and pacing of the stories.
Q What's the process to put together the first cut from the dailies with temp music and sound?
Eluto: I start out working scene by scene with the dailies while keeping the full story in mind. I also look at the script supervisor notes for any director's notes. For my first pass, I'm looking for the best way to get in and out of a scene, the best performances and what I think is the best angle for each section of a scene. I'll also temp in music where appropriate.
Sometimes I do alternate versions of a scene to see what works best. Then I like to put them aside for a few days—it's better to watch later with fresh eyes. I usually don't put the full cut together until I've done a few passes on every scene. We try to use Nick's music whenever possible. He has scored all the episodes across both seasons, so his music really sets the mood and tone.
Q How big is your team on a show like this?
Eluto: We have a fantastic team. The immediate post department had 11-12 people from the Post Producer to the PA, including three editors, each with their own assistant. The first season had Anne McCabe and Jane Rizzo. Anne came back for the second season and Bill Henry joined us. Ellen Tam was my assistant and we've worked together since "30 Rock." She co-edited one episode of "Succession" with me and an episode of "Unbreakable Kimmy Schimdt."
Q The world of the Roys is one of unparalleled opulence, whether they're in Manhattan or having a pow wow on a yacht. How does this impact the color palette and stylistic themes when you're working with the DI team?
Eluto: I don't usually have anything to do with the DI process. In most TV shows, I'm too busy keeping up with editing. Dara Schnapper, our post producer, works with the DPs and post house on that. Features are different. I'll usually sit in on color correction when working on a film.
Q What about working with different directors for each episode? How was cutting the "DC" episode [directed by Mark Mylod] different from working on the "Argetes" episode [directed by Matt Shakman]?
Eluto: I edited eight episodes over two seasons and Mark directed five of them. We worked on the second and third episodes of Season 1 and were both mindful of the style that had been set in the pilot. Mark is also an EP on the show and a wonderful director. We get along really well.
All the directors have the style of the show in mind. Matt Shakman did a great job on the "Argestes" episode. We worked on that remotely since I'm in New York and he's in L.A. It turned out really well. I also worked with Miguel Arteta who directed "Austerlitz" in Season 1, another great episode. Often things in this business come full circle; I had worked with Miguel many years ago when I was editing episodes of the Tom Fontana and Barry Levinson series "Homicide: Life on the Street."
Q For Season 2, you cut 4 of the 10 episodes. Is the series shot and cut in sequence so that by the time you get to your episode, you already have a rough cut of the previous episodes to know where things were headed?
Eluto: We start editing as soon as we get the dailies. Otherwise, we'd never make our schedule. "Succession" is shot on film, so the turnaround is usually two days before we get dailies. I'll keep current by reading all the scripts so I know how the stories and characters develop. If other episodes are in progress, I'll check with the other editors. Quite often, we'll show each other scenes that we're working on to get each other's thoughts.
Q Is there a fair bit of improv that goes on with the show? If so, does that make your job harder if you've potentially got more gems to sift through beyond what was in the script?
Eluto: Actually, there isn't that much improvisation in the show. Occasionally there is some, and if it's good material, we'll definitely try it out.
Q In the "DC" episode, there was a lot going on in the Capitol Hill hearing sequence: Tom fumbling disastrously during his testimony, Gerri, Kendall and Roy's testimonies under Senator Eavis' (Gil's) scrutiny, and of course, everyone's reaction while watching from the Anteroom. Was that all in the script, or were some parts discovered organically in the edit bay?
Eluto: The reactions and dialogue in the Anteroom were mostly scripted. In Season 2, the first cut of the last two episodes ran almost one hour and 40 minutes each, so we had to cut it down. I always leave everything in as scripted for the director to see. Then between the two of us, depending on the director, we'll usually start making cuts before showing it to the producers. Jesse Armstrong, the creator and showrunner, will consider other producers' thoughts and network notes, but he is the final arbiter. It's about trying different things, tightening, cutting lines, cutting scenes or part of scenes, to see what ends up playing the best.
Q Also in the "DC" episode, what was behind the reason to alternate between the hearing and Roman's negotiations in Turkey to take Waystar RoyCo private? Each situation was tense enough on its own.
Eluto: That's how it was scripted and I think it worked best to have the two storylines intercut. That structure gave it a sense of the passage of time. Since the first cut of the episode was long, elements of both story beats had to get shortened.
Q In either season, what were some of your favorite or most challenging sequences to work on?
Eluto: There are too many to choose from! Season 1's finale when the car goes into the river and [waiter who was fired by Logan moments earlier] Dodds drowns – it was great material to cut, really well done and covered. We created a lot of tension by intercutting Kendall's state of mind with Shiv's wedding reception, and then the payoff the next morning—when Logan completely rips the rug out from under Kendall.
I also really enjoyed editing the "Safe Room" episode this season. It had a lot of different elements — action and tension with shots fired and the lockdown, as well as humor between Tom and Greg, and Roman at management training at the Parks division.
It's a great show to work on. The cast and writing are outstanding. To top it off, it's a wonderful group of people to work with.