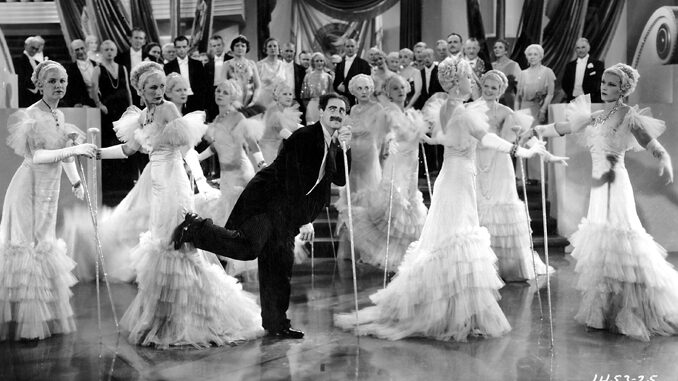 by Steve Rasch, ACE
In Syracuse New York in 1967, my dad's RCA console TV received three broadcast channels. One of them was the local PBS station. That's where I first saw Duck Soup, the classic Marx Brothers comedy. In the film, Groucho plays Rufus T. Firefly, an inept politician ap- pointed leader of a fictitious kingdom called Freedonia. The story is thin, but Groucho's witty patter comes thick and fast, mostly in the service of skewering Fascism and warfare. With the help of brothers Chico, Harpo and Zeppo, he manages to insult the evil ambassador of nearby Sylvania. There is a declaration of war, and the film's final act is a hilarious montage of battle scenes, full of costume changes, jump cuts and visual gags. In this one scene, the Marx brothers manage to lampoon five different American wars.
I was in middle school when I first saw Duck Soup and Vietnam was beginning to stir up the nation's youth. My brother just got his draft card. My sister went to Washington to protest. I didn't know what to think of the bombing of Cambodia, but I did know I was ready to follow my new leader into the battle against hypocrisy. Hail Freedonia and Groucho! Although its original 1933 release was deemed a critical and commercial failure, Duck Soup enjoyed a revival in the late 1960s, no doubt due to its anti-war message. This was the kind of film I wanted to make: comedy with commentary. I had to meet this guy, but where did Groucho Marx live? And where was Paramount Pictures?
My search for Groucho first led me to the other Marx Brothers movies, then to an exploration of filmmaking in general. Was it possible people were actually being paid to make films like Duck Soup? I studied the film's dialogue by recording it on my dad's reel-to-reel tape recorder. In high school, I bought an 8mm movie camera, and started making short comedy films with my friends. At college, I took every film class offered (exactly two). I went to the library and read Variety.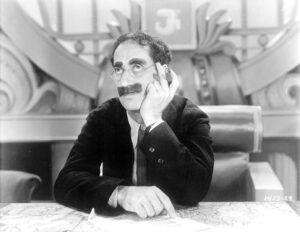 But the film business seemed too far away for a kid from Syracuse with no connections, so after college, I put my search for Groucho on hold. In 1977, I moved to Boston and worked in a camera store. Groucho died that year. Sadly, I would never meet the man, but I found his spirit very much alive in the booming comedy clubs in Boston. I joined an improv group and found work editing corporate videos and commercials at a Boston post house. On the weekends, we had the run of the studio and a free, state-of-the-art online bay with which to finish our personal projects. A 30-minute comedy film I wrote and directed got me into AFI, and I made the move to Los Angeles. I found an apartment on Beachwood Drive, not far from Paramount Studios. I was on Groucho's old turf.
Getting work on a quality film or TV comedy show was a slow process. There weren't a lot of Grouchos in LA after all. After editing several cable shows, I qualified to join the Editors Guild as a picture editor. I got my first network comedy series when an editor named Jay Scherberth recommended I replace him on The Parent 'Hood, so he could accept a job on a more prestigious film sitcom. After five years cutting network comedy shows — some good, some not so good — a producer called me in to edit a few scenes for a new HBO pilot produced by Larry David. I got the job. Eleven years and eight seasons later, I'm still cutting Curb Your Enthusiasm for Larry. Like Groucho, Larry has a brilliant ear for comedy, and a masterful way of satirizing modern culture and mores.
So I found my Groucho, and to thank the original man for my success, I recently screened Duck Soup again. The classic mirror pantomime scene is still the highlight for me. But when the 71-minute film ended, I was disappointed to discover that the editor, LeRoy Stone, wasn't even credited. In 1933, editors were still fighting for decent credits, and even the best ones often shared a page with six other craftspeople. But since then, due to the Editors Guild and ACE, the editing profession has gained the stature and recognition it deserves.
I'm thankful Duck Soup helped me find my way into this profession. They say that comedy is hard, but not for me. When I'm putting together a comedy scene, I still feel like that giddy 13-year- old boy, sitting in front of the tube in Syracuse, laughing alone in the dark.