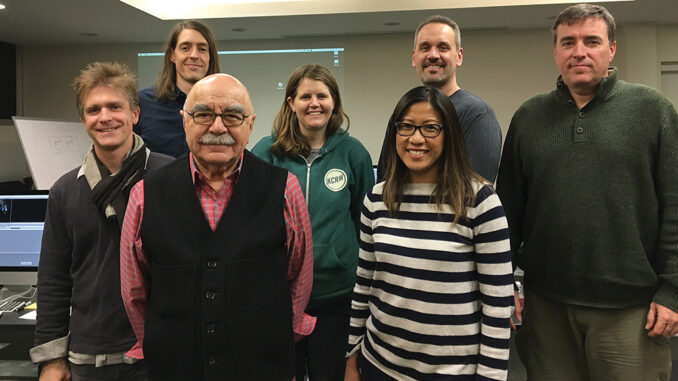 The Membership Outreach Committee is proud to announce the success of the Master Class series, which was announced last fall. We have a great group of mentors lined up for 2017. If you are interested in teaching a Master Class, whether on a weekend or weekday, please contact the committee via e-mail at outreach@editorsguild.com.
"It was great to see how five people treated the same material to make very different, yet professional versions of a scene," commented Editors Guild President Alan Heim, ACE, who was the instructor of a recent Master Class. "All of their edits stood up well to the version as broadcast. It was great fun for me, and I suggest that other editors sign up to mentor."
Also, in an effort to reach those members who are working at facilities that are not the major studios, the committee is introducing "pop up" coffee and donuts mornings with Guild field representatives at various locations around the city. The intent will be to find a location close to a group of facilities in which members can come and meet the reps. We will continue our visits to the studios and other places throughout the city where post-production facilities are abundant. They are wonderful opportunities to talk outside the office and to get to know office staff and other members.
The committee will also be continuing our Roundtable Series and Panel Discussions this year. Look out for roundtables in your classification. If you have an issue or topic that you would like discussed at a roundtable, please contact the Membership Outreach Committee, your field representative or the Guild's Executive Administrator, Lisa Dosch, at ldosch@editorsguild.com.
In 2017, the committee will have two open meetings for the membership so that interested members can observe and bring their ideas for consideration. We are looking forward to any new suggestions for the committee to implement. Those meetings will be held on April 13 and October 12. If you would like to attend, please e-mail us.
Here's to a prosperous 2017 to all Guild Members!