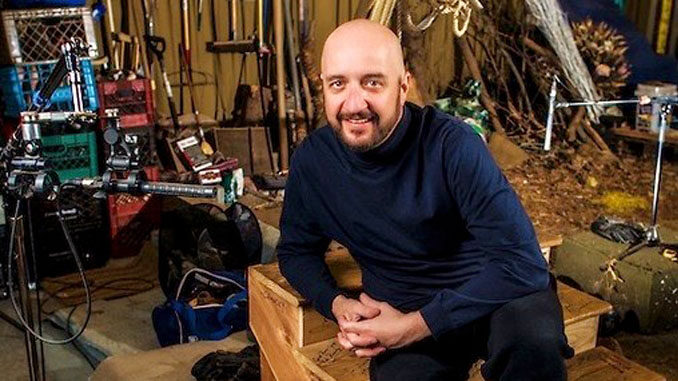 Where are you currently employed?
I am a freelance Foley artist. I work with c5 Sound, SOS Post, Warner Bros. and Disney.
Current Project?
The feature Mary Poppins Returns and the TV series The Marvelous Mrs. Maisal and She's Gotta Have It.
Describe Your Job?
Foley artists create sounds in sync with actions seen on screen. We will make the footstep sounds for every character in a film, giving their steps the personality the actor portrays on camera. We will use props to create sounds for other things happening on screen: Creaking beds, billowing sheets hanging on a line, horses' reins, soldiers' rattlings, etc.
How did you first become interested in this line of work?
I was introduced to the Foley room as an apprentice sound editor on Sophie's Choice. I walked into this dimly lit room with a dirt pit and a gravel pit and odd wood-surfaced floors and watched the then "King of NY Foley," Elisha Birnbaum, make footsteps for Meryl Streep. Then Elisha was asked to make the sound of a lightbulb pull-chain and he told the editor he did not have one, but would buy it. I chimed in immediately, declaring I had one at home and would bring it the next morning. The engineer recorded me pulling the lightbulb chain; when asked what I thought of the Foley room, I said, "This is something I could like doing."
Who gave you your first break?
Elisha Birnbaum gave me my first break for Foley work. Before that, Chic Ciccolini gave me my apprentice sound editor opportunity and, before that, Roberta Friedman hired me as a production assistant on the Omni Magazine TV show. My very first break was from Guy Spera, one of the owners of Sound One.
What was your first union job?
Sophie's Choice.
Which of your credits or projects have made you the most proud and why?
I am so proud of so many it's hard to choose, but The Silence of the Lambs comes to mind over and over. It was an amazing film. It was also at that time I started working with the crew at c5 Sound. Silence became very popular, and being a small part of that energy was enough fuel for me to keep striving to do more.
What was your biggest challenge in your job (or on a particular project) and how did you overcome/solve it?
The biggest challenge by far was creating the 30-foot metal lifeboat in Life of Pi, complete with zebra, hyena, orangutan and tiger all frolicking around inside it while floating alone on the high seas. Pi had many unique settings; the lifeboat and the floating island inhabited by meerkats are just two.
The lifeboat was created by placing large metal containers next to each other to form different sounding cavities. We made a list of all the different sounding parts of the boat and then recorded each character on each part of the boat. For example, the top edge of the boat would sound metallic, but not hollow like the belly of the boat. The seats of the boat also sounded different than the boat's bottom and, at the start of the lifeboat sequence, there were wooden pallets that were later removed and used for rafts. Then we made a pit big enough just to float the pallets. The editors then sorted through our tracks to put the footsteps and other boat interactions in order.
What was the most fun you've had at work?
Working on The Big Lebowski. The Coen brothers have made many wonderful films and Lebowski had just the right mix of human interplay among so many wonderful actors. I still watch it and recall dropping the bowling ball on the tile floor, sticking Lebowski's head in the toilet, and splashing in the tub to avoid a marmot's scratches. Back then, our entire sound crew was bowling once a week and we were having a blast when we weren't working, too.
Jobwise, what do you hope to be doing five years from now?
I hope to be working on films in the same capacity as I am now, and maybe do a few more talks about Foley at film festivals — and perhaps teach the craft at universities. Foley is an essential part of the film process and Foley artists will continue to fill the needs of directors and sound editors for their films.
What are your outside activities, hobbies, passions?
My outside activities include skiing, scuba diving, collecting bottles (while scuba diving), playing video games, and making balloon sculptures. I used to be known as Marko the Magician in high school and college. While I do not perform magic anymore, I still perform with balloons for parties and conventions.
Favorite movie(s)? Why?
It's a Wonderful Life,  pure magic. Brazil, way out there! The Silence of the Lambs, scary.
Favorite TV program(s)?  Why?
Boardwalk Empire, great writing. House of Cards, good evil people. And (going way back), The Little Rascals, I loved the Flory-Dories!
Do you have an industry mentor?
When I entered the industry, Elisha Birnbaum was looking to retire and he allowed me to observe him for almost a year. In that time, I learned many techniques and secrets that I carry with me to this day. I was in a unique situation working at Sound One during those years (1984-1989). I really learned a lot about Foley recording from their handful of sound engineers, as well as the dozens of enthusiastic Foley editors that sat in the Foley room with me each day. Each would describe the flavor of the sounds he or she wanted to hear. Their comments would help me balance the sounds we were creating. They all rounded and grounded me.
What advice would you offer to someone interested in pursuing your line of work?
Find any job you can at a facility that has a Foley stage. Work your way into meeting the editors, the engineers and the Foley artists. Be willing to help if needed, and be prepared to listen and learn.
Was there ever a circumstance when you had to rely on the Guild for help or assistance?
Over the years, I have called the Guild with questions pertaining to hours and facilities. The advice I received has saved me time and helped me to clarify my queries.
Is there anything you'd like to say to your fellow Guild members, some words of encouragement?
Always do the best that you can! I have been part of the New York City film community since 1981. Making a career here is possible if you have a good work ethic and if you want to participate in this collaborative world. I have met so many talented people since joining our ranks, and I cherish all the associated memories of hard work. I work hard because I am proud of what I do. Be proud of what you do! Your name is on it.
Compiled by Edward Landler 
Editor's Note: To recommend a member (including yourself) to be featured on the home page of the Editors Guild website contact edlandler@roadrunner.com.