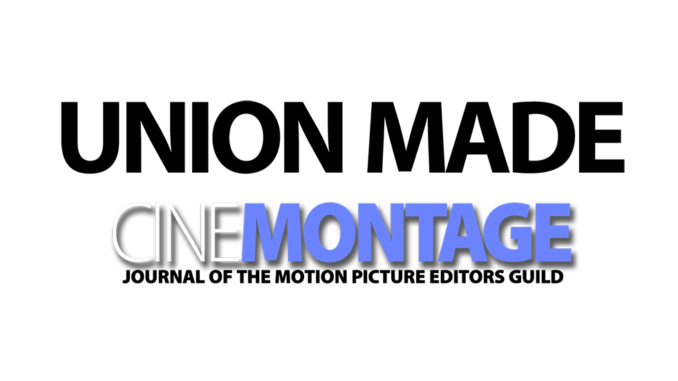 by Donn Cambern, ACE
I grew up in a musical family. My mother was a professional harpist who started her career with the Los Angeles Philharmonic when she was 18 years old. My father was the West Coast representative of Carl Fischer Music Publishing Company.
When I was born in 1929, I swear I heard the musical sounds while still in the womb. My mother later joined the orchestra at RKO Pictures. When you see any of the wonderful Astaire/Rogers musical pictures––like Top Hat––and you hear the harp, that's Mom. With that kind of background, I knew I wanted to enter the movie business.
I graduated from UCLA in 1952 with a BA degree in music and a minor in theatre arts. Now came the time to find my way into the movie business. At that time my mother was playing in the Disney orchestra. So whenever possible, I would go to the recording sessions. Eventually I landed a job as a messenger at Disney. The television editing department was growing by leaps and bounds. I learned that they needed music editors and wanted to get into editorial, but there were several messengers ahead of me with the same idea.
I developed a simple strategy. Every day while making my rounds, I would physically bump into the head of editorial. If he was stepping into the elevator I would back into him and step on his toes. If he was walking down a hall, I would manage to bump into him. Finally, he gave in and within three months I was an apprentice. I joined the Editors Guild and Elmo Williams signed my application.
In three months, I became an assistant music editor, and two months later a full music editor. I developed the skill of tracking––using music already recorded––to fit new scenes. I knew the movie world was bigger than Mickey Mouse and I wanted to learn more, so I left Disney to pursue working elsewhere. This led to music editing many series including The Andy Griffith Show, The Dick Van Dyke Show and Gomer Pyle, USMC.
I've always wanted to give something back to this great industry, so when the opportunity to run for President of the Editors Guild presented itself, I was happy to take it on.
Not wanting to be dependent on one company, and seeking new horizons, I left the comfort of guaranteed work and started freelancing––doing everything I could to support my growing family. I formed my own company called MXPXEFX Editing, while at the same time joining another music editing company.
One day a man named Burt Tenzer walked in out of the blue and said that he was writing, producing and directing his first feature film. He had an editor but wasn't satisfied with his work. He was looking for someone else. I said, "I'll do it!" Picture editing fascinated me and I wanted new challenges. I'd never edited a picture before but I knew I could do it. My friend Jerry Shepard, who was a supervising editor, gave me insights. I had to teach myself all of the editing techniques like overlapping dialogue, overlapping action, compression, pre-lapping dialogue, etc.
The picture was low-budget, but what a great learning process! The movie was called 2000 Years Later and we filmed the first-ever "love-in" held at LA's Elysian Park. We finished the film but, as they say, it went through town rather fast.
Months later, I got a call from Jerry, who asked if I was interested in editing a motorcycle film. You bet I was. So I met with the producer, Burt Schneider, who said that if the director Dennis Hopper said okay, it was fine with him. Dennis and I met, and that's how I became the editor of Easy Rider. That movie won two Academy Awards and became my springboard into major picture film editing. I've been fortunate enough to have had four ACE nominations, as well as an Academy Award nomination for editing Romancing the Stone along with Frank Morriss.
I've always wanted to give something back to this great industry, so when the opportunity to run for President of the Editors Guild presented itself, I was happy to take it on. During my ten years as President, technology really advanced and we nurtured our members to grow with it. We also expanded into a national Union, and brought post-production sound and the story analysts into our fold.
For 20 years, I've been a Governor of the Academy of Motion Picture Arts and Sciences and have served in various offices of the Board. Now I've retired, but still can't leave the movies. I'm a Senior Filmmaker-in-Residence at AFI, where I teach editing and am a thesis mentor.
I've met and worked with people who are fascinating and talented––and who have helped me to stretch and take risks. I've also worked with a few people whom I never want to see again. Movies are in my blood, and it has been a fulfilling, exciting and gratifying experience. I'd say it's a dream come true.