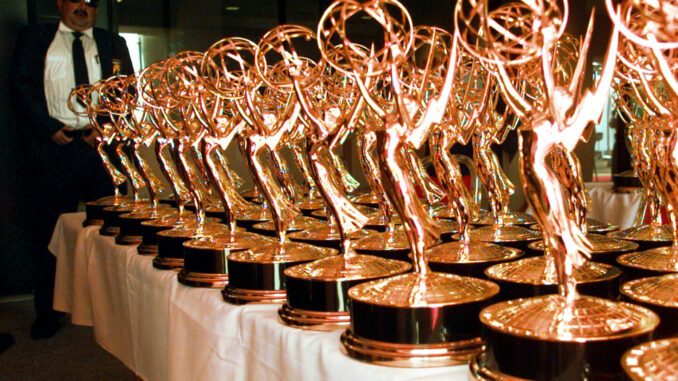 Members of the Motion Picture Editors Guild brought home the gold last weekend at the Creative Arts Emmy Awards.
Held Saturday and Sunday nights in Downtown Los Angeles, the awards honor creative and technical achievement in numerous categories, including picture and sound editing, sound mixing, and technical direction.
As expected, HBO's "Game of Thrones" dominated, winning 10 Emmys in the below-the-line categories.
Check out the full list below for MPEG members who won (note: only members on active or retired status are included).
Ryan Barger: Outstanding Picture Editing for Variety Programming, "Last Week Tonight with John Oliver": "The Wax & The Furious" segment
Pat Barnett, ACE: Outstanding Multi-Camera Picture Editing for a Comedy Series, "One Day at at Time": "The Funeral" (Netflix)
Onnalee Blank, Re-Recording Mixer
; Mathew Waters, CAS, Re-Recording Mixer: Outstanding Sound Mixing for a Comedy or Drama Series (One Hour), "Game of Thrones": "The Long Night" (HBO)
Bob Eisenhardt, ACE (retired): Outstanding Picture Editing for a Nonfiction Program, "Free Solo" (National Geographic)
Tom Fleischman, CAS, Re-Recording Mixer
; Ric Schnupp, Re-Recording Mixer: Outstanding Sound Mixing for a Nonfiction Program (Single or Multi-Camera), "Free Solo" (National Geographic)
Tim Kimmel, MPSE, Sound Supervisor
; Paula Fairfield, Sound Designer
; Bradley C. Katona, MPSE, Sound Effects Editor
; Paul Bercovitch, Supervising Dialogue Editor
; John Matter, Dialogue Editor
; David Klotz, Music Editor
; Brett Voss, Re-Recording Mixer: Outstanding Sound Editing for a Comedy or Drama Series (One Hour), "Game of Thrones": "The Long Night" (HBO)
Matthew Miller &  Iain Tibbles: Outstanding Picture Editing For A Structured Reality Or Competition Program, "Queer Eye" (Series Body of Work) (Netflix)
Tim Porter, ACE: Outstanding Single-Camera Picture Editing for a Drama Series for "Game of Thrones": "The Long Night" (HBO)
Elmo Ponsdomenech, CAS, Re-Recording Mixer
; Jason "Frenchie" Gaya, Re-Recording Mixer
; Aaron Hasson, ADR Mixer: Outstanding Sound Mixing for a Comedy or Drama Series (Half-Hour) and Animation, "Barry": "ronny/lily" (HBO)
Oleg Sekulovski: Outstanding Technical Direction, Camerawork, Video Control for a Special, "The Late Late Show Carpool Karaoke Primetime Special 2019" (CBS)
Matthew E. Taylor, Co-Supervising Sound Editor
; Sean Heissinger, Co-Supervising Sound Editor; 
Rickley W. Dumm, MPSE, Sound Effects Editor
; Mark Allen, Sound Effects Editor
; John Creed, Dialogue Editor; 
Harrison Meyle, Dialogue Editor
; Michael Brake, MPSE, Music Editor
; Clayton Weber, Foley Editor
; Alyson Dee Moore, Foley Artist; 
Chris Moriana, Foley Artist: Outstanding Sound Editing for a Comedy or Drama Series (Half-Hour) and Animation, "Barry": "ronny/lily" (HBO)
Deborah Wallach, Sound Supervisor
; 
Jim Schultz, Music Editor; 
Roland Vajs, Foley Editor: Outstanding Sound Editing for a Nonfiction Program (Single Or Multi-Camera), "Free Solo" (National Geographic)