by A.J. Catoline and Jeff Burman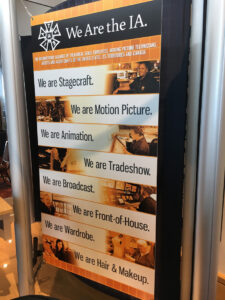 The International Alliance of Theatrical and Stage Employees (IATSE) began its 68th quadrennial convention in Hollywood, Florida on Monday, July 17. More than 870 delegates representing more than 270 locals of stage employees, motion picture technicians and allied crafts from around the United States and Canada arrived at the Diplomat Resort Hotel and Convention Center to caucus and convene the business of the international union.
The Editors Guild sent a delegation of 13, including members and directors from the Los Angeles and New York offices, to represent MPEG members during the course of the six-day convention.
Members of the delegation commented that the proceedings "felt very much like a turning-point" in the international alliance, as issues were discussed about diversity, women's rights, violence in the workplace, minority inclusion and environmental green activism, in addition to the typical agenda of workers' rights, organizing, increasing the minimum wage and health care.
The convention had a few unscripted moments that illustrate a new progressive zeitgeist emerging among the delegates. A minority delegate from Canada was refused service at a local restaurant, Tony's Pizza, near the convention hotel. Nearly 200 IA members marched to the restaurant to gather in protest of this discrimination.
Later, a representative from the Brotherhood of Teamsters addressed the convention hall and, straying from his prepared remarks, attempted a joke that was widely deemed insensitive. Many delegates privately approached International President Matt Loeb with their objections, and when the convention reconvened Loeb condemned the "so-called joke… It has no place at this convention or anywhere else…. We are working for inclusion in the IATSE and that's not who we are," he said to rousing applause.
This will surely be a convention remembered in the continuing fight by the labor movement for justice and progressive change. CineMontage reviews the highlights:
• National Executive Director Cathy Repola, who serves as chair of the IATSE Women's Committee, moderated a panel discussion of women professionals and "trailblazing sisters" of the union. Senator Elizabeth Warren (D-MA) addressed the gathering via videotape from Washington.
"I want to start with a big thank you to International President Matt Loeb and Women's Committee Chairwoman Cathy Repola," Warren said. "The battles that IATSE women have fought have helped level the playing field not only for women but for all working people."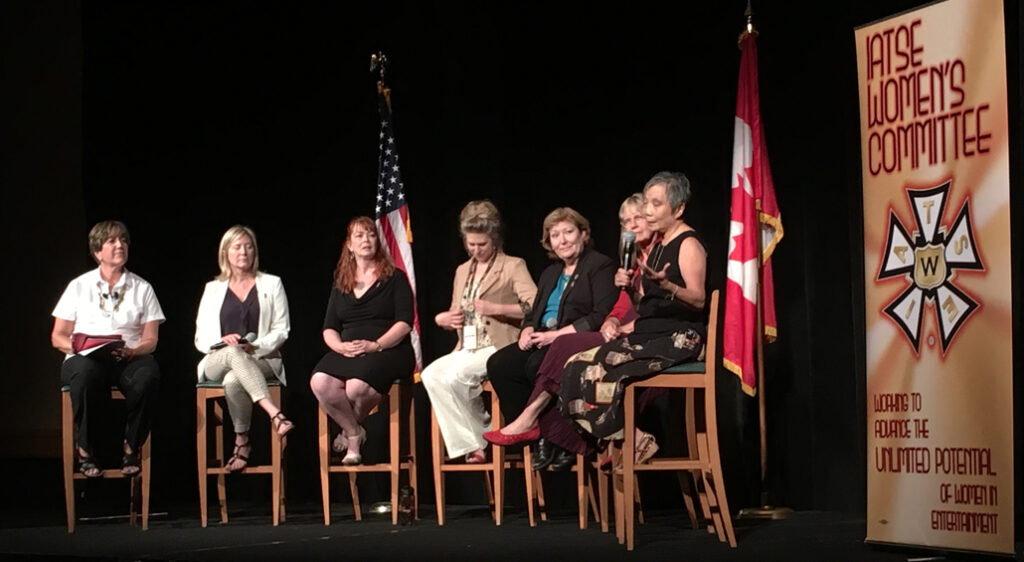 Canadian Labour Congress Secretary-Treasurer Barbara Byers addressed the committee and noted, "Our struggles as feminists and trade unionists continue" and that all union members need to "look for the opportunity to lift women up, it's our obligation." There was resounding applause.
• IATSE President Matt Loeb opened the convention on Monday with a call for activism to fight against political campaigns that threaten workers' rights. "The ongoing vicious assault on unions requires us to exert our strength and pride, and to show our adversaries we are resourceful, connected and a force to be reckoned with," said Loeb.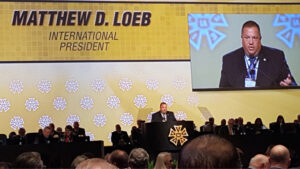 •The Report of the President mentioned recent gains to bring Reality Television under the union contract. "We have built union power with organizing victories in unscripted television," read the report. "Since the last Convention, more than 120 new unscripted productions were produced under IATSE contracts. Among these were Shahs of Sunset and Broken Skull Ranch, both of which were produced under IA agreements after several weeks of strikes."
•AFL-CIO President Richard Trumka addressed the full convention in a barn-burning speech condemning legislation proposed by the Republican majority in Congress that advances so-called "Right to Work" laws. "We will take back America for the working people who built it, that's our job," he said.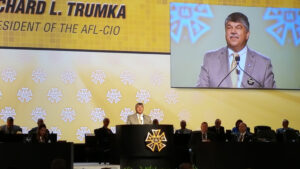 Trumka was followed by Kate Schindle, President of the Actors Equity Association, who thundered, "Workers rights are human rights, and human rights are workers rights!" to a resounding standing ovation. Schindle evoked the hypocrisy of President Trump, who declared the week of the convention "Made in America Week." "You know what's made in America? The Arts!" she said.
Directors Guild President Thomas Schlamme, known for his work as creator and director of NBC's The West Wing, suggested there should be further collaboration with his union and the IATSE, especially on workplace safety, remarking that all workers on a film set should "come home after a hard day's work safe."  He also invoked a quote from Noam Chomsky: "Labor unions are the driving force for democracy and progress."
Thomas O'Donnell of Teamsters Local 817 lamented that "half of my drivers voted for Trump… If we want to make America great again, we need to make unions great again."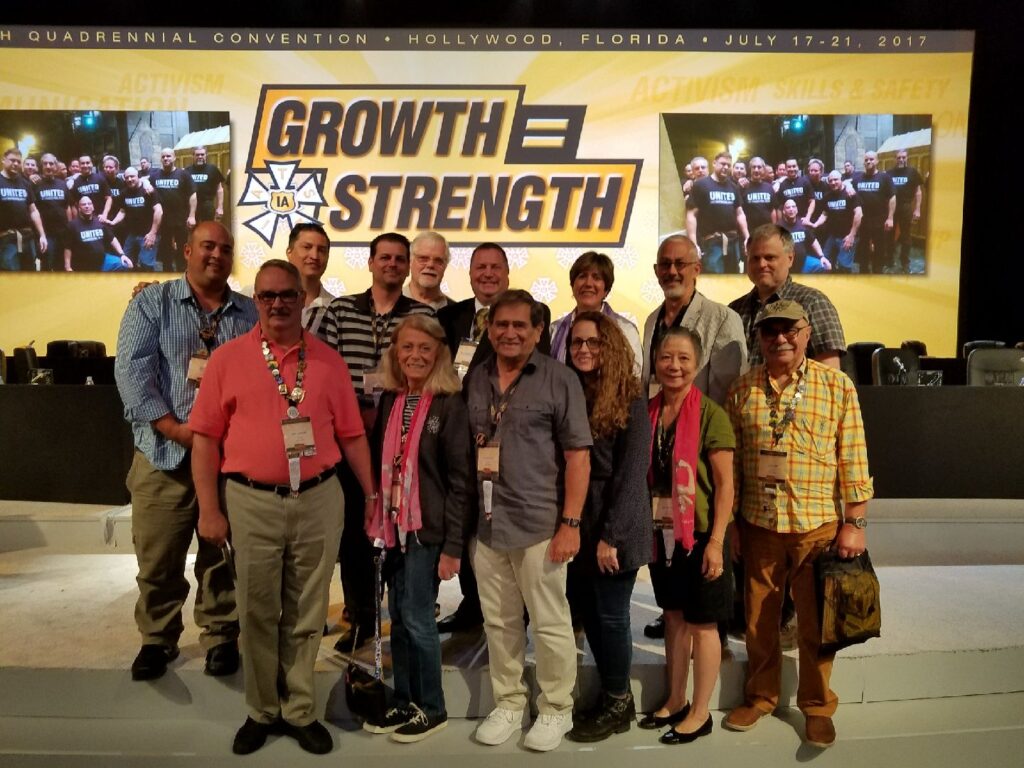 Another speaker was Ted Deutch, a US Representative for the 22nd District of Florida, which includes the convention's host locals. He serves on the Foreign Affairs Committee, the Judiciary Committee and the Ethics Committee. Deutch acknowledged the partisan divisions that swirl around us, and reminded the delegates of the importance of the creative work done by IATSE members. He argued that intellectual property rights should be a bi-partisan issue in Congress, saying that this kind of work directly effects 145,000 jobs and $6.3 billion in income, and also effects over 10,000 production-related employees. He called for protections against digital theft and piracy.
• Earlier on Sunday, prior to the start of the full convention, the 13 geographic districts of the international alliance — 11 in the US and two in Canada — met in their respective caucus meetings. Most of the Editors Guild attended District 2, covering members in the states of Arizona, California, Hawaii and Nevada.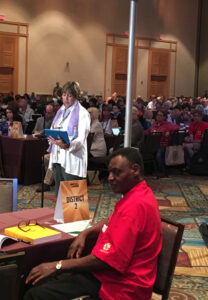 National Executive Director Repola gave an address as chair of the District 2 Diversity Committee, reporting an increase in the level of acceptance for the principles of diversity, and received a standing ovation for her work leading the committee.
Additionally, the Editors Guild attended the District 10 Convention, covering the states of New Jersey and New York. The Guild also attended three other district conventions: District 3, covering Connecticut, Maine, Massachusetts, New Hampshire and Vermont; District 4, covering Delaware, Maryland, Pennsylvania, Virginia and West Virginia; and District 7, covering Alabama, Georgia, Mississippi, North Carolina, South Carolina and Tennessee. These various districts represent most of the geographical areas where Editors Guild members primarily work.
• At the District 2 Convention, a resolution was passed to endorse single-payer healthcare legislation in California, the Healthy California Act, SB 562. The resolution stated support for "sustainable, secure and just health care for all." The Legislative Committee in part recommended that the IA support efforts by the California Labor to fight so-called "Right-to-Work" laws. The Young Workers Committee's report acknowledged the IA's efforts to accept and cultivate its newer members, and to develop its future leadership.
• In general session, the convention passed resolutions supporting federal legislation for single-payer health care, condemning so-called "Right to Work" legislation, supporting of paid family and sick leave, raising the minimum wage, increasing contract wage minimums, condemning sexual or other physical abuse perpetrated in the workplace, and creating a Green Committee to support environmental activism within the union. A resolution was passed in continued support of health and safety and reduced work hours, as was championed by the late cinematographer Haskell Wexler, ASC, of Local 600, who had said that union work hours on film sets should be "12 on and 12 off." The convention also rose in a moment of silence to remember the victims of the Orlando nightclub shooting that occurred on June 12, 2016.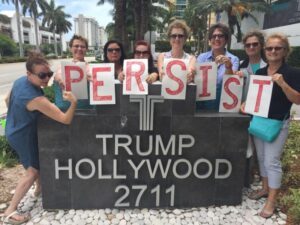 • Speakers for the Women's Committee's presentation included President Loeb, Executive Director Repola, IA Vice President and Local 11 Business Manager Colleen Glynn and Canadian Labour Congress Secretary-Treasurer Byers, with closing remarks by IA Local 154 President Amanda Sager. There were also two panel discussions. The first, a "Conversation with Trailblazers," was moderated by Cecilia Friederichs, the National Business Agent of the United Scenic Artists, and featured C. Faye Harper, Cherie Herbert, Debbie Reid and Barbara Robinson. A second "Industry Panel" was moderated by Repola, with panelists Dana Gaudet, Dawn Gilliam, Maysie Hoy, ACE, Cindy Jennings, Christina Kasperczyk, Eileen Macdonald and Jeannine Oppewall.
• The Editors Guild delegation consists of National Executive Director Repola, National Executive Director Emeritus Ron Kutak, Guild President Alan Heim, ACE, Western Executive Director Scott George, Eastern Executive Director Paul Moore and delegates Diane Adler, ACE, Louis Bertini, MPSE, Jeff Burman, A.J. Catoline, Frank Delgado, Bill Elias, MPEG President Alan Heim, ACE, Sharon Smith-Holley and Maysie Hoy, ACE.