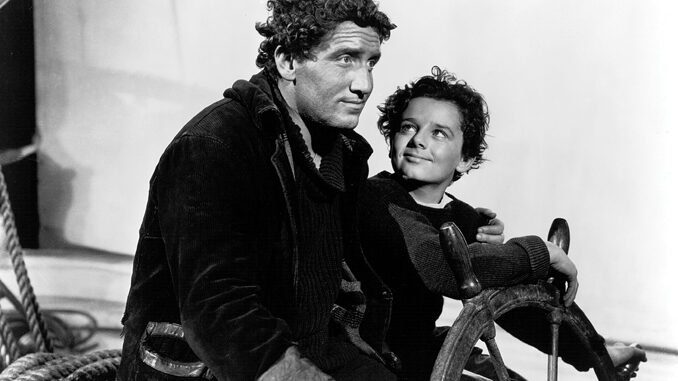 by Kevin Lewis
In many American homes in the early 20th century hung a framed poem by Rudyard Kipling, If, which begins with "If you can keep your head when all about you are losing theirs and blaming it on you. If you can trust yourself when all men doubt you…" and ends with "You'll be a Man, my son." The stanzas in between describe the various qualities of integrity, grace under pressure, cooperation, independence and personal honor a boy must develop to become a man.
Although the poem was written by a British author, it became an anthem for the Boys Scouts and American boys. Boys growing up in the 1930s and 1940s responded to Kipling because they had to grow up fast during the Depression and World War II. The Depression produced a plethora of films based on 19th-century literature because the public wanted movies that promoted family values after the excesses of the Jazz Age.
Kipling is most famous for his novels, stories and poems about the Victorian British regiments in India, such as Kim, Wee Willie Winkie and Gunga Din, all of which became popular.
Captains Courageous, about the fishermen in Massachusetts, was published in 1897. It is one of his few novels set in America. The year after Kipling died, Metro-Goldwyn-Mayer produced its acclaimed version of the story, directed by Victor Fleming, 75 years ago in 1937. The studio released it in the same month (June) as 20th Century-Fox's film of Wee Willie Winkie. However, the Fox film, directed by John Ford, emasculated the Kipling theme by changing the gender of the lead child character from a boy to a girl for a Shirley Temple vehicle.
Veron's editing on this film was not typical of his peers, and reflected the European or Russian style rather than the seamless American mode of editing.
MGM's Captains Courageous was updated to a modern America and its themes of the wealthy insulated against the poor fit the Depression, which is never mentioned. The film revolves around four sets of intertwined fathers and sons. Harvey Cheyne (Freddie Bartholomew) is the neglected, motherless son of a railroad tycoon. When Harvey falls from his father's yacht, Manuel Fidello (Spencer Tracy), a Portuguese fisherman, rescues him from the ocean and becomes a father and mentor to the ungrateful Harvey. He teaches him responsibility, empathy and integrity throughout the months at sea until they return home and reunite Harvey with his father.
Manuel mourns his dead fisherman father, who was swept under the sea and never found. When the hubris of the fishing boat captain, Disko Troop (Lionel Barrymore) — whose son Dan (Mickey Rooney) is in training to succeed him — forces the crew into a nautical chicken race with a rival fishing boat, Manuel is crushed by a falling mast and is mortally wounded. He tells a sobbing Harvey that he is joining his own father in the sea. The mature Harvey returns to his repentant father a leader on his own.
Bartholomew and Rooney were the most popular male juvenile actors during the Depression. Bartholomew gives a remarkable performance as the spoiled rich boy, Harvey — as Machiavellian as Wall Street's Gordon Gekko at 10 years old.
Cast opposite Bartholomew was Tracy as Manuel, the fisherman. Tracy rarely played ethnic roles and this performance is atypical in his body of work. After five years of depicting tough guys at Fox, the stage-trained Tracy at MGM wanted an image makeover. He tried a variety of roles, including the priest in San Francisco (1936). He was uncomfortable with a racially stereotyped accent ("leetle feesh") and curled hair, which made him look and sound like Chico Marx, but the part won him the first of two consecutive Oscars for Best Actor in a Leading Role. (His second was for Boys Town [1938].)
Tracy is still regarded as a pinnacle in film acting but his greatest performances are from the latter part of his career, in the 1950s through the 1960s. He received seven lead actor Oscar nominations during this period. He did not pick roles for versatility, and succeeded in roles requiring intelligence and integrity. Oddly enough, he was a master at playing judges (Cass Timberlane [1947], Judgment at Nuremberg [1961] and Guess Who's Coming to Dinner [1967]), as well as lawyers (Adam's Rib [1949] and Inherit the Wind [1960]).
These roles taught American men more about the meaning of the Kipling poem than the film of Kipling's Captains Courageous. In the post-war world, American men had to have the "common touch" — as Kipling described it — in dealing with people of different creeds, races and nationalities in a global society.
Captains Courageous' editor, Elmo Veron, was a charter member of the Society of Motion Picture Film Editors when it was established in May 1937. Little is known about his motion picture activities prior to his joining the SMPFE at 33 years old. This was his first picture editing credit, for which he received his only Academy Award nomination (the Best Editing Oscar that year went to Gene Milford and Gene Havelik for Lost Horizon).
Veron's editing on this film was not typical of his peers, and reflected the European or Russian style rather than the seamless American mode of editing. The opening scene of the railroad tycoon (Melvyn Douglas) eating his breakfast while listening to his valet read his business communiqués uses editing derived from the Russian director V.I. Pudovkin. Extreme close-ups of the tycoon's hands ruthlessly cutting his food, as well as of his mouth devouring the meal, precisely define a ruthless, driven man.
The master-shot scenes of the fishing boats sailing across the Atlantic Ocean are poetic in a Winslow Homer style and are influenced by French film editing — chiefly, un plan pour rien (French for "the shot for nothing" — basically an extended shot or included image which does not advance the story but is a pause in the pacing for solely artistic reasons, to let the film breathe editorially). Veron was never in the position to earn another Oscar nomination because he was mostly relegated to the B film unit at MGM for the rest of his career, where he edited the Andy Hardy and Maisie series. In 1955, he left feature film for episodic television, most notably with The Untouchables (1959-63) and Petticoat Junction (1963-70). He died in 1990.
In the coming decade of international war, many a Harvey Cheyne rubbed shoulders in a trench, in a jeep, or on a ship or airplane with a Manuel. And Allied troops won the war with cooperation and respect for each other.