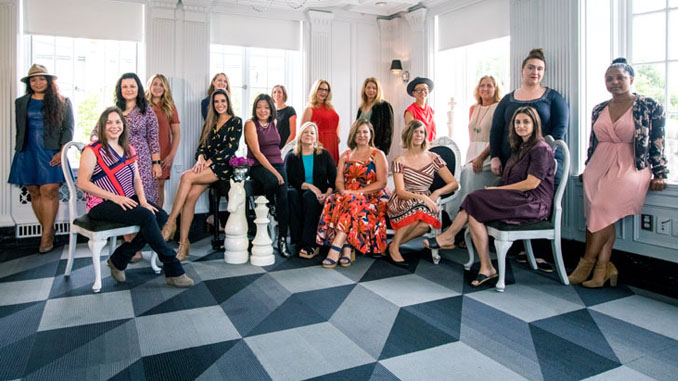 by Katherine Griffin • portraits by Paiwei Wei
On Monday, September 3, an exciting new tradition began. How fitting that it was Labor Day when the First Annual Female Picture Editor Emmy Nominees celebration kicked off at the historic Culver Hotel in Culver City, California. In attendance were 18 women with uniquely colorful resumes — and equally unique backgrounds. Some had decades of experience working in television, while others got their start in independent film; it was an opportunity to revel in each other's accomplishments.
The idea for the event came to me shortly after I learned that I'd been nominated for editing American Ninja Warrior. As I scanned the list of fellow nominees, elated to see the names of so many industry friends, I was struck by the skewed ratio of 25 women to 90 men. And not just in Reality and Non-Fiction programming, where predominantly male teams are common, but also in categories like Variety, Comedy and Drama.
Inspired by the work of these incredible women, I decided to do something special to acknowledge everyone. What began as an idea to simply take a group photo quickly grew into something more meaningful. Once word got out, we had the support of the Editors Guild's Women's Steering Committee and Diversity Committee, and Avid came on as a sponsor. We were soon a full-fledged event.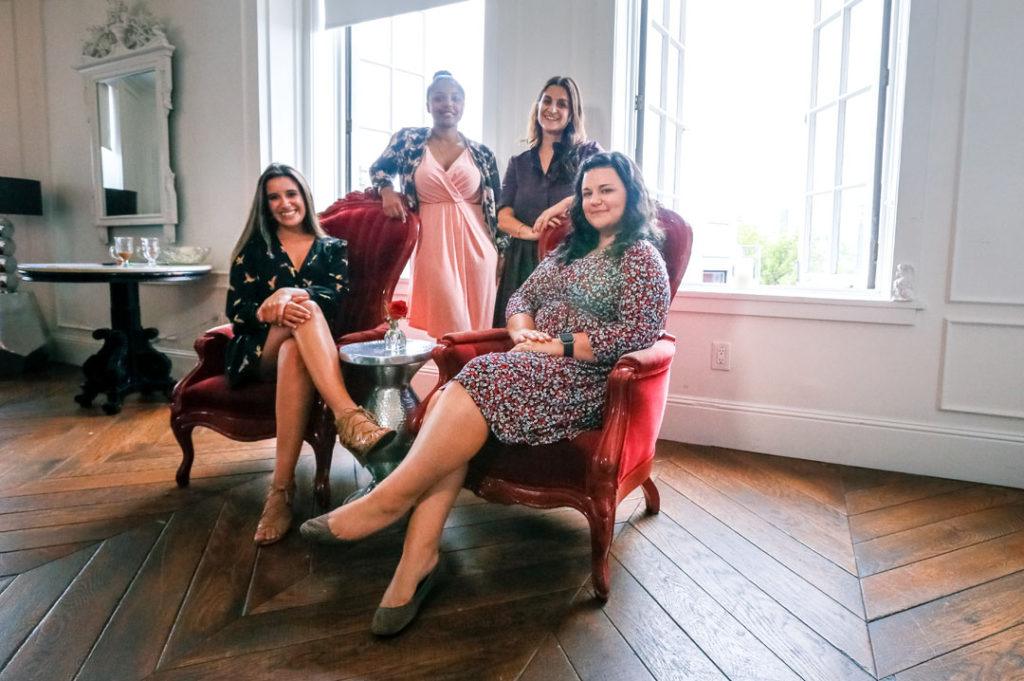 There was hunger for such a mixer; having the opportunity for scripted and unscripted editors to mingle, discuss common issues and learn from each other is rare, and to do so with other women was empowering. I chose the Culver Hotel partly because it has great coffee — a definite must for any meeting — and because I love its place in cinematic history. It housed the cast and some crew of The Wizard of Oz (1939), which was edited by the legendary Blanche Sewell. For such a talented group to meet within those storied walls seemed ideal.
A deep appreciation of one another's work ran through the group. When asked whom they found inspirational, the women were quick to acknowledge those present:
Alexandra Moore (Deadliest Catch): "The ladies here today."
Melissa Silva Borden (The Voice): "It's so amazing to be surrounded by such talented editors!"
Dorian Harris, ACE (Women's Steering Committee Chair): "Reality editors who continually have to work non-union."
Peggy Tachdjian (Born This Way): "Shelly Westerman's career is so inspiring!"
When I told Chi-Yoon Chung how downright cruel it was to possibly choose between voting for her episode of The Assassination of Gianni Versace: American Crime Story, and those of her colleagues, Emily Greene and Shelly Westerman, without a beat she replied, "Yes, but did you see that 'Black Mirror' episode? Selina MacArthur did such an amazing job!"
This is the magic of women. They wear their inclusivity and admiration for other women on their sleeves.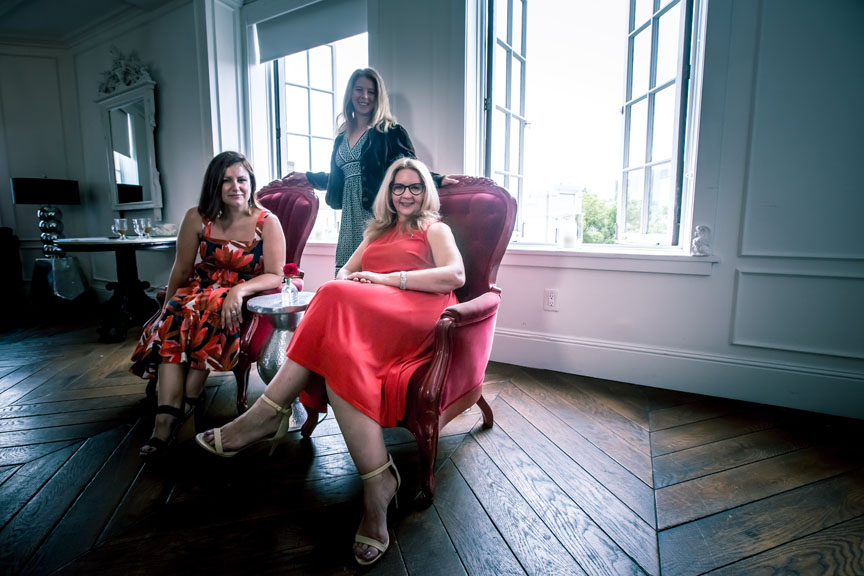 Mary DeChambres, ACE (American Ninja Warrior): "The bond I've made with other women editors has helped me get through the tough times; that's for sure."
With so many collective years of experience among these ladies, conversation drifted to the experience of being one of the few women on a team of men, pay inequities and the difficulties of balancing work and family life. Many of them also write, direct and pursue other aspects of the industry while expanding their craft as editors. Unsurprisingly, the most talked about subject was the need to boost the numbers of women throughout the industry.
Twenty-two percent of all the Emmy-nominated editors are women, a percentage that mirrors perfectly the membership base in the Editors Guild. That's a great start, and one is tempted to see this as a triumph. Indeed, the Guild membership's ratio of women is higher than that of any other industry guild. But, in a profession that favored women in Blanche Sewell's time through the Golden Age of cinema, it seems like the numbers may be moving in retrograde. And since the ratio of non-union shows to union shows across all media platforms is larger than ever, it may not be the representative barometer it once was.
The category which boasts the most female nominees is Single-Camera Drama, which may have been surprising just a few years ago, but the multiple nominations for Ryan Murphy's The Assassination of Gianni Versace: American Crime Story is evidence that his commitment to closing the gender gap is making a difference.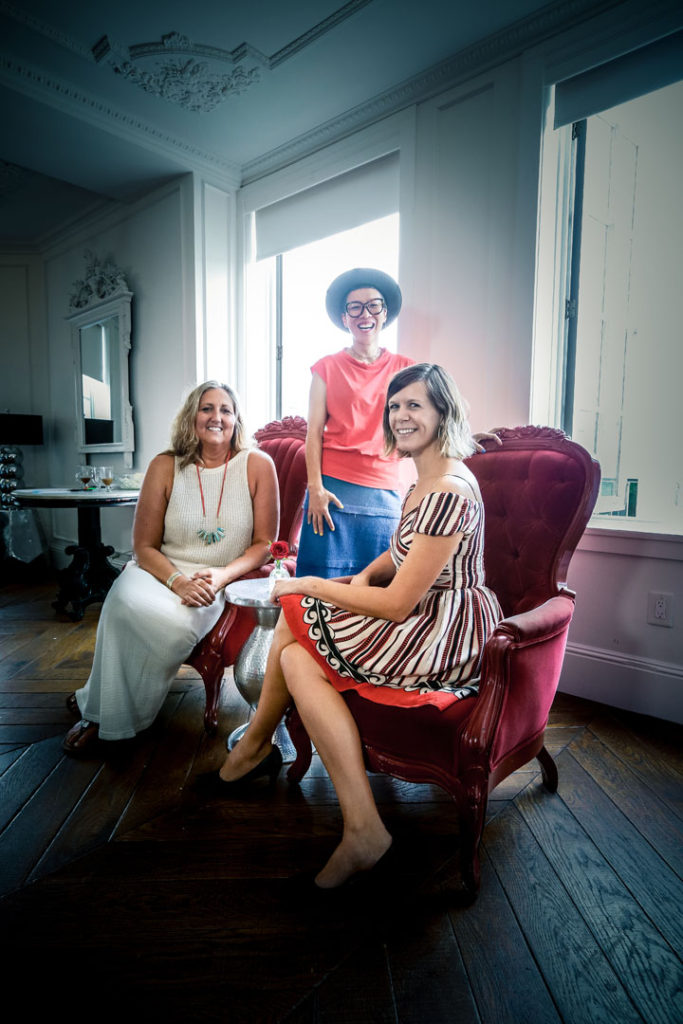 Emily Greene (The Assassination of Gianni Versace: American Crime Story): "And Chi-Yoon was pushing for an all-female editing team for Versace, as well, so I have to give her credit. After she had worked on The People vs. O.J. Simpson: American Crime Story — and won an Emmy! — I think she was trusted to suggest other great candidates for the next show. That's where Shelly and I came in and were able to interview for the position. Executive producer Alexis Martin Woodall, Ryan's right-hand woman, was clearly supportive of the idea as she hired us both! Alexis and Ryan strive to give voice to those who need it most."
Shelly Westerman (The Assassination of Gianni Versace: American Crime Story): "It's important for us to recognize talent and nurture it. We need to make an effort to mentor other women. And, if we have the means, to employ women whenever possible."
Daysha Broadway (Born This Way): "One thing that always stood out to me was that when I got promoted from assistant editor to editor, all of the women editors in the company came up to me and congratulated me. I hadn't even met all of them before. They were just excited to have another female editor on the team, and it was so nice to have their support."
Pat Barnett, ACE (One Day at a Time): "That's how I got my start. A female showrunner got behind me and pushed me to challenge myself to move up."
Lousine Shamamian (RuPaul's Drag Race: Untucked): "Me too. I was given breaks by amazing women."
Jennifer Nelson (Life Below Zero): "I was very lucky to get my start in the environment I did."
Tricia Rodrigo (The Amazing Race): "Lucky, yes, but very talented."
It's an interesting tendency that I've observed, more with my female friends than male ones, to attribute their success to luck. Indeed, a majority of us in the room felt lucky to be where we are today. Undoubtedly, a great amount of luck goes into being nominated for an Emmy, but it seems common to downplay the persistence and talent that lead to that luck paying off.
I think it's a holdover of an old-school train of thought, in which there's a feeling that a woman was lucky to get that coveted "one spot" that seemed allotted to women. There was a culture that made it feel like there wasn't room for any more. But, just like when Ruth Bader Ginsberg was asked how many women on the Supreme Court would be enough, and she answered, "Nine," I think we've collectively woken up to the fact that we can support each other graciously and generously.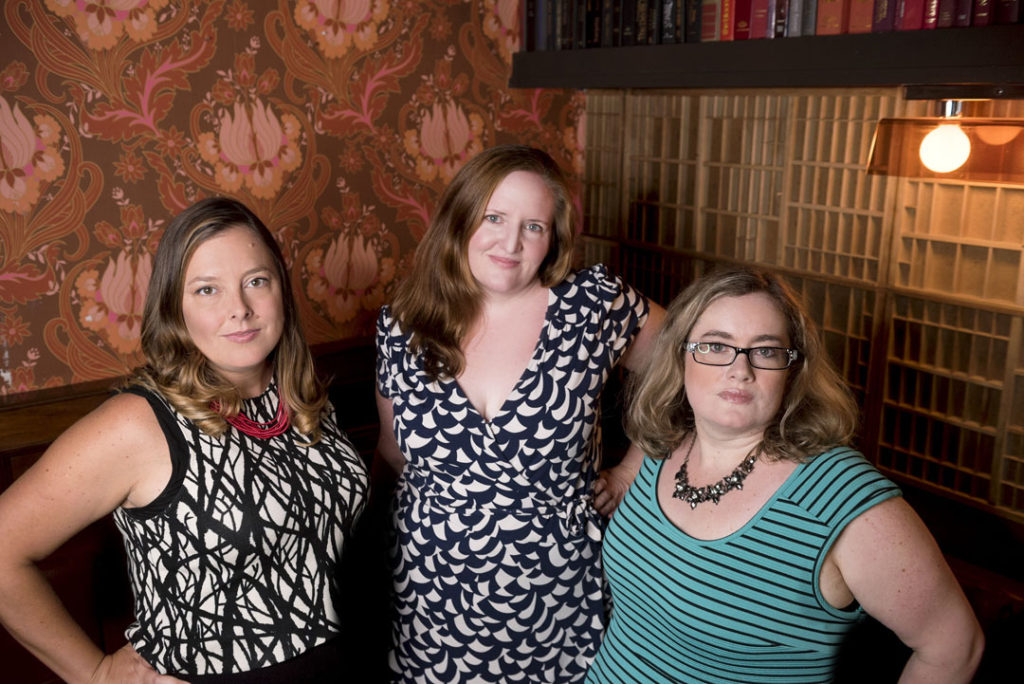 Flavyn Mendoza (American Ninja Warrior): "I was the only woman hired out of 12 editors for about six seasons. It was me and 11 guys. It made me feel bad-ass, but I was happier when Mary [DeChambres] and Katherine [Griffin] came on."
Omega Hsu, ACE (The Voice): "Absolutely. I am one of two female editors on a team of 23, and I think that's an appalling number. We need to do better to support and hire more women, especially women of color."
Daysha Broadway: "I've actually never been on a show with another black woman."
A great friend of mine, and a previous Emmy nominee, LaRonda Morris pointed out the disparity to me in my early days as an editor, and it's true. In my entire career, I can count on one hand the number of African-American editors with whom I've worked.
Daysha Broadway: "We're out there! We just aren't sought after. If more women and men make it a point to hire women and women of color, and not just to have one on the roster, then we'll see a change."
Tricia Rodrigo: "And, it will only continue to help the projects that we work on. Having a variety of voices contributes to the content being relatable. The important thing is that we're now all letting our voices be heard, and that's really powerful. We're standing together and standing for each other to succeed."
Which perfectly encompasses what this poignant day was about for our group of nominees. After we gathered to pose for a truly empowering group photo, it took a long while for anyone to pack up and leave. We all kept splintering off into brainstorming conversations, asking more questions about each other's work, and making plans for future events.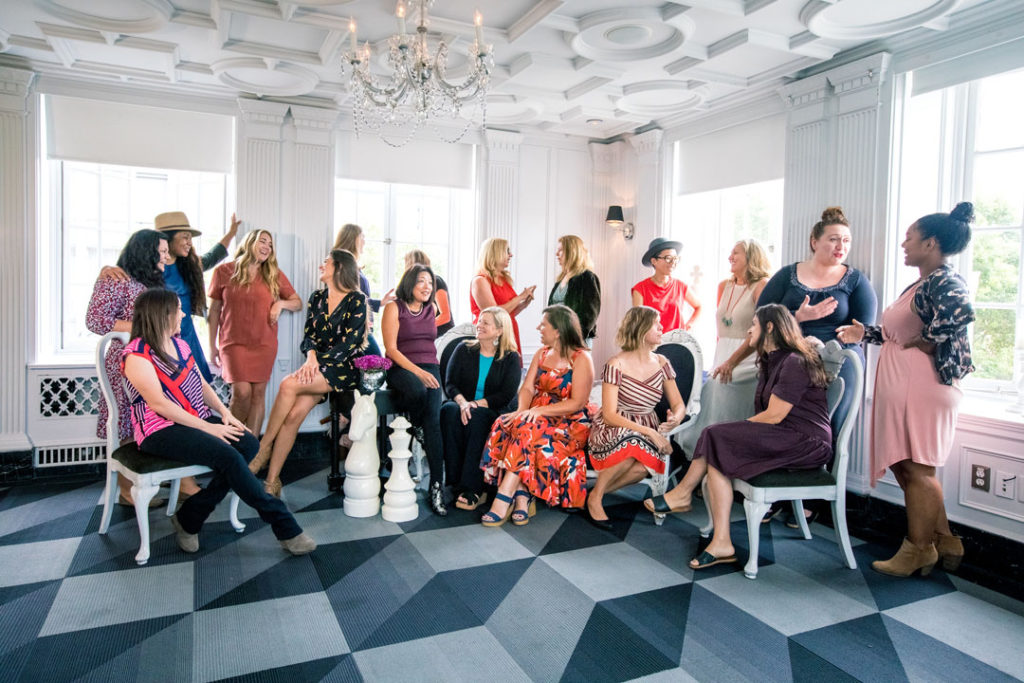 When we did finally disperse from the Culver Hotel and back into our own lives, there was a feeling of something new having been set in motion. And as I glanced at the dioramas in the hotel window from The Wizard of Oz, I said a little thank you to Blanche Sewell and all of her fellow trailblazing sisters for the yellow brick road they had laid out for us.