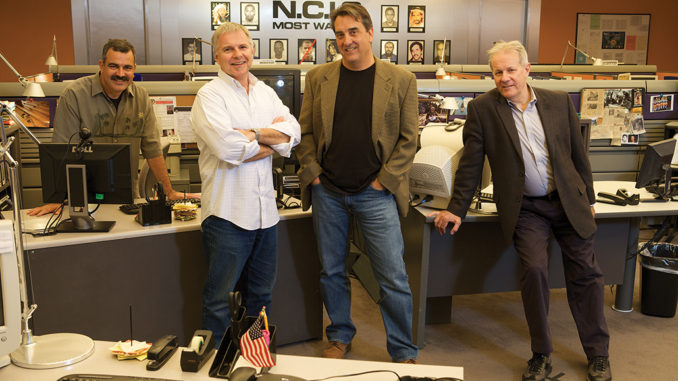 by Debra Kaufman
Filmmaking is a collaborative art, and perhaps nowhere is that more clear than in sound editorial, when the supervising sound editor orchestrates a team of ADR, Foley and effects editors.  Not every sound editorial team is alike.  Teamwork is formed not just by the needs of a specific project but by the personalities and strengths of the individual people who operate as team players.
CineMontage took a look at how two different sound editorial crews, one on each coast, have created their own specific types of teamwork.
CIS: Naval Criminal Investigative Service
Todd-AO, Hollywood
Supervising sound editor: Greg Schorer
Effects editor: David Baldwin
ADR supervisor: Bill Kerr
Dialogue editor: Dale Chaloukian
Assistant editors: John Matter, David Padilla
Foley artist: Joseph Sabella
Foley mixer: James Howe
When the CBS TV series NCIS became an offshoot of the show JAG in 2003, the latter's supervising sound editor Greg Schorer, ADR supervisor Bill Kerr and the mixers moved to the new show.  They had been together as a group for almost ten years.  The crew broadened early on when Schorer decided to take the show to Todd-AO—and to shake things up a bit.
"I wanted to have a dedicated effects editor and a dedicated dialogue editor so I wouldn't have this problem of communication issues with multiple editors––or the unevenness of editorial because of all the editors,"
Schorer says.  "I wanted to get away from what we were doing in the past, where I was throwing four, five, six editors on a show, cutting a few days before we dubbed, and seeing things I'd never seen before on the dubbing stage.  There was no time for me to look things over and see what was there.  The dubbing process became heavy on making fixes."
At Todd-AO, Schorer added David Baldwin as the dedicated effects editor, and Dale Chaloukian as the dedicated dialogue editor to complete the team.  "I had used David when I was supervising JAG," he says.  "He was working independently and whenever I had a difficult effects problem, I turned to him."
The challenge with NCIS from a sound editorial perspective, according to Schorer, is the relentless amount of detail.  "Every scene has levels of detail that have to be covered, and it's physically impossible for a single editor to do it," he says.  "I team up with David and play off his strengths.  He's great with vehicles, and I have a lot of experience with jets from JAG.  He does 95 percent of the effects work, but I hit very specific areas that might be sensitive to the client, so I have a better idea of what's expected.  That lightens David's load and enables me to spend a lot of time on one area.  We've developed this relationship that helps the show."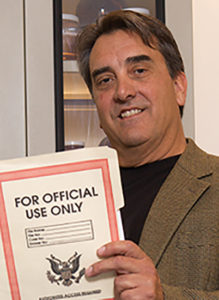 Baldwin reports that the show was "definitely a learning curve" and part of that included the way the team worked together.  "I've never actually worked in this fashion before," he says.  "Usually, I was told what to do and we did fixes on the stage.  It really works well to have me putting everything I can into effects––including doubling up on some Foley items––and getting it all to Greg a few days ahead of time.  He can then look at my material and the tracks from Foley, and add anything he feels is necessary.  He becomes much more familiar with the material, and his second filter makes everything that much better by the time the client actually sees it."
Schorer's efforts to fix as much as possible in advance of being on the dub stage have really paid off.  "Once, we had 75 changes on the dub stage in one episode," he says.  "That's like cutting an extra act!  Now, I have virtually no changes on the dub stage.  The third day of dubbing is the fix day, and it's usually just music additions."
Foley is also important for the show.  "In our world, everything in Foley gets played, and has to be cut to sync before it is mixed," says Schorer, who reports that he uses James Howe at Sovereign Sound for Foley.  "They can't grade each cue by level of importance," Schorer notes.  "They have to nail it the best they can and move on.  So, if something needs work, I mention it to David to see what he can come up with." Baldwin, who has a background in sound design, adds that he is able to trim or beef up a cue and make it work.
Kerr and Chaloukian also work closely together.  According to Kerr, the day after spotting, he jumps in and starts cueing the ADR.  "With luck, the assistants have gotten the show assembled for Dale, so that as I cue the show and generate the cue sheets, he can jump in and see if the ISO tracks are clean or, if not, there are production alts," says Kerr.
It requires close communication between Kerr and Chaloukian to fix as many lines of dialogue as possible.  Although Chaloukian says he typically works in a linear fashion, going through the episode two or three times from beginning to end, he's had to change this way of working to accommodate the goal of reducing ADR lines.  "It's a challenge, no question about it," says Chaloukian.  "There's a lot of dialogue work that needs to be done in a short amount of time."
Early on, it became apparent that the effort to fix lines of dialogue on that first day made a huge difference.  "We had line counts for one actor that were averaging 40 lines per episode, and actors were understandably getting tired of it," says Kerr.  "By Dale jumping on all these lines, we've reduced the line count for the principal actors by anywhere from 10 to 50 percent."
Working this way is also crucial because Kerr is never certain when he'll get the actors for looping.  "If we had the option to never loop our regulars until four days after we'd spotted the show, Dale wouldn't be under quite so much pressure," he says.  "For me, this is absolutely the closest I've worked with a dialogue editor."
Chaloukian agrees that the level of communication between all the members of the sound editorial team—and show producer Josh Rexon—is unique.  "I can call post and convey concerns to the producers if Bill or Greg aren't available," he says.  "And that's welcomed and encouraged."
For NCIS, it's those extraordinary levels of team playing that make the difference.  "Because we have this tight-knit team working together, the client gets exactly what he wants," says Schorer.  "And we can keep it on budget."
Shutter Island
C5 Inc., New York
Supervising sound editors: Philip Stockton and Eugene Gearty
Dialogue editor: Fred Rosenberg
Supervising ADR editor: Marissa Littlefield
Foley supervisor: Frank Kern
Foley editors: Kam Chan, Jamie Baker
Foley artist: Marko Costanzo
Foley mixer: George Lara
Assistant sound editors: Chris Fielder,
Larry Wineland, Angela Organ,
Alexa Zimmerman, Sam Miille
Martin Scorsese's just released Shutter Island, edited by Thelma Schoonmaker, A.C.E., brought back a sound editorial team that has worked together for years on the director's films.  Philip B. Stockton, and Eugene Gearty, who share supervising sound editor credits, have worked together over 20 years on many films––for Scorsese, Ang Lee and many others.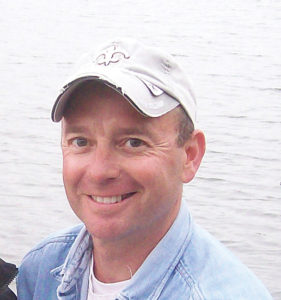 "I am primarily a dialogue editor, and Eugene is primarily an effects editor, so it's worked out well for us," says Stockton, who heads the New York-based sound editorial company C5.  "The way it's structured, I'm the one who puts the job together, hires the crew and does all the budgeting.  Eugene is the more creative one in terms of sound effects and Foley.  It's a good division."
Gearty seconds that observation.  "Phil manages the general supervisory role of what would be administrative," he says.  "My role is totally creative when we do work together.  Philip is completely uninvolved with the creative development of the sound effects process and I'm completely uninvolved with supervising ADR or dialogue."
The benefits of divvying up the work like this are many.  "The reason why we do it this way is that it puts me in a creative position––not only to select effects and record them, but also edit and pre-mix them," says Gearty.  "A traditional supervisor might have handed off all the effects to editors and wouldn't hear them until the pre-mix."
Stockton reports that Scorsese and Schoonmaker often ask for sound effects and music early on in the editing process.  "It influences his decisions about how to cut things," explains Stockton.  "We're constantly supplying them with sound effects and Foley and we're mixing them down throughout the whole editing process."  With Gearty freed of administrative duties, he can tweak and evolve those effects as the edit progresses.
Despite the division of labor, the two sound supervisors are "in constant communication throughout the entire process," says Gearty.  "We go our separate ways in the sense that Thelma will call me to discuss the sound effects needed, whereas she'll call Philip for all things dialogue.  It's very much an elaborate team."
Also very one-on-one with the director and picture editor is supervising ADR editor Marissa Littlefield, another member of this close-knit team for two decades.  "Since ADR is so performance-based, I work particularly closely with Thelma," says Littlefield.  "Marty likes to keep as much of the production sounds as possible, and more often than not, we try to solve the technical problems."
However, on Shutter Island, which features a hurricane, looping was inevitable.  In one segment, where Leonardo di Caprio and Mark Ruffalo sneak off into the woods after being rebuffed by the heads of the psychiatric facility, the entire scenes had to be looped due to the noise of the rain and wind machines during production.
Littlefield has worked closely with Stockton on other Scorsese films as well, where the two collaborated to preserve as much of the production tracks as possible.  In some cases, she would replace only a problematic word or phrase.  "On Shutter Island, Phil and I worked the same way," she explains.  "Since we do give Thelma the material for her to work with on the temp mixes, we'll do some ADR and she'll incorporate it into her tracks.  In the cases where Marty has just chosen sections from ADR, Phil will be able to see the bits and pieces they've used so he can cut his dialogue accordingly."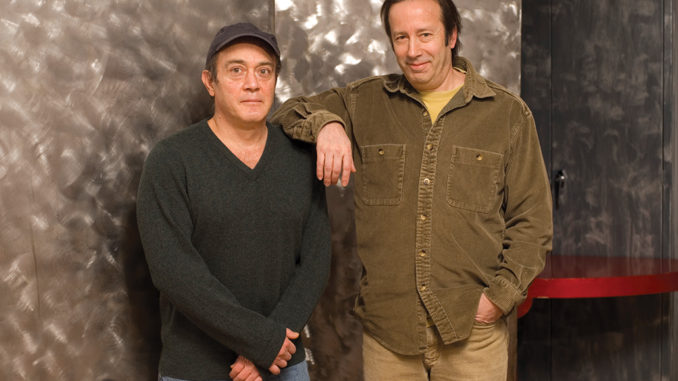 Foley was crucial in Shutter Island for the same reason that ADR played a big role.  "There were a lot of scenes shot without sound, so all that had to be created from scratch," says Foley supervisor Frank Kern, who remained in constant communication with Gearty.  "Marty and Thelma don't want just the basic storm sounds, they want you to bring in something different."
Working with the same sound editorial team members—for the same director and editor—has significant benefits, agree all its members.  "There are no surprises," says Kern.  "And we cover each others' backs.  We have a great mixer in Tommy Fleischman, who sorts it out.  We compete against each other and we create some great sounding tracks between all of us."
Stockton agrees, adding, "We've honed our skills based around each other.  We know each others' weaknesses and compensate for that ahead of time.  Everyone knows how everyone else works.  We all know what's expected from Marty and Thelma.  Then we all meet on the dubbing stage with all our tracks and it almost always works seamlessly."