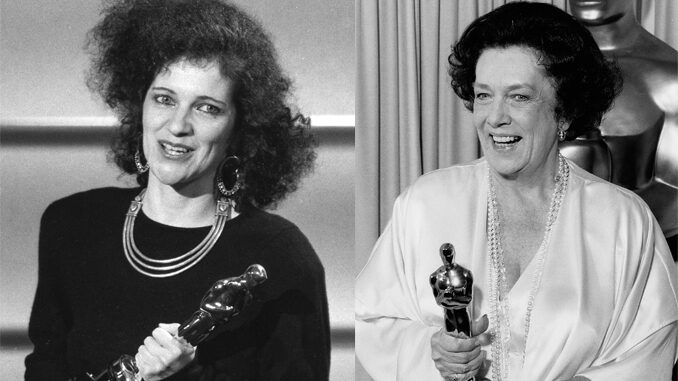 80 Most Popular Films Whose Editor Won the Best Film Editing Academy Award and
40 Most Popular Films That Won the Best Sound Editing Academy Award
Focus On Series
by Wikipedia contributors
E-books only, licensed by Focus On (an imprint of OK Publishing, pursuant to Creative Commons Attributions)
$0.99 each
by Betsy A. McLane 
With the 2018 Oscar winners' statuettes now proudly on display on their mantlepieces, and the Academy of Motion Picture Arts and Sciences' surplus carefully stowed away for another year, it's time to take a look at how the 90th annual awards fit into post-production history. If one was wondering who preceded Best Film Editing winner (for Dunkirk) Lee Smith, ACE, or Richard King's and Alex Gibson's Best Sound Editing Oscars for the same film, there are several online sources to check. A clever addition to the standard references are the relatively recent, mutable, affordable and potentially accurate new Focus On series of e-books. 
It was only a matter of time in our gluttonous information age before someone began collecting articles from Wikipedia.com, grouping them by common topics and marketing the collated information in packages. It might seem that a listing of most the popular Academy Award-winning sound editors would be a relatively obscure topic for its own book, even an e-version, but consider that the Focus On topics get as specific as The 100 Most Popular American Hip Hop Record Producers and 60 Most Popular Poisonous Plants. Given this span of subject areas, collecting data on Oscar-winning filmmakers, in every category, is a no-brainer.
Wikipedia, the bane of term-paper graders everywhere, became a default first-look resource sometime late last century. Students are regularly warned not to cite it and advised to click on the reference links at the end of each Wiki-article to seek out hopefully more trustworthy sources for their bibliographies.
Perhaps most infamously in 2007, Wikipedia noted that the comedian Sinbad was dead — a rumor taken as fact, reportedly, even by some of his family. As it is used by an estimated 14 million "unique visitors" every day (according to its own calculations), almost everyone in the US has popped into Wikipedia at one time or another. Today, when avoiding false information can become a life's work, seeking out facts about film credits might seem relatively straightforward, but Focus On increases complications at the same time that it simplifies data retrieval.
Film people in search of credits might bypass Wikipedia and first go to IMDb.com, but most users know to not fully trust either source, since the information is supplied by unpaid volunteers. Despite efforts by editors, it is impossible to fact-check every entry. Cross-referencing can also be problematic. IMDb is owned by Amazon.com, and Wikipedia is also owned by Amazon. The Focus On series of e-books is sold on Amazon, and of course, and the company's Alexa can track the browsing habits of almost anyone surfing online.
The Academy of Motion Picture Arts and Sciences' own website is the most authoritative place to start looking up post-production Oscar winners. It takes a few clicks of the keyboard to find www.awardsdatabase.oscars.org/search, where nominees and winners in all categories are listed.
Some of the winners' names are familiar; in the Best Sound Editing category, Bub Asman for American Sniper (2014) and Letters from Iwo Jima (2006), or, in the same category, this year's winner King for Master and Commander: The Far Side of the World (2003), The Dark Knight (2008) and Inception (2010). Some awardees for Best Film Editing would also be familiar. Users need a rudimentary understanding of how a research library operates in order to compile and store information from the AMPAS site.
Oscars.org, burnished with gold and rightfully accepted with authority on all things Oscar contains singularly AMPAS resources, such as easy links to transcripts of some acceptance speeches. These go back (sporadically) to 1954, the second time the awards ceremony was televised. That year, Gene Milford, with a previous Oscar on the self for Lost Horizon (1937), won the Best Film Editing Oscar for On the Waterfront and rose in the Pantages Theatre in Hollywood to respond to presenter Dorothy Dandridge with, "And thank you all." She was in the NBC Century Theatre in New York, as live television showed off its ability to link two locations at once. And then there is William Reynolds, who, while accepting his award for cutting The Sound of Music (1965), advised, "There's a secret to winning an Oscar for film editing, and that is: When in doubt, Cut to Julie Andrews. You can't lose." 
These links also often include photographs and YouTube-housed video of presenters and winners. One can watch, and hear, Isabelle Adjani announce Verna Fields' Best Film Editing award for "Joes" (Jaws, 1975). Or viewers can cringe as Dame Edith Evans (then almost 90) walks on stage to orchestral accompaniment of "There is Nothing Like a Dame" to present Hal Ashby the Best Film editing Oscar for In the Heat of the Night (1967). The moment deteriorates further as she and host Bob Hope read a humorless gag in which Dame Evans asks Hope to take her for a night on the town at the Pink Pussycat. The Focus On series can provide no such gems.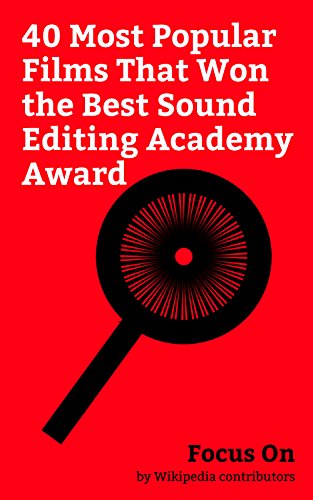 Focus On faces challenges in its user interface; its plain blue-on-white palette reinforces a zero-graphics database format. Lest someone surmise that searching for the most popular Academy Award-winning film or sound editor is truly in-demand information by the Wiki-going public — or even potentially measurable by any means — the "Most Popular" designation refers to the number of clicks received by a film title, not to any of the people who worked on the picture.
Thus, Hacksaw Ridge (2016) is ranked first in popularity, not its Oscar-winning film editor John Gilbert, ACE. The book can also be searched alphabetically by title, a list that oddly puts A Midsummer Night's Dream (1936), edited by Ralph Dawson, first and above a section on the history of "Academy Awards for Best Film Editing."
Focus On is justified in charging for the work of organizing, presumably paying content editors, although its content creators work free. Part of the net income from the sales of the Wikipedia-compiled e-books is donated to the Wikimedia Foundation. The original Wikipedia articles can be accessed free of charge, but there are reasons to purchase this material. It is much easier to authorize $0.99 to an Amazon account than to spend hours doing research online, or — heaven forbid — in a real-world library
Promised updates are to be provided free. There are tidbits that demand further exploration. For example, this statement, attributed to Variety: "For 33 consecutive years, from 1981 to 2015, every Best Picture winner had also been nominated for the Best Film Editing Oscar."
The Focus On user (I hesitate top say reader) has a fun new way to invent and win trivia contests, although this use comes with a caveat: Check the sources before you bet the farm.