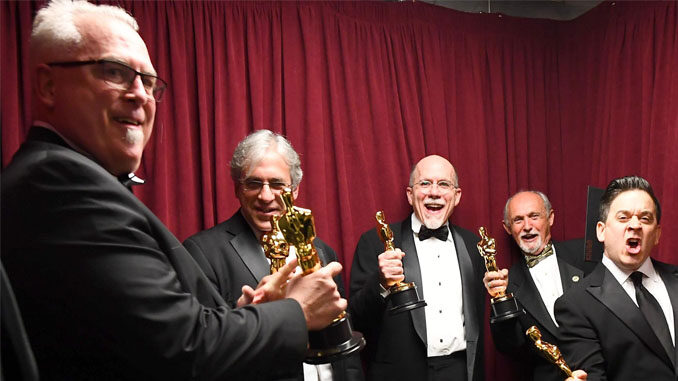 by Tomm Carroll
The 2017-2018 Awards Season officially came to a close on Sunday evening, March 4, with the 90th annual Academy Awards ceremony, in which the coveted Oscar statuettes were presented to the winners — as chosen by the members of the Academy of Motion Picture Arts and Sciences.
And, in what has become a trend in recent years, the awards in all three post-production categories were given to personnel on the same film, in this year's case, Christopher Nolan's World War II drama Dunkirk. The winners were Lee Smith, ACE (Best Film Editing), Richard King and Alex Gibson (Best Sound Editing), and Gregg Landaker, Gary A. Rizzo, CAS, and Mark Weingarten (Best Sound Mixing).
"I just want to say, this is the most awesome thing that can happen to a guy like me," Smith said in his acceptance speech for his first-ever Oscar; he was nominated twice before, for editing Nolan's The Dark Knight in 2008 and Peter Weir's Master and Commander: The Far Side of the World in 2003. "I really just want to start by thanking Christopher Nolan who…is an editor himself. I mean, he doesn't handle the actual equipment — and I'm very, very happy for that."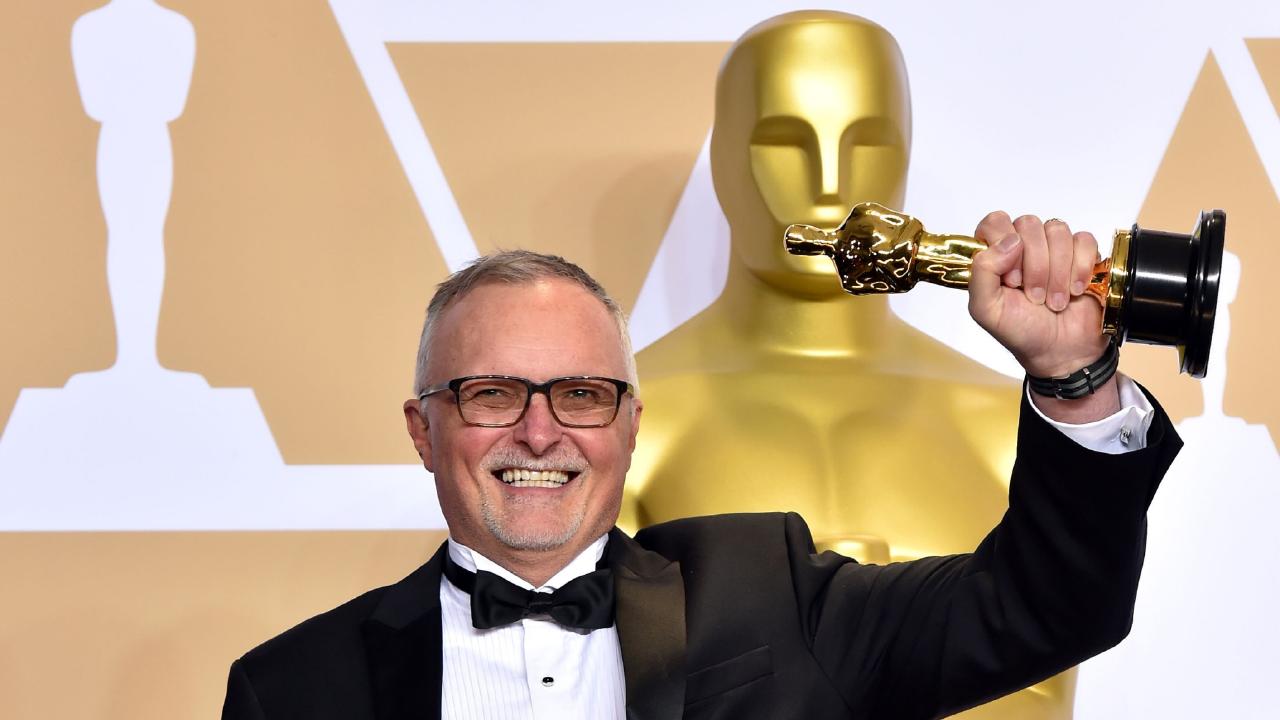 As the countdown clock ticked down during his thank-you's, Smith quipped: "I'm wrapping up, I'm wrapping up…Melanie Ramsayer, John Lee, my editorial assistants, Warner Bros., the Academy — cannot talk any quicker. I'm an editor, I should be able to do this very quickly…"
Later, responding to questions from the press backstage, Smith credited his success to his "formative years in the Australian film industry, working with the greats like Peter Weir and Phil Noyce and Jane Campion, and many other great directors — obviously George Miller. To get here is the sum of all those parts." Responding to a question about his collaboration with Nolan — whom he called "a complete and utter genius" — Smith explained, " I think if you have similar tastes to the people you work with, you tend to work with them on many, many films. And I'm pleased that when I first started working with Chris, we were always looking at things in a similar light.
"Some people say a combative relationship does wonders for films," the award winner continued. "But in my experience, it's the complete reverse; if you're looking at things and you're liking them, and you're hearing music and you're feeling the same emotion, then you're in sync with each other. That rolls over into many, many films of collaboration. And of course, there's a shorthand working with people who you've worked with and the teams you've worked with."
For the complete transcript and a video of the picture editor's backstage interview, please visit: http://www.oscars.org/press/90th-oscars-backstage-interview-transcript-film-editing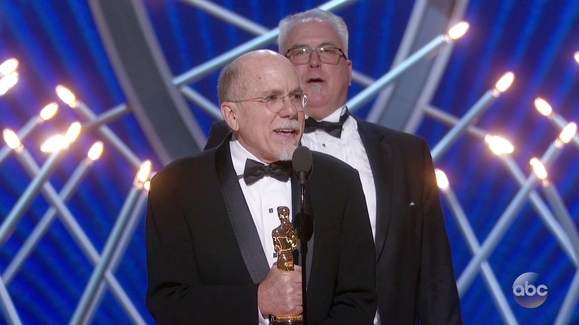 In the sound editing category, supervising sound editor King collected his fourth Academy Award, having previously won for previous Nolan films Inception (2010) and The Dark Knight, as well as Weir's Master and Commander. Supervising music editor Gibson, like King and Smith also a veteran of many of Nolan's films, won his first Oscar for Dunkirk.
On stage, King thanked "my awesome crew in Burbank, all my friends and colleagues at Warner Bros.," as well as Nolan and his wife, the film's co-producer Emma Thomas "for including me in this amazing trip. It was an amazing film about an amazing event." He also thanked his wife Sue and son Sam "for putting up with me prattling on about Stuka sirens for months." For his part, Gibson said, "I'd like to thank the Academy for including me in this nomination. It's historic and I think music editors and I are very grateful."
Backstage, meeting with members of the press, King responded to a question about the authenticity of the sounds used in Dunkirk: "We went to great pains to capture as much authentic sound as we could…recorded all the Spitfires, the bombs, guns, boats — but we wanted it to be an emotional experience. It was all about investing the film [with] as much power and emotion and visceral feeling as we could, and we used every decibel that we had available to do that."
Gibson fielded a query about Nolan's penchant for using the Shepard tone — a use of sine waves that creates the auditory illusion of a tone that seems to continually ascend in pitch. "The Shepard tone is something that Chris has been playing with I think since The Prestige [2006]," the music editor said, explaining, "It's an ascending line, melody line, that when it hits a certain note, it starts over again and then it's overlapping itself, so it always feels like it's going up. It's just an aural trick. Because the movie was fast-paced, but still running out of time, the continuous ascension played right into it."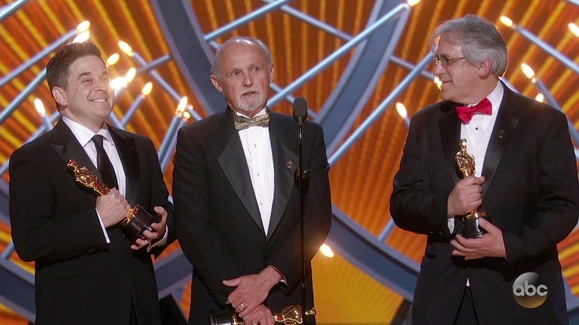 For the Sound Mixing winners, Landaker had previously won Oscars thrice before — for Speed (1994), Raiders of the Lost Ark (1981) and The Empire Strikes Back (1980). Rizzo had won once before, for Nolan's Inception, and the win for Dunkirk marks Weingarten's first Academy Award.
Enjoying a fitting close to his career before he retires, music and effects re-recording mixer Landaker thanked his family, "support team" and "cheerleading squad," as well as the Academy "for bestowing this great honor upon this sound crew for Dunkirk" in his on-stage acceptance speech, and Nolan, who "entrusted us, encouraged us to try to make a difference in a soundtrack." He also acknowledged "two gentlemen that bookend my career: Don Rogers [for] giving me flight and Kim Waugh for giving me a safe landing."
Dialogue re-recording mixer Rizzo thanked his daughters, Luciana and Devon, telling them, "Hang on to your dreams they are so, so valuable," as well as "everybody at Full Sail University." Production mixer Weingarten thanked his family and, addressing Nolan, said, "Thanks for making such a great movie that everybody saw…and got to hear our work."
Backstage, where the mixers met the press along with the sound editors, Landaker was asked about winning an Academy Award for his final film before retiring. "This film ended up my career," the mixer replied. "It didn't end my career, but I decided to put a period on it. This was my 207th feature film, ninth nomination and fourth win for a soundtrack. My first win was for The Empire Strikes Back back in the '80s. But Chris [Nolan] has always encouraged me to reach further into our art [and] craft of mixing a film, to bring something completely different to the soundtrack that the audience would step up and notice."
For the complete transcript and a video of the sound editors' and sound mixers' backstage interviews, please visit:
http://www.oscars.org/press/90th-oscars-backstage-interview-transcript-sound-mixing
The last film to win all three post-production categories of the Academy Awards was Mad Max: Fury Road (2015) at the Oscars ceremony two years ago. Before that, it was Gravity (2013), and The Hurt Locker (2009). Since 1960, a single film received Oscars in the three post categories 13 times, including this year's hat trick for Dunkirk.
The Editors Guild wholeheartedly congratulates its members who won — and were nominated for — Academy Awards.