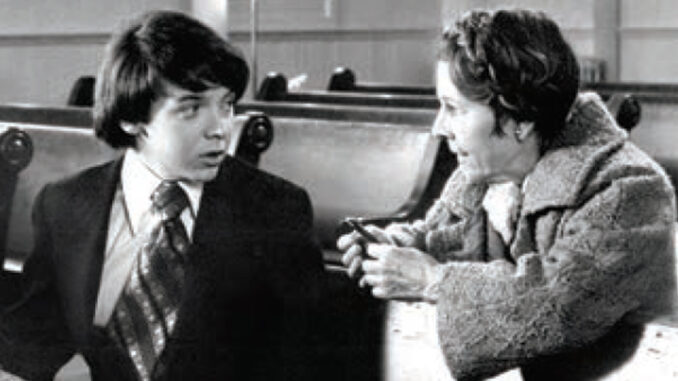 By Randy Kornfield
Although I'm not exactly a child of the peace-and-love Sixties generation, I was close enough to have been influenced by it. I was also old and young enough in 1971 to identify with Hal Ashby's "Harold And Maude," an offbeat, funny and heartwarming film that is essentially about peace and love. It was a time in my young life when I fixated on what love might be like, if I would ever experience it, and my simultaneous need for escape—both from my oftentimes crippling teen angst and the tumultuous world I was growing up in.
Though initially panned by critics (Roger Ebert gave it a pitiful 1 ½ stars), that didn't stop me from seeking out "Harold And Maude." That is what I did growing up in the San Fernando Valley, venturing into West Los Angeles to see the sorts of unique films that never got to my local theater. I craved movies that sucked me into someone else's world, taught me, excited me, amused me and hopefully moved me, too. "Harold And Maude" did it all.
"Harold And Maude" is a dark coming-of-age comedy that features what might be one of the most unusual May-December romances of all time. Harold (Bud Cort) is an 18-year-old who stages elaborate fake suicides in a desperate bid for attention from his wealthy, neglectful single mother (Vivian Pickles). Maude (Ruth Gordon) is a 79-year-old free spirit who, unlike Harold, has taken a very casual view of death. They meet at a funeral for a stranger, one of many where their paths cross. Once Maude's contagious enthusiasm breaks the ice, she proceeds to teach morose Harold how to live life to its fullest. As Harold's mother forces him to meet successive pre-arranged dates (which he sabotages utilizing his theatrical knack for killing himself), he has instead fallen in love with Maude, whose rebellious view of the world has been informed by her concentration camp survival. The evolution of this unique friendship and ultimate romance delivers unexpected humor, sweetness and even invites a tear or two.
Screenwriter Colin Higgins created the script as his master's thesis when he was at UCLA. And director Hal Ashby's vision and quirky sensibilities fit the eccentric material like a glove.
A film and its soundtrack can become inseparable, but on rare occasions, the music might even outdistance the film itself. In that respect, the success of "Harold And Maude" is also about Cat Stevens' (Yusuf Islam) classic song score, which supports the story, its message and the characters, even though, ironically, only two of his songs were written specifically for the film. The result is a movie that is one of the more memorable and affecting marriages of music and storytelling.
Years after my discovery of the film, my son Colin was about the same age I was at the time—and likely suffering from similar if not identical thoughts and teen afflictions. All my life, I have found joy in sharing movie experiences with family, friends and proteges, too. Nothing gives me a bigger thrill than to show something I've loved to my kids and measure their reactions. So, one day, I decided to have Colin watch "Harold And Maude."
My son has explained to me how much Harold's feeling of alienation and loneliness reassured him that maybe he wasn't alone; maybe he wasn't the only one who felt that way. The film also helped him to realize that it's okay to be different and that we should celebrate those differences. Colin has since shared the movie with others. And we continue to share our love for Cat Stevens' songs, too. So much so that as an adult, Colin didn't hesitate to attend one of "Cat-Man's" concerts alongside an occasionally embarrassing old man—me.
In many ways, "Harold And Maude" has proven timeless, and its appreciation has grown into more than a cult following (including making the National Film Registry of the Library of Congress). The film remains a touchstone that resonates today—for Colin and me and for many others who might be seeking a connective moving experience, wry laughs, and a positive theme. When Harold tells Maude he loves her, she responds tenderly, "That's wonderful, Harold. Now go out and love some more." Isn't that a message we could all use nowadays?
---
Randy Kornfield is a story analyst and the screenwriter of "Jingle All the Way" and other films.