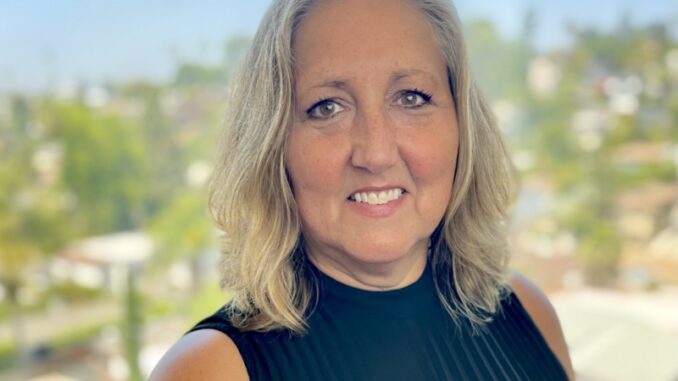 By Kristin Marguerite Doidge
It was in New York in the late 1990s when Shelly Westerman made a cold call that would set her up for an entirely new career. After leaving a back office job at the Federal Reserve, and having dipped her toe into the film editing world on the Todd Haynes-helmed indie "Velvet Goldmine," she called over to the post facility Sound One. "I talked to a guy named John Cook, who was one of the assistant editors, and he was like, 'Yeah, sure, bring your resume over.' And I got the job," she remembered.
Westerman was mentored by the late great editor Richard "Richie" Marks, ACE, working with the late director Nora Ephron on the 1998 box office megahit "You've Got Mail," a 90s-AOL-inspired update of Ernst Lubitsch's "The Shop Around the Corner," and ending a decade later on Ephron's "Julie & Julia" (2009), which tells the story of Julia Child's time in Paris and blogger Julie Powell's blog of the same name five decades later.
Before his death in 2019, Marks earned four Academy Award nominations for his work on Francis Ford Coppola's 1979 classic, "Apocalypse Now" (with Walter Murch, Gerald B. Greenberg, and Lisa Fruchtman), and for his work on the James L. Brooks films "Terms of Endearment" (1983), "Broadcast News" (1987), and "As Good as It Gets" (1997).
"I credit everything I've learned about the film industry to Nora and Richie," Westerman said.
Since her last collaboration with Marks on Brooks' "How Do You Know" in 2010, Westerman ventured into television, starting with HBO's acclaimed series "The Wire." Her work with prolific showrunner Ryan Murphy garnered her an Emmy nomination for "American Crime Story: The Assassination of Gianni Versace." As editor and producer, she recently completed the Netflix series "Halston," starring Ewan McGregor as the renowned fashion designer.
CineMontage caught up with the LA-based Westerman as she wrapped up editing on the second season of the critically-acclaimed Hulu series "Only Murders in the Building," which returned in June.
CineMontage: How was the editing process different with Nora versus some of the other esteemed directors you've worked with?
Westerman: If I had to choose just one word, it would be civilized. You came to work, and it was a joyous place. She made it a joyous place to be. I think Nora always came to it not as a female director; she was just the director. She never framed it for us in terms of the struggles of being a female director. Any challenges we had were just challenges. She commanded respect—and she gave respect. That kind of normalization of that at a very early stage in my career was a great foundation to have. I think what was so different was that she saw you. You might not know that she saw you, but she noticed everything.
CineMontage: What do you remember most about working with her and Richie on "You've Got Mail"?
Westerman: I had one job prior to "You've Got Mail" and that was on [director Todd Haynes'] feature "Velvet Goldmine." I was the film apprentice editor and it was my second job. I really credit Richie for teaching me the whole cycle. I learned how a movie is made from beginning to end, because we were on for dailies until the day before it was in theaters. So I credit that experience with teaching me how a cutting room runs.
Richie was such a fierce protector of the crew. Not just picture crew—sound, music, anyone on the crew. He made sure you were paid appropriately, that you had what you needed, that you weren't being mistreated, that you weren't working crazy hours. He commanded a lot of respect, but he also gave a lot of respect to others. And he always said 40% of the job is editing, and 60% is interpersonal relationships. It's so true.
I learned to watch and listen, to pay close attention to every single take from the very head to the very tail, to listen to what the director is telling the actors, to listen to what's happening on set.  Some people only pay attention to what's between action and cut. I'm always telling my assistants to listen; that's the good stuff. It's also vital to develop relationships with the sound and music departments. We do our best when we're helping each other. If they are invested in the process early on, it makes the work so much better.
Cinemontage: Nora once said, 'All of my experiences as a director are filtered through food.' Does that resonate with you?
Westerman: It was specified in the budget that there would be an extra room in addition to all the cutting rooms that was designated as the lunchroom with a huge conference table and refrigerator. There was a protocol for ordering lunch. The PA would get so flustered because everyone would have their order, but then you would have to order one additional thing so that people could taste it. And you'd also have to have fresh dessert every single day.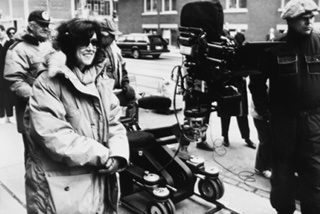 The editorial team would have lunch together every day, and Nora would revel in personal talk and would tell fabulous stories. And I think when it really hit was at the end of "You Got Mail," when we had our wrap gifts from her. They were 'Nora' gifts, and when everyone opened theirs, each person's [gift] was tailored to them. I'll start crying thinking about it.
CineMontage: Nora was known for her very specific music choices. Is that something you and Richie would experiment with as well?
Westerman: I think more so Richie than the assistants. He definitely would set the tone with a temp score to kind of feel out where we would go—the tempo of it, the sound of it. The same with songs. Our music editor would be on board early on and would help with song choices because there are a lot of songs sprinkled throughout both [films]. Nora did have an extensive music collection and a definite opinion on song choices. We would run out and buy tons of CDs and digitize both her and Richie's song selections. Music choices could come from anyone – the editor, an assistant—she'd even question our Hamptons FedEx delivery man.
CineMontage: Is that a unique Nora Ephron thing?
Westerman: Yes and no. It can happen. On a feature, the editor is the project's shepherd.  With Richie, you were a participant in everything from beginning to end.  "Julie and Julia" was especially exciting because I was then the first assistant [editor]. [Academy Award-winning composer] Alexandre Desplat came to town and had a setup in his hotel. We all went there to listen to music sketches. It was an incredible experience to hear those preliminary versions, then attend the massive orchestral recording sessions.
CineMontage: Speaking of the score, I'm thinking of the scene of the mother dancing with Meg Ryan as a little girl in "Mail." I know that was something that [cinematographer] John Lindley was very proud of and that Nora really loved. Do you remember working on certain scenes that, to you, felt like they captured the essence of the movie?
Westerman: I started as the apprentice [editor] and became the assistant [editor], so for me, my perspective on "You've Got Mail" was a little bit different because I was taking it all in and watching and learning. Being in the presence of Richie, Nora, and Tia [Nolan] was the first Avid assistant [editor]—many of us are still friends to this day. I have such fond memories of being on the sound mixing stage—just sitting there and listening to what they're creating with sound and music and looking at our picture that we had gone over and over so many times. And the joy that Nora got from working with Lee Dichter and Ron Bochar—renowned sound mixers.
When it all comes together and comes to life – it's all clean, perfect and wonderful. It's like another movie. You didn't realize how rough and tumble your offline cut was until you went through the sound mix, then you're watching it all on the big screen and thinking, "Oh my God."  We revel in all of it. There are so many moments you're proud of, from the tiniest shot of Meg Ryan walking down a New York City street to Tom Hanks at the door buzzing, and Meg is "achoo-ing." And you're like, "My gosh. That's so cute."
CineMontage: Moving to "Julie & Julia," how did you and Richie approach weaving together both women's stories?
Westerman: Early on, it was a lot of shaping. I found some old continuities and editing notes. I think our trickiest thing with "Julie and Julia" was just playing around with the timeline, reordering themes, and figuring out what Julie was blogging. We did a handful of pickup shots to clarify story points.
We did our 10-week director's cut in the Hamptons. It was the best summer of my life. The early days there were a flurry of notes kind of trying things, and then we started to lock into what the structure was and how to weave the threads through. And Nora asked us point blank: 'Do you think this works? What do you think?' She was very open.
CineMontage: She wanted input as well.
Westerman: Yes, she was open to hearing our opinions, but what was even more special was recognizing the love and respect those two [Marks and Ephron] had for each other.
CineMontage: How often did Nora like to use improv takes?
Westerman: She would integrate it wherever it was most natural. There's a scene in "Julie and Julia" and they're in a restaurant and Stanley Tucci says, ''What do you want to do? What do you like to do?" And [Meryl Streep] says, "Eat!" He laughed. And I seem to remember that was just a Stanley Tucci laugh, but it was such a brilliant, beautiful laugh and Meryl went with it. It became one of Richie's favorite moments. That stayed in. When Nora loved an actor, she would do anything for them.
CineMontage: Speaking of Nora's love of actors—and New York—are there any overt or hidden references to her on your current project, "Only Murders In the Building"?
Westerman: Our producer [Jess Rosenthal] said, "Steve [Martin] and Marty [Short] talk a lot about their friend Nora. It was one of the seminal relationships in their lives, and they speak of her with enormous admiration and warmth. It also sounds like she held the greatest dinner parties of all time.''
Q CineMontage: What else should we know about working on "Julie and Julia" with Nora?
Westerman: We all gained so much weight on that show. I remember at the time she was crazy about these hamburgers from Burger Joint, a tiny food stand in the lobby of Parker Meridien in midtown. She would send the PA there to get lunch for everyone. She would always only nibble, but there was one day where we all saw her eat an entire hamburger. And nobody said anything until later. They're like, "Did you see that she ate a whole hamburger?"
There was another day where we were talking about our favorite desserts. She said, "You have to have the custard from Wisconsin." And she had it brought in a few days later. We ended up sharing it with the whole floor at Sound One.
The meal thing, the lunch where you had to order an extra entrée —it is the most brilliant. Everyone will reach in to try it, and it gets you talking and connected in a different way.
CineMontage: On the subject of connecting, how can we best support women in film and women in editing?
Westerman: I teach my assistants to keep in touch, reach out to me, and develop a network. It's incumbent upon us to do that work.
There are several film industry women's groups open to everyone.  There are Facebook groups, Slack channels, Guild events and women editors/assistant editors in-person bi-monthly gatherings. I like participating in those. A woman on our show "Only Murders" was recently interviewing for another series and I knew the editor.  I emailed the editor and said, "You'd be crazy not to hire this girl." And she got the job! The editor said having a personal recommendation made a huge difference. It takes a little bit of work on everyone's behalf, but with that work, we can create opportunities for other women.
Interestingly enough, [Marks] was famous for being one of Dede Allen's boys. Dede was a legendary editor on "Bonnie and Clyde," and "Reds," and many other famous films. And she mentored this whole group of male editors, like Richie Marks and Barry Malkin. I would think that had an influence on how he treated women in the workplace.
CineMontage: Any other thoughts on what it's meant to have had the opportunity to work with both Richie and Nora?
Westerman: I have to show you really quickly, because I didn't even realize this until right now.  I'm working remotely at my parents' house, and I have my laptop propped up on a stack of stuff which includes my mother's copy of Nora's book, "The Most of Nora Ephron." This has been literally part of my riser.  I have been using Nora as my riser this whole time I've been in Florida.
CineMontage: Look at the metaphor there. You might be thinking you're in a different universe, and then you look down and realize you're back in Nora's world again.
Westerman: I can't tell you how many thoughts I have about that with Richie and Nora. To this day, something will come up, and I'll be like, "Oh, That's why Richie did what he did." That happens all the time. I didn't know that's what I had picked up from both of them, but you carry them with you for the rest of your life.
This interview has been edited for length and clarity.
Kristin Marguerite Doidge's new book  Nora Ephron: A Biography  is out now.