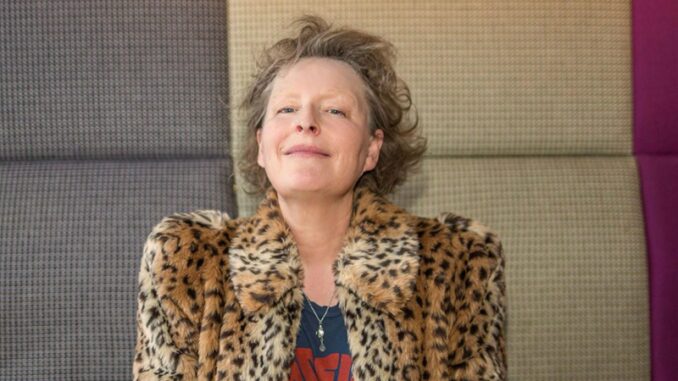 By Patrick Z. McGavin
David Leitch's new action film "Bullet Train" plays like Agatha Christie as reimagined by Quentin Tarantino.
Adapted from Kotaro Isaka's 2010 novel, the story details the intersecting fates of five different assassins traveling on a fast train from Tokyo to Morioka. Brad Pitt plays the central operative.
In her latest collaboration with Leitch ("Deadpool 2," "John Wick), editor Elisabet Ronaldsdóttir talks about form and style, as well as her highly unusual career trajectory. "Bullet Train" opened in theaters on Friday.
CineMontage: As a woman specializing in action cutting, do you think of yourself as somebody who upends gender expectations?
Elisabet Ronaldsdóttir: I actually do not, because there are so many amazing women working who have edited action. There is a whole list of action editors being women. If anything, I think I am continuing a norm. Whatever the form is, I am enjoying it.
CineMontage: Is there something specifically about the kinetic action and movement that speaks to you?
Ronaldsdóttir: Absolutely. I never sat down and said I would edit action. It's just where life led me. Obviously when you make choices, and [find] something that appeals to you, you tend to lean that way when you get the opportunities. I don't believe in pigeonholing myself in general. I think a good film editor can edit whatever.
I have a great privilege to be able to sit in both worlds, because I do a lot of independent films in Europe, especially in Iceland. Then I get to come to Hollywood, and do amazing action movies. I do have a dance background. Action is like an alpha male dance. It's all tightly choreographed. I do consider it a dance.
I also enjoy working with people like David Leitch and (producer) Kelly McCormick. We have had this manifesto of taking these budgets and blowing them up, play[ing] more with the action genre and [elevating] it.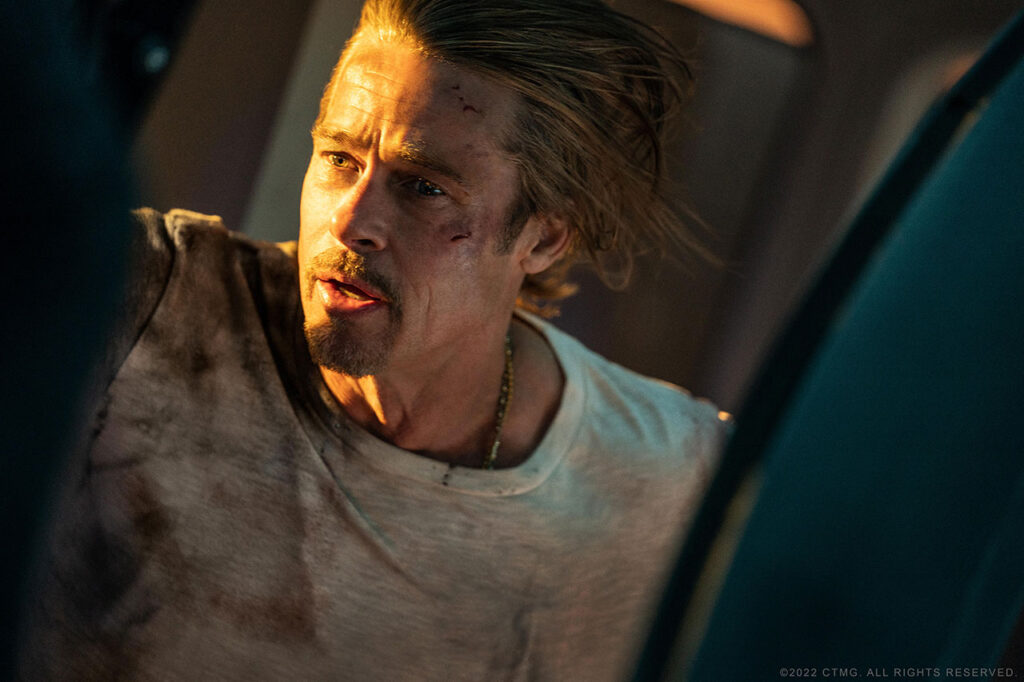 CineMontage: "John Wick" (2014), "Atomic Blonde" (2017), "Deadpool 2" (2018) and now "Bullet Train" are very much of a piece. How would you characterize your role in the finished films?
Ronaldsdóttir: I consider myself to be a translator. Everybody working on a movie set is working on translation. Everybody is translating what is in the script, and the director's mind and vision. I have to translate all of this into the language of the movie.
Like translating any language, sometimes you have to rearrange sentences to say the same thing. That happens a lot. You start rearranging scenes not because the script was wrong, but this way is better for that language to tell the same story.
CineMontage: You have a long collaboration now with David Leitch. How early do you get involved in the process? Are you ever on the set? 
Ronaldsdóttir: It has only happened once that I needed to be on set for an action sequence. That was for a sequence "Atomic Blonde" that David shot as a one-take sequence.
I am not an action choreographer. I just try not to mess it up. The (footage) lands on my table, and I do my best. One thing that is very helpful for me is that I always work on these sequences without music. Maybe that's my dance background, but I want to get the emotion to work on its own merit. I always want people to get caught up in the movie.
CineMontage: Did you read the novel, or did you want to come at the material with an open point of view?
Ronaldsdóttir: This film was different from the other films in one sense because it has such a strong ensemble cast. I read everything. I read the novel. I read every draft of the scripts. If pre-vis were made, I looked at all of them, with the storyboards. I am always trying to understand what David is looking for.
The biggest challenge was dealing with this strong ensemble of characters. You don't want them to overshadow each other, but you also want them to shine. Balancing that aspect, for instance when do you bring somebody's backstory up?
CineMontage: The five primary characters are all colorful, flamboyant and idiosyncratic. Do you try to assign each character a different tempo or rhythm?
Ronaldsdóttir: That comes with the character. Some are more laid back than others. For example, with the characters Lemon (Brian Tyree Henry) and Tangerine (Aaron Taylor-Johnson), David had this idea of them just bickering, like shooting at each other. They are so funny, and they ad-libbed so much. When the camera went, they were in character, and they just took it away.
CineMontage: Bullet Train has multiple flashbacks that open up the material. Does the structure conform closely to the script, or did you play around with different ideas?
Ronaldsdóttir: It was pretty close to the scripted version. There are a couple of adjustments, like some of the flashback reveals. We played around the whole beginning. If you read the book, and the script is the same way, each character is introduced in chapters.
I tried to take the chapters away and interweave them when they got together on the train and put them in the same space. It just worked. You just had such a stronger sense of fate when you didn't keep them in chapters.
CineMontage: How did the restricted space of the train interiors shape your decision making, especially with the fight and action sequences?
Ronaldsdóttir: We were very much aware the movie is kind of set in a no man's land. It's kind of Japan, but not really. It's almost like a parallel world somewhere. We just gave into it, and enjoyed it. It's not a documentary. Go with the story and the characters, and be unapologetic about it. This is the story we are telling, and we had so much fun telling it.
CineMontage: This movie is closest to "Deadpool 2" as far as the humor. What were the particular challenges of balancing that tone?
Ronaldsdóttir: David is a master of tone. There is no good person on this train. They are all really horrible. They are human, extremely sympatico, but tainted.
It's a violent movie, people die, so how do you go back to humor? Sometimes you have to give the audience time to digest when something terrible happens. Other times you just want to snap them out of it. We tried to play through the movie. Where do we think it's important to slow down, and give the audience time, and where do we want to snap them out of that moment.
Also, sometimes it depends on how likeable the characters are. The audience probably needs more time if it's somebody they have learned to love throughout the movie. I talk about it as if you are carving wood. You do it in layers. You don't want to move too fast, just slowly carve through it.
CineMontage: Until the very end, with the water bottle montage, the form is constantly calling attention to itself. How deliberate was that?
Ronaldsdóttir: That was absolutely deliberate. I love it. I think it's very important to have fun with the form. I also like not taking ourselves too seriously. We are not here to teach you anything. We are here to give you a good time.
I think you can allow yourself a lot more with comedy. You have an action comedy. It's like, all the gloves are off. You can do whatever.
It is super violent, and R-rated. It's absolutely a grown up comedy. What I love about a movie is when we can all relate to the idea. I can't relate to being an assassin. I can relate to scrambling in my own life, questioning who I am, and what I am doing. I can relate to how the Brad Pitt character stumbles through life.
CineMontage: How did an editor from Iceland get on the radar of Hollywood?
Elisabeth Ronaldsdóttir: It was actually at my lowest point. I did an Icelandic movie, "Reykjavik-Rotterdam" (2008), directed by Oskar Jonasson and produced by Baltasar Kormakur.
It was optioned to Universal and Working Title. Baltasar directed the remake, "Contraband" (2012). I was asked to edit that. We cut that film in Iceland and London. We visited Los Angeles a lot for meetings.
During that time, I met the amazing editor, Dody Dorn, and she introduced me to her agent. Those agents signed me on. I figured I would just go on and work for Baltasar. I was also naive about how everything worked. He dropped me from his next movie, "2 Guns" (2014). He felt it was an American story.
My agent asked me to take a meeting with David and Chad (Stahelski) for "John Wick." We just clicked after the first meeting. I was on the road for nine years with David and (producer) Kelly McCormick.
CineMontage: How did you make the transition from dancing to filmmaking?
Ronaldsdóttir: Nobody would have paid me for dancing. I did a lot of dance movies. I went through a whole period, not dancing professionally, but just working with a dance company, doing some ballet, some jazz.
I also did work for a couple of years of working on dance videos for a friend of mine who was a director. We had so much fun just playing with the choreography. I think that's where I developed this almost fearlessness of pushing the choreography done by masters.
Again not because it was wrong, but just the curiosity of what we can do with it now. How can we play with it? This is our business, and we should play, and not be stuck in our way.
CineMontage: Do you think your style has evolved a lot?
Ronaldsdóttir: I have been editing for a long time, almost 32 years. I am still learning. That is the beauty of the form. Film is an endless chest of opportunities to work with the form. I am always learning.
I can watch one of my movies from 10 years ago, and ask, what was I doing? Thankfully I know now more than I did then. Hopefully I can keep learning, and keep enjoying working with the movies. I think that's why I am still having so much fun with it.
With movies, you learn something new every day. Life is different. Every movie is different. It presents a different sort of problems, a different sort of opportunities. It's perfect for me.
óóPatrick Z. McGavin is a Chicago-based film critic and cultural journalist.