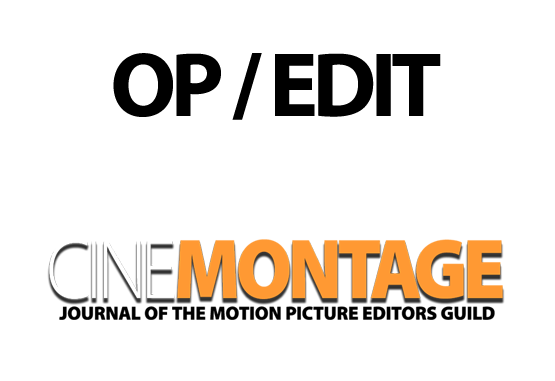 by F. Hudson Miller, MPSE
Not long ago I was asked to supervise the soundtrack of a feature film that was going to have its sound editing completed in Los Angeles and then be dubbed in London. On the surface, the offer seemed to be a tantalizing one. The opportunity to work on a film with great sound potential, combined with travel to my favorite European city, seemed too good to be true. It looked like a good deal for everyone concerned––the producer would save a bundle, my sound crew would work, and I would get an adventure. Being a rather pragmatic fellow, I figured I'd better take a look at the negatives as well––two airports, three roundtrip transatlantic flights, hotels, endless taxis, very different working conventions and, lastly, leaving home, family and friends for the better part of three months. This was an interesting equation.
On further reflection, I found there were many more serious issues involved. What about my fellow union members who were going to lose work? Sure, the sound editors were going to get their regular jobs, but what about the other post people who would be denied work on the show? At least two, and possibly three, re-recording mixers would lose weeks of work and one or two recordists would certainly be out of a job. Sound and video transfer would not be making audio and video copies and even that increasingly rare bird, the projectionist, could be losing out. What about the teamster couriers who shuttle the drives to and from the stage? They too would have less work. All of these people would suffer both monetarily and professionally so the producer could save a few bucks. Maybe this wasn't such a great deal after all.
As we all know, there are many variations on this scenario being played out across Hollywood and New York. We all know sound/music editors and re-recording mixers who have been offered very nice financial packages to travel out of town/country to edit and/or mix films. Except for a couple of key players, this almost always involves the use of completely indigenous crews.
I don't believe that Hollywood and New York have a monopoly on film talent; yet I don't see the beneficial side of actively training our direct competition.
So why are producers so eager to make these offers? The answer is not all that complicated: They get a "Hollywood" job without the "Hollywood" price. So why are our fellow members willing to accept this work? As you might imagine, it is quite flattering to be asked to tackle this type of project. Suddenly, I'm so important to the project that the producer is willing to fly me half way around the world, and pay me handsomely––all to insure that my professional taste and expertise is part of the project. All in all, this is quite a step up for folks who, more often than not, are treated as an unfortunate expense, rather than as creative contributors to the film.
When we accept these offers, our self-esteem may be boosted and pocketbook enriched for the present, but what of the future? We are being asked to work on "location" because our out-of-town/country competitors are not up to the program. But every time we "help out," we are training an ever-increasing pool of competition. I don't believe that Hollywood and New York have a monopoly on film talent; yet I don't see the beneficial side of actively training our direct competition. Eventually they will probably be able to do it without us…but why should we help? Remember, the job you lose just may be your own!
As for the picture I was offered with the London dub, in the end we did both the sound editing and the re-recording in Los Angeles. The producers and director decided to stay in Hollywood and received the quality of work they desired without the hassle of going overseas. The gods smiled and things just worked out this time. I missed an adventure, but my friends and colleagues didn't lose a job. As for me, I'm looking forward to a great and guilt-free vacation in London.